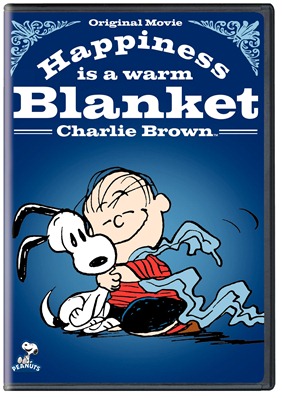 Released on DVD March 29, 2011
In this heartwarming new tale, Linus is pushed to his limits when he learns his grandmother is coming to visit and plans to rid him of his most cherished possession, his beloved security blanket. As grandma's impending arrival looms closer, the Peanuts gang finds ways to try and help Linus lose his dependence on his fuzzy crutch.
Lucy is particularly eager to cure Linus' emotional attachment and applies her own psychiatric techniques. Charlie Brown on the other hand does his best to help but he just does not have the heart to see Linus suffer. Snoopy constantly agitates matters because he longs to have the blanket himself. In the end, insightful Linus points out that everyone has their own type of "security blanket" and that in life, a little security is a valuable thing.
Happiness is a Warm Blanket, Charlie Brown is comprised of original comic strip ideas created by Charles Schulz. The concept was to stay true to the characters' emotion and original look of the strip while still producing a new story, with Schulz's work at the heart of the program. 
DVD Special Features Include:
Happiness is…Finding the Right Voice
24 Frames a Second: Drawing and Animating a Peanuts Movie
Deconstructing Schulz: From Comic Strip to Screenplay
Happiness is a Warm Blanket, Charlie Brown – Deleted Scene
BUY IT:
You can purchase Happiness is a Warm Blanket, Charlie Brown on DVD for $16.99 (RV $19.98) at Amazon.com
WIN IT!
One OurKidsMom reader is going to win Happiness is a Warm Blanket, Charlie Brown on DVD!
This giveaway ended at 11:59PM EST on May 24, 2011.
Disclosure:
This post was written me and was not edited by anyone. The opinions expressed in this post are entirely my own and have not been influenced in any way. I received a sample for review purposes only. Your experience with the product may differ from mine. The sponsor is responsible for prize fulfillment and will be shipping the winner(s) their prize(s). For more information please read my disclosure policy.