Halo Combat Evolved Anniversary Edition for Xbox 360
Rated M for Mature Audiences 17+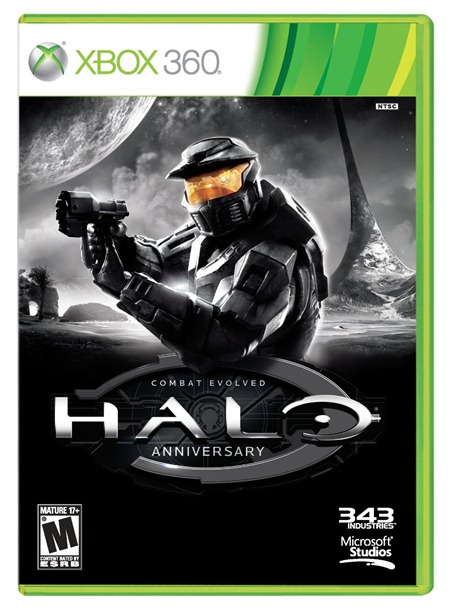 My little kids aren't the only ones in the house that enjoy our Xbox 360. The older boys (Josh and his Dad) like a good combat game on occasion. They both had the original Halo in the original Xbox and they played it enough I thought the disc would eventually melt from being used so much! With the new remastered images, multiplayer maps, voice commands, and being able to connect with their friends through Xbox Live!, this game feels like a new version. Just as a reminder, this is rated M for Mature 17+.
*****
Announced at New York Comic-Con, High Noon, the stunning remake of the classic "Halo: Combat Evolved" map Hang 'Em High, is set to make its glorious return in "Halo: Anniversary." High Noon (also known as Hang 'Em High in classic mode) combines a decade of poignant nostalgia with the adrenaline-pumping thrill of classic "Halo" multiplayer combat, to round out the cavalcade of seven fan-favorite multiplayer maps launching with "Halo: Anniversary."
High Noon returns players to the familiar canyons and catwalks of Hang 'Em High, now re-imagined for "Halo: Anniversary" with unprecedented detail. The vast generator complexes, which power this enormous slip-space portal, allow it to connect with an unknown number of locations across the galaxy. High Noon is a densely-packed arena of platforms, corridors and cover, best suited for team-based combat in both Slayer and Objective game types (4 – 12 players).
Uncover Rich Details about the "Halo" Universe through the Power of Kinect
Alongside the reveal of High Noon, 343 Industries also unveiled details about Kinect functionality in "Halo: Anniversary," including voice commands and a new feature that lets players gather canonical  information as they explore "Halo" and relive the iconic adventure:
Analyze Mode – Analyze Mode is a Kinect-exclusive feature that allows players to "scan" items of interest within the "Halo: Anniversary" campaign to populate the Library, an interactive encyclopedia of "Halo" lore.  Once in Analyze mode, new articles of interest can be added to the Library by focusing the reticule on them and saying "Scan."
The Library – The Library is an expansive index that provides detailed information on items of interest players have scanned through "Analyze Mode," such as vehicles, characters, enemies and weapons. Through the use of gesture controls, players can explore the entire Library at any time and then return to the campaign to continue unlocking more secrets within the "Halo" universe.
Voice Commands – Harness the technology of Kinect for Xbox 360 to reload your weapon, throw grenades, switch seamlessly between Classic and Re-mastered graphics and more, using only your voice.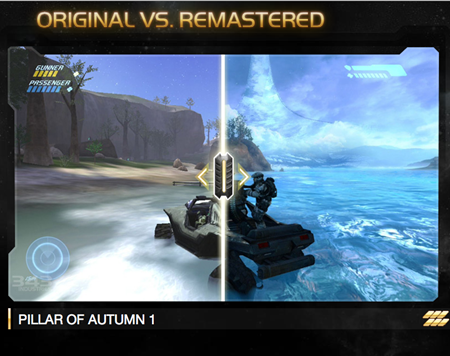 ATLAS Companion Experience and Custom Challenges Usher in the Next Evolution of Halo Waypoint
Halo Waypoint has been the ultimate destination for "Halo" fans on Xbox LIVE since 2009, and this past weekend, 343 Industries offered a sneak peak of what's in store for the groundbreaking online service this Christmas:
New Halo Waypoint Interface – A revamped design and user interface lets players navigate Halo Waypoint and access the content they want more easily than ever before, whether they're online, on their Xbox 360 or on their Windows Phone.
Halo Waypoint ATLAS – Available on Windows Phones this Christmas, Halo Waypoint ATLAS (Advanced Tactical Assault System) is a new mobile experience that offers players a detailed, top-down view of any "Halo: Anniversary" or "Halo: Reach" map in real-time, letting them monitor teammates'  movements and positions as they play. This innovative app encourages strategic gameplay and offers a fun companion experience to any multiplayer match.
Custom Challenges – Building upon the "Halo" series' genre-defining user-creation toolset, 343 Industries is empowering the community even further by introducing Custom Challenges in "Halo: Anniversary" and "Halo: Reach." For the first time, players will be able to issue custom Challenges and create friendly competitions with Xbox friends, unlocking infinite creative possibilities to invent and test their "Halo" skills against one another.
For example, players can create a Challenge to get a specific number of headshots (say 50) in Multiplayer, within 24 hours.  They can then try the challenge themselves, or invite their friends to give it a shot to see who can get the most headshots.  Challenges can be created for Campaign, Matchmaking Firefight, Multiplayer and even Custom modes.
Players will also be able to earn "Halo: Reach" Credits by completing Custom Challenges, infusing new creative potential into the game's deep player progression system, and leveraging all the great new multiplayer maps from "Halo: Anniversary."
BUY IT:
You can purchase a copy of HALO Combat Evolved Anniversary Edition for $37.99 at Amazon.com (RV $39.99)
WIN IT:
ONE lucky OurKidsMom reader is going to win a copy of HALO Combat Evolved Anniversary Edition!
Rated M for Mature Audiences 17+
TO ENTER:
Simply follow the directions in the widget below. It's that simple.
COMMENTS DO NOT COUNT AS ENTRIES…
but they are still very much appreciated and adored :O)
This giveaway ended at 11:59 PM EST on December 28, 2011.
Disclosure of Material Connection:  I received one or more of the products or services mentioned above for free in the hope that I would mention/review it on my blog. I only recommend products or services I use personally and believe will be good for my readers. I am disclosing this in accordance with the Federal Trade Commission's 16 CFR, Part 255: "Guides Concerning the Use of Endorsements and Testimonials in Advertising." The opinions expressed in this post are entirely my own. Your experience with the product may differ from mine. The sponsor is responsible for prize fulfillment and will be shipping the winner(s) their prize(s). For more information read my disclosure policy.