Prepare for BIG laughs and BIG adventure!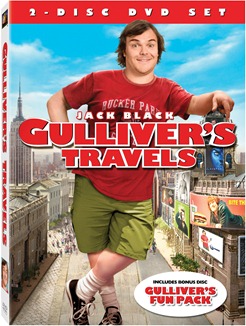 Win BIG with the DVD that is loads of Fun and Great Value for Moms on April 19, 2011
A hilarious zero-to-hero story about a larger-than-life Average Joe, GULLIVER'S TRAVEL'S sails on to 2-disc DVD with Gulliver's Fun Pack and 3 disc Triple Play with Blu-ray, DVD and Digital Copy from Twentieth Century Fox Home Entertainment on April 19, 2011. This family-friendly misadventure features side-splitting moments with epic wedgies, Lilliputian foosball, and a square-off duel with a robot!
Jack Black (Kung Fu Panda, School of Rock) brings his irreverent humor to this adventure-comedy based on the classic tale. To impress the pretty newspaper travel editor Darcy (Amanda Peet, 2012), an underachieving mailroom clerk named Gulliver (Black) takes a writing assignment traveling to Bermuda. When a shipwreck lands him on the fantastical island of Lilliput, he transforms into a giant — in size and ego! Gulliver's tall tales and heroic deeds win the hearts of the tiny Lilliputians, but when he loses it all and puts his newfound friends in peril, Gulliver must find a way to undo the damage. Through it all, Gulliver may just learn that it's how big you are on the inside that counts.
GULLIVER'S TRAVELS also stars Jason Segel (I Love You, Man), Emily Blunt (The Devil Wears Prada), Amanda Peet (Something's Gotta Give) and Chris O'Dowd (Dinner for Schmucks).
Jack Black is his typical playful self with plenty of rock and roll references in this newest version of Gulliver's Travels. I have never read the book, so I don't know how the original storyline went. I I imagine it wasn't anything like this story. My teenagers adore anything with Jack Black in it, but even they mentioned this was a little cheesy. Even so, it did keep my attention and I kept rooting for Gulliver to step up and step out to change his life for the better.
********
Follow Gulliver on his adventure with the Lilliput Guidebook, which contains fun facts, tips and visuals ultimately preparing tiny travelers to immerse themselves into the rich Lilliput culture.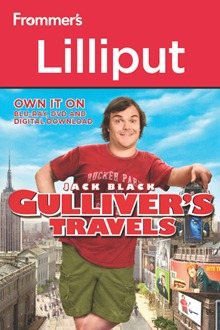 Take a look at the trailer for a sneak peak of the storyline…
BUY IT:
You can purchase Gulliver's Travels on DVD for $19.99 at Amazon.com (RV $29.98)
WIN IT!
One OurKidsMom reader is going to win Guillivers Travels on DVD!
This giveaway ends at 11:59PM EST on April 21, 2011.
Disclosure:
This post was written me and was not edited by anyone. The opinions expressed in this post are entirely my own and have not been influenced in any way. I was not compensated for this post. The sponsor is responsible for prize fulfillment and will be shipping the winner(s) their prize(s). For more information please read my disclosure policy.