Gelish MINI Soak Off Gel Nail Polish Gel Manicure System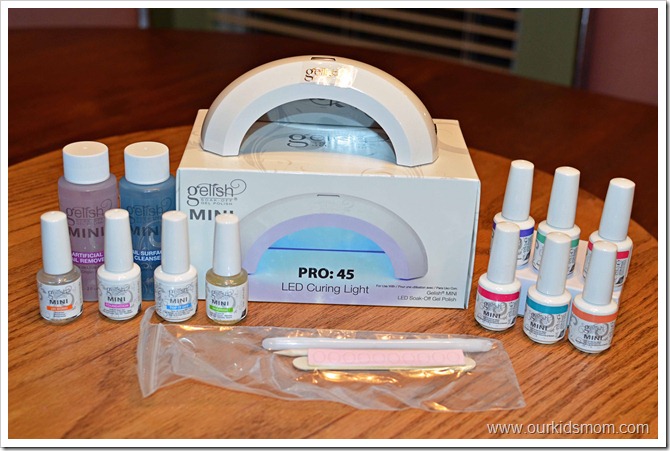 Back in February of this year I was invited to the red carpet premier of Oz the Great and Powerful. Although I had never had it done before, I decided that a trip to the nail salon for a gel manicure was in order for this special event. I decided to use gel because I had heard that it stayed on longer than regular polish. That was my desire, as regular nail polish tends to peel off my nails within two days. I was incredibly pleased with the outcome of my salon gel manicure and loved that my nails continued to look good for nearly three weeks.
Monthly trips to the nail salon are not not feasible on our budget, so I decided to dig around on the internet for home manicure options. I had remembered that the salon had used Gelish products and was incredibly pleased when they agreed to send a Gelish MINI BASIX Kit, a Gelish  MINI Pro: 45 LED light and the Gelish MINI Love in Bloom collection to review (free of charge, all opinions are 100% my own).
The 6 colors in the Gelish® MINI Love In Bloom collection include:
 Sweet Morning Dew: Carefree Coral
 A Petal for Your Thoughts: Playful Punch
 All Dahlia-ed Up: Flirty Fuchsia
 He Loves Me, He Loves Me Not: Perky Purple
 Garden Teal Party: Timeless Teal
 A Mint of Spring: Minty Green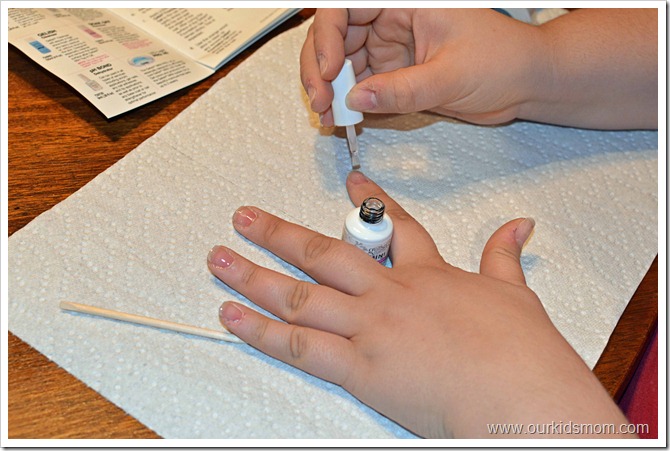 The manicure instructions included with the kit were very simple to follow and similar to the process we remembered from the salon. Starting with the cuticles and shaping the nails and then cleaning the surface we then applied the PH Bond.
The next step was the foundation layer. GELISH Foundation Base Gel creates the adhesive bond between the nail plate and gel products. This product secures adhesion while not damaging the natural nail plate. FOUNDATION will work with Hand & Nail Harmony GELISH products as a base for GELISH STRUCTURE or GELISH Soak Off Gel Polish. GELISH FOUNDATION cures in 10 seconds in a LED Light or 30 seconds in an UV Light.We took special care to not apply the foundation layer, seen above, too thick so that we could avoid pooling on the sides of the nails.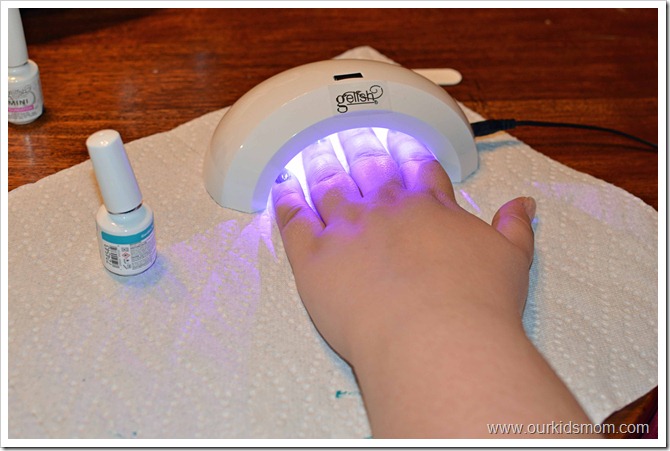 The MINI Pro: LED 45 Light was just the right size to cure 4 fingers at once, and then the thumb. We were both in awe at how quickly each layer cured with the LED light… less than a minute! Because we are tight on space the compact nature of the MINI Pro light was perfect for us.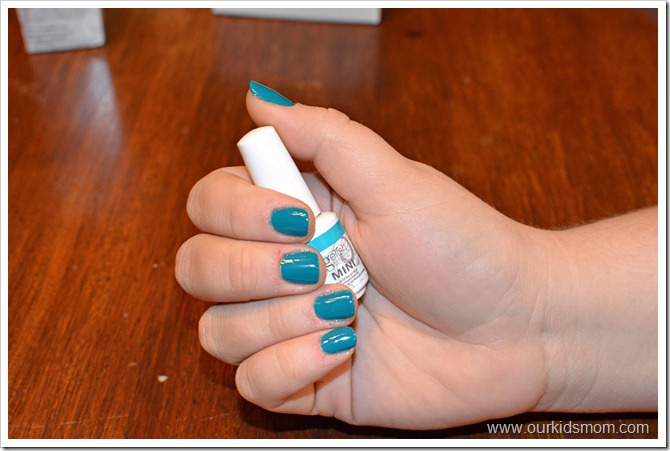 Gelish color gels apply just like regular nail polish with a twist cap and applicator, but they cure (dry) incredibly fast with a lamp: 30 seconds with an LED lamp and two minutes in a traditional UV lamp. With 119 colors to choose from I'm sure we will be ready to change colors before the manicure needs to be redone!
The final step is the Top It Off Gel. GELISH TOP IT OFF Gel is a sealer top gel designed to create the ultimate finish with your GELISH Soak Off Gel Polish. TOP IT OFF creates a high shine that will not dull, chip or peel from the GELISH Soak Off Gel Polish. TOP IT OFF is a soak off gel product that can quickly be removed with Soak Off Gel Remover. GELISH TOP IT OFF cures in 30 seconds in a LED Light or 2 minutes in a UV Light.
This was Kaytlin's end result of her first Gelish at home manicure using Garden Teal Party: Timeless Teal . She did all of the steps on her own and was very pleased with how it looked. The color is vivid, bright and amazing… she received several compliments. It took us about 45 minutes to do an entire manicure from start to finish, but I'm sure with time and experience we could get it down to around 30 minutes.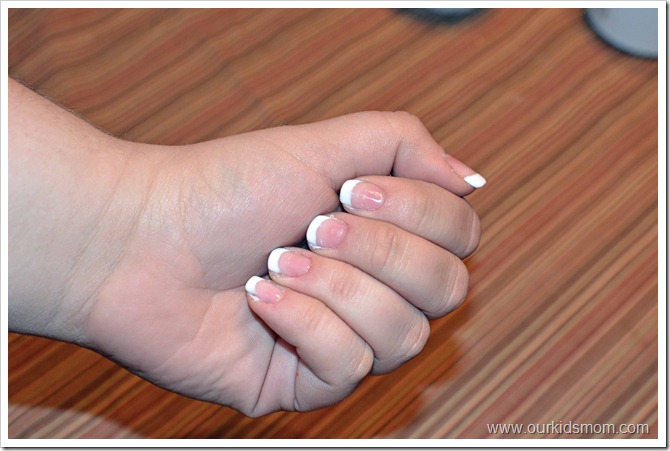 For our second at home manicure we wanted to try French tips. We followed the same steps as with a color manicure but on the color step we only applied polish to the tip. Although the Gelish MINI instructions did not include using a brush to shape the smile line, Kaytlin and I are particular about a clean edge so we shaped them with a nail brush dipped in acetone. This worked great.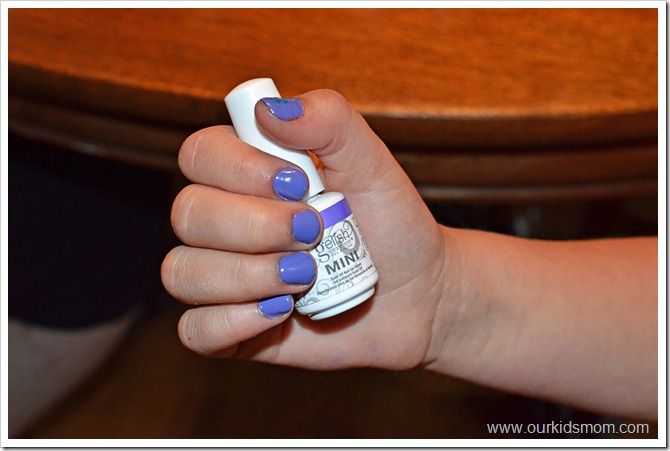 Emma loves to have painted nails, but unfortunately she cannot keep regular polish on her nails more than a day or two like me. She wanted in on the manicure action so we tried out the He Loves Me, He Loves Me Not: Perky Purple. We did our best with the nail prep, but the sensation of having her nails filed and buffed was not a pleasurable experience for her. Because of the lack of prep, her manicure only hung in there about 3-4 days. She was still very pleased, though, because normally they would have peeled off in less than a day.
The Gelish site quotes that the gel stays on nails for three weeks with no chipping or peeling, and soak completely off in only 15 minutes. Kaytlin and I both decided at two weeks to re-do the manicure because the growth was bothering us. They weren't chipping or peeling though!
I am incredibly impressed with the Gelish MINI system. Local salons in our area charge $30-$45 per gel manicure. It would take only a handful of home manicures for the Gelish MINI system to pay for itself… more than worth it in my opinion!
Connect with Gelish:
BUY IT:
Gelish® MINI products are available exclusively at Sally Beauty Supply stores nationwide.
You can also find them on Amazon.com
          Disclosure of Material Connection: I received one or more of the products or services mentioned above for free in the hope that I would mention it on my blog. I only recommend products or services I use personally and believe will be good for my readers. I am disclosing this in accordance with the Federal Trade Commission's 16 CFR, Part 255: "Guides Concerning the Use of Endorsements and Testimonials in Advertising." The opinions expressed in this post are entirely my own. Your experience with the product may differ from mine. The sponsor is responsible for prize fulfillment and will be shipping the winner(s) their prize(s). This post may contain affiliate links. For more information read my disclosure policy.