Is your New Years Resolution to watch your weight?
… drop a few pounds?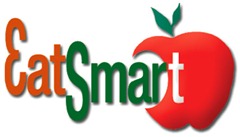 EatSmart Digital Bathroom Scale™
The EatSmart Bathroom Scale is versatile, easy to use digital bathroom great for any home. Simply step on the scale and in seconds you'll have an accurate readout on the EatSmart's oversized 3.5″ LCD display.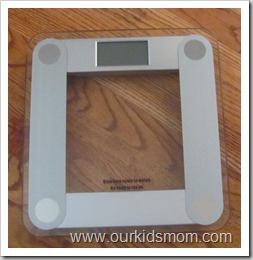 Features
Large 3.5″ LCD display – Easy to read from any distance
4 high precision sensors – Consistent and accurate measurement
Max weight 400 lbs / 180 kgs
Sturdy tempered glass top and large 12″ x 13″ platform
Auto Calibrated; Auto Power-Off; 4 AAA batteries (included)
Video demonstration here
I was impressed with the Eat Smart scale the minute I took it out of the box. I have always be leery of glass scales. I am not (nor have I ever been) a small person and stepping on glass just doesn't sound like it would have a pleasant end result. This scale looks and feels super sturdy. So I started with the lightest members of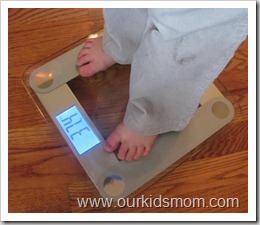 the family and asked them to step on. Most scales operate on a "tap and wait" method before you can step on for a reading. Emma & Ethan don't understand the "tap and wait" method and they just jumped on. They were surprised to get a number reading right off the bat (they usually yell "It says E for Emma!").
Next we checked for accuracy. I brought out my other scale and we had Joshua test both out. They both weighed him exactly the same… multiple times. So…the ultimate test… I stepped on. To my amazement I did not feel "unsafe" on the glass. It felt sturdy and I noticed that the scale had less give than our other bathroom scale. I stepped on and off multiple times just to check. I have a bad track record with scales… our previous one that I refuse to step on now would jump around 2-5 lbs either way! I never knew which end up was up (or down). On this scale I got the same number every time… perfecto! I think the one thing that I remarked was that I wish the display would stay just a few seconds longer. It doesn't stay lit for very long. That's okay, though… the readout is one of the fastest I've seen. It only takes a second to jump back on and get the reading again!
BUY IT!
You can purchase an Eat Smart Precision Digital Bathroom Scale for $28.95 (regular price 37.95)
WIN IT!
One OurKidsMom is going to win an Eat Smart Bathroom Scale!
This giveaway ended at 11:59 PM EST on January 29, 2011.
Disclosure:
This post was written by me and was not edited by anyone. The opinions expressed in this post are entirely my own and have not been influenced in any way. I received product for the purposes of review only. The sponsor is responsible for prize fulfillment and will be shipping the winner(s) their prize(s). For more information please read my disclosure policy.