Is one of your New Years Resolutions to get organized?

DYMO is fast-becoming the worldwide leader in providing innovative solutions that help people accomplish their tasks more easily and look good doing it. We believe that for many of the things people do every day, "There's got to be a better way", and DYMO products offer that better way.
DYMO offers a complete range of products for the office, the warehouse, the worksite, the home and even the classroom. From simple embossers, manual label makers and desktop products to industrial portables, computer-connected products, and cutting-edge software and online service, DYMO is here to simplify your tasks while helping you look more professional.
Dymo LabelManager 260P
Lithium-ion rechargeable battery technology eliminates AA batter inconvenience, waste and disposal

Large viewing screen with two-line text allows users to see exactly what their label will look like before printing

Prints professional quality labels on 1/4", 3/8", and 1/2" easy-peel split-back DYMO D1 labels

Includes separate set of keys for numbers, allowing for faster typing

Features quick access buttons for punctuation and symbols

Allows user to customize labels and add emphasis with three font choices, six font sizes, seven text styles, boxes and underlining

Memory stores up to nine labels and is capable of inserting saved text

Prints up to 10 copies of one label

Sleek, compact and lightweight design, allowing for fast, uninterrupted labeling whether in the office or on-the-go
Office or home, a label maker is a convenient tool to help you stay organized. There are the typical uses… files, binders, folders etc. At home you can label containers used to divide products purchased in bulk at local "club" stores , label your children's books, toys (great with multiple children with the same toy!), chore charts… the uses are endless. 
The LabelManager 260P makes creating your labels simple and fun. My husband and I commented how we remember making labels on the old punch style where the label was bumpy (remember those?). Now you can type, change your mind, change the font style or size, save it, put a box around it, underline it, tell it to print 3 of that particular label and more. You will find it so easy you'll be tempted to label your children, too (i.e. sleepy, cranky, lovey, messy…).
I am attempting to simplify and organize our life. Below is a container I labeled with my homemade laundry soap inside. I foresee several containers of this type wearing a new label in my future!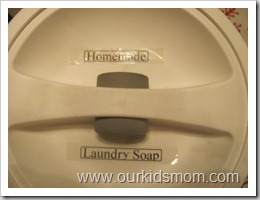 Take a peak at how easy it is to use!
BUY IT!
You can purchase a Dymo LabelManager 260P for $65.99
WIN IT!
One OurKidsMom is going to win a Dymo LabelManager 260P!