Dragon Dictate 3 Speech Recognition Software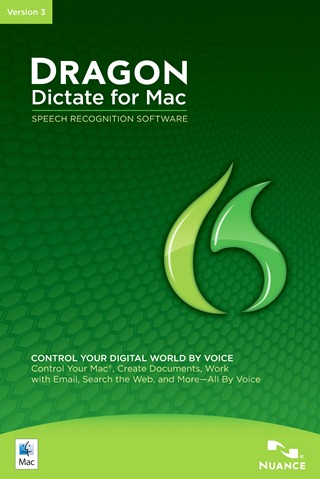 Dragon Dictate for Mac 3 is the most powerful, accurate and personalized voice recognition software for the Mac available on the market today. With increased accuracy and significant feature updates, Dragon Dictate lets people quickly and easily create and edit content, and command and control their favorite Mac applications by voice – anytime, anywhere.
Dragon Dictate harnesses the power of the renowned Dragon NaturallySpeaking voice recognition technology to let Mac users simply speak to see their words instantly captured in real time on their screen. Dragon Dictate for Mac 3 is the most robust version of Dictate yet, with a 15 percent increase in accuracy, new Smart Format Rules and new correction capabilities for a personalized experience, wideband Bluetooth support, the ability to transcribe recorded audio files from a single speaker, and much more.
"Dragon Dictate delivers an incredibly powerful voice experience for the Mac community, with the ability to not only speak text for documents, emails and more, but also command and control the Mac applications and features people use the most," said Peter Mahoney, Chief Marketing Officer for Nuance and Senior Vice President, General Manager, Dragon. "We've been incredibly focused on bringing new features and increased accuracy to this latest version of Dragon Dictate so Mac users can experience the accuracy, speed and productivity that results from speaking instead of typing."
Faster, More Accurate and Easier Right from the Start
Dragon Dictate for Mac 3 delivers a 15 percent improvement to out-of-the-box accuracy when compared to Version 2.5, making it faster and easier for people to freely speak their words and let ideas flow right onto the screen. Simply put, Mac users can get more done in less time, letting creativity and productivity take charge.
More Personal than Ever – Dragon Dictate Gets You
Dragon Dictate now further adapts to the way people speak with Smart Format Rules, which customize and personalize every user's Dragon Dictate experience. Dragon Dictate now detects formatting changes such as abbreviations, numbers and more, so dictated text appears the way you prefer – every time. With its revamped correction process, Dragon Dictate now allows you to use speech to correct individual words or phrases through a single, easy to understand window that lets you select alternate word choices, or spell and train new words. Additionally, Dragon Dictate includes a richer list of alternative word choices, so when making a correction, it's more likely that the word or phrase intended will be presented as an option. When a correction is made, Dragon remembers and learns your preferences, making it more accurate each time. And with the Vocabulary Editor, you have the ability to set alternative written forms of words or phrases (e.g. grey vs. gray).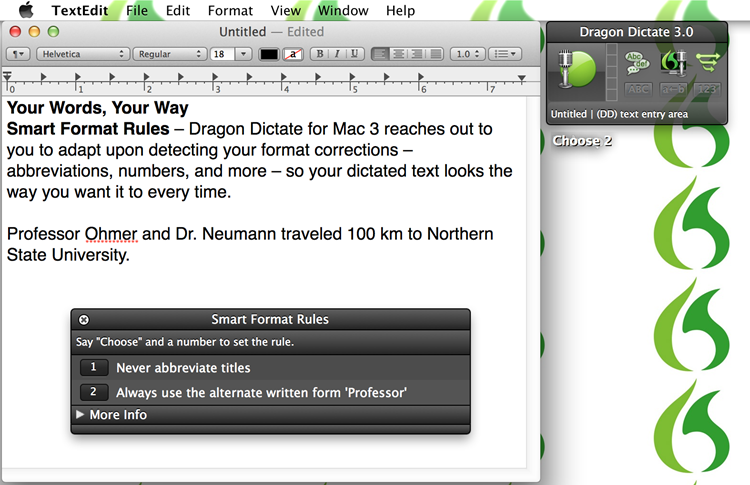 Control in More Applications
Dragon Dictate for Mac 3 gives you control in more applications, so that you can use your voice to get more done. First, Dragon Dictate delivers an Express Editor so that you can dictate into a text field for which it does not have Full Text Control. After you finish dictating, you can transfer the text from the Express Editor to the desired application quickly and easily by voice. In addition to general support for Mac OS X Mountain Lion, Dragon Dictate for Mac 3 offers built-in commands for the new Notes and Reminders applications in this latest OS release.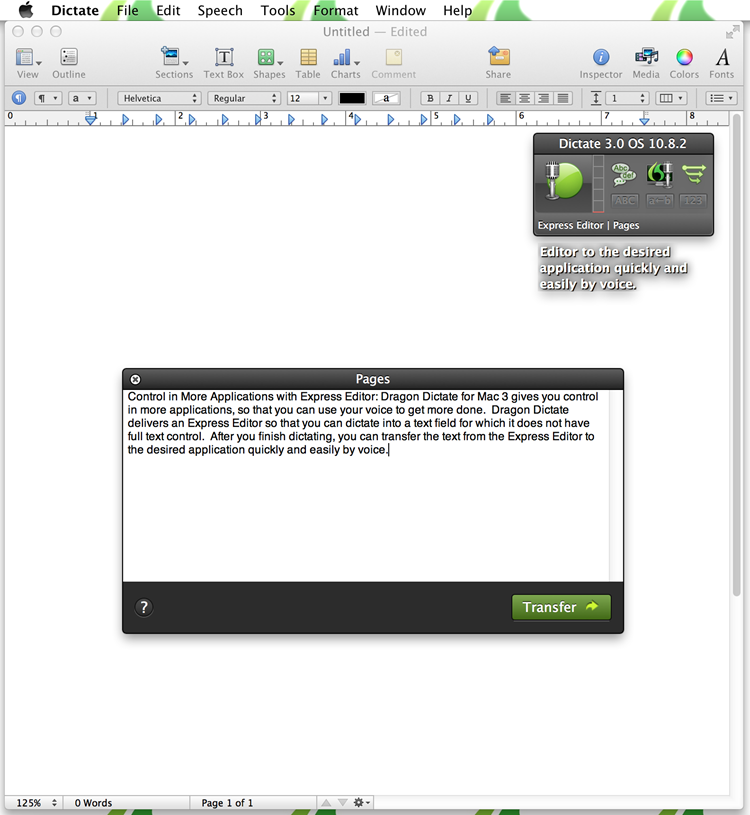 The Perfect Dictation Assistant, Transcribing Recorded Audio Files in a Snap
Dragon Dictate lets you transcribe recorded audio files so you can capture your thoughts while they're still fresh in your mind using a digital voice recorder, or your iPhone, iPad or iPod touch. Simply establish a user profile for an AI voice recorder, and Dragon Dictate quickly and easily transcribes the recorded audio files. Dragon Dictate for Mac supports .wav, .m4a, .m4v, .mp4, .aif, and .aiff audio file formats, as well as any recorded notes using the free Dragon Recorder app for iPhone, iPad, and iPod touch (4th gen).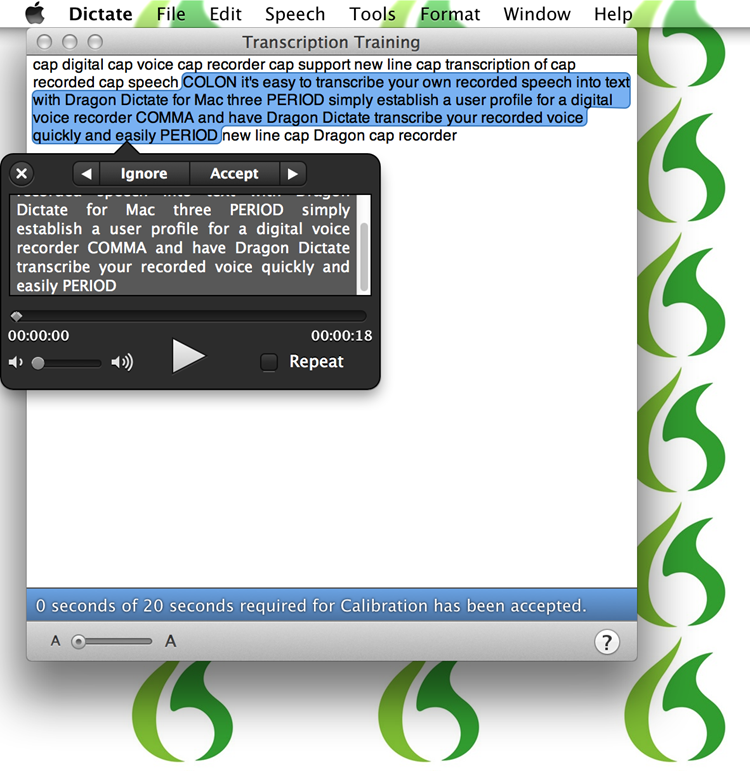 Hands- and Wire-Free with Enhanced Wideband Bluetooth Support
Dragon Dictate now features support for 16kHz wideband Bluetooth wireless headset microphones, allowing for even further increased accuracy for Bluetooth headset users through a higher-quality audio signal. When Dragon detects that a certified microphone is paired with the Mac, Dragon offers "Enhanced Bluetooth" as an audio source type. The improved audio quality eliminates the requirement for Bluetooth users to do initial voice training, allowing them to get started faster than ever before.
Available Anytime, Anywhere
Dragon Dictate gives you power to dictate text at any length whenever and wherever you like to get more done faster, and without a network connection.
Watch Dragon Dictate 3 in action!
BUY IT:
You can purchase Dragon Dictate 3 for Mac at Amazon.com
Disclosure of Material Connection: I received one or more of the products or services mentioned above for free in the hope that I would mention it on my blog. I only recommend products or services I use personally and believe will be good for my readers. I am disclosing this in accordance with the Federal Trade Commission's 16 CFR, Part 255: "Guides Concerning the Use of Endorsements and Testimonials in Advertising." The opinions expressed in this post are entirely my own. Your experience with the product may differ from mine. The sponsor is responsible for prize fulfillment and will be shipping the winner(s) their prize(s). For more information read my disclosure policy.