Dora's Storybook Adventures on DVD September 13, 2011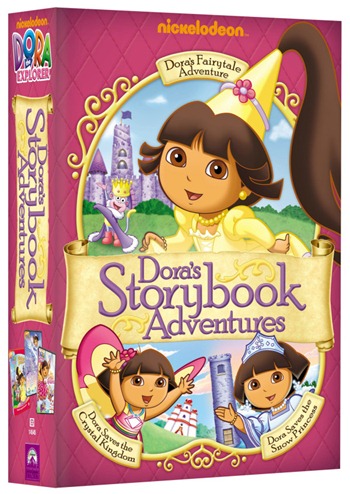 Press Release:
Preschoolers join Dora on magical journeys with unicorns, dragons and princesses in the new three-DVD box set, Dora the Explorer: Dora's Storybook Adventures. The special box set includes Fairytale Adventure, Dora Saves the Snow Princess and Dora Saves the Crystal Kingdom. Created by Nickelodeon Home Entertainment and distributed by Paramount Home Entertainment, Dora the Explorer: Dora's Storybook Adventures will be released on DVD on Sept. 13, 2011, for the suggested retail price of $24.99.
Dora the Explorer: Dora's Storybook Adventures Episode Synopses:
Dora the Explorer: Fairytale Adventure
Fairytale Adventure (Double Length Episode)
Dora and Boots are exploring the forest when they discover the gate to Fairy-Tale Land.  Soon they find that there's a mean witch who lives in Fairy-Tale Land and when Boots eats a banana from the witch's fruit tree, Boots turns into Sleeping Boots!  In order to break the witch's spell, Sleeping Boots must get a hug from Princess Dora.
What Happens Next?
Abuela gives Dora a special star pocket to catch explorer stars, and Dora sets out to become a star catcher!  With Boots' help, she soon catches her first explorer star but Swiper swipes the star pocket and ties it to a balloon that floats all the way up to cloud castle.
The Magic Stick
Dora and Boots find a magic stick and according to the wise old tree frog, it's up to them to go to the top of the highest hill to make the stick do its magic trick.
Dora the Explorer: Dora Saves the Snow Princess
Dora Saves The Snow Princess (Double Length Episode)
Dora, Boots and the Snowflake Fairy are off to save La Princessa Sabrina and her snowy forest from a mean witch who has locked her in a tower and taken away her magic snow crystal.
Dora's Jack-in-the-Box
Dora's twin brother and sister have been sick and Dora wants to buy them a present to cheer them up.  She finds a Jack-in-the-Box but it's been so long since Jack's been played, the little clown doesn't know he's supposed to pop out when the song says, "Pop goes the weasel!"
Bark, Bark To Play Park!
Everyone is getting ready for the big Twins Day Party at Play Park.  Dora even has a surprise for her puppy, Perrito.  He has a twin too – a long-lost puppy brother he hasn't seen since they were babies.
Dora the Explorer: Dora Saves the Crystal Kingdom!
Dora Saves the Crystal Kingdom (Double Length Episode)
A greedy king has stolen the crystals that give Allie's kingdom color and Dora and Boots must help Allie locate the crystals and turn the pale gray kingdom back into a colorful wonderland before it's too late.  Along the way, the trio gain help from a British knight, a giant caterpillar and a magician who give Dora three gifts – a shield, butterfly wings and a magic wand – to aid in her journey.  Using these presents, Dora attempts to defeat the greedy king and restore color to the kingdom.
First Day of School
Boots and Tico are really excited because it's their first day of school ever.  In their new school, they'll learn in English and Spanish!  Dora leads the way, teaching Boots Spanish and Tico English as they head out to school.
Boots' Banana Wish
Dora and Boots are at an amusement park where they have a special wishing machine. Boots makes a wish for bananas and suddenly a bunch fall down on Boots.  He's so happy but soon realizes that the bananas don't stop coming.
Dora the Explorer: Dora's Storybook Adventures Fast Facts:
Street Date: September 13, 2011
Catalogue: 145454
DVD SRP: $24.99
DVD Running Time:  Approximately 282 Minutes
Emma was over the moon when she opened the package containing this 3 DVD box set. Apparently she had been wanting Dora Saves the Snow Princess for quite some time (unbeknownst to be). I guess this all happened after playing the video game at her cousins? We love Dora in our house… they kids learn a little bit of Spanish, learn problem solving skills, map reading skills, that "swiping" isn't nice and more

.
BUY IT:
You can purchase Dora's Storybook Adventures 3 DVD Box Set for $18.99 (RV $24.99) at Amazon.com
WIN IT:
ONE OurKidsMom reader is going to win a copy of Dora the Explorer: Dora's Storybook Adventures on DVD!
TO ENTER:
Simply follow the directions in the widget below. It's that simple.
COMMENTS DO NOT COUNT AS ENTRIES…
but they are still very much appreciated and adored :O)
Rules:
You do not have to be a blogger to enter/win. An email address is required to enter. The winner will be chosen randomly through Rafflecopter and contacted via email. A reply to the winning email is required within 48 hours before a new winner is chosen. One person entering per household please. U.S. only.
This giveaway ends at 11:59 PM EST on September 30, 2011.
Disclosure of Material Connection: I received one or more of the products or services mentioned above for free in the hope that I would mention/review it on my blog. I only recommend products or services I use personally and believe will be good for my readers. I am disclosing this in accordance with the Federal Trade Commission's 16 CFR, Part 255: "Guides Concerning the Use of Endorsements and Testimonials in Advertising." The opinions expressed in this post are entirely my own. Your experience with the product may differ from mine. The sponsor is responsible for prize fulfillment and will be shipping the winner(s) their prize(s). For more information read my disclosure policy.