DORA THE EXPLORER: CELEBRATE WITH DORA
Available on DVD on Nov. 15, 2011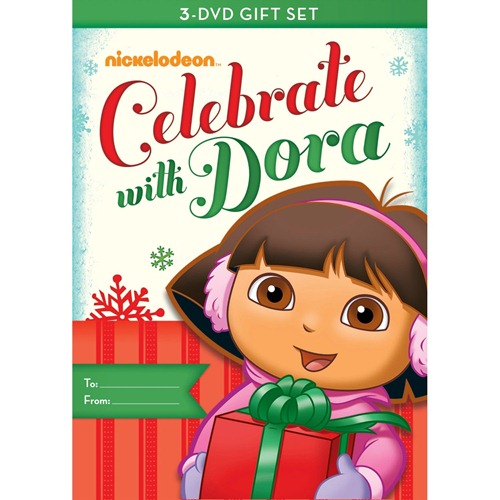 If your little one is anything like my Emma they cannot get enough of Dora. This particular box set has some of Emma's favorites included. I have heard "It's a present for SANTA!" so many times it rings in my ears… but she loves it every single time. It's fun to have the episodes grouped by topic.
In every episode, Dora and Boots invite the audience to participate in an exciting adventure, where each step of their journey consists of a problem or puzzle that Dora and the audience must think their way through in order to solve the next problem. Dora is proudly bilingual and uses her knowledge of English and Spanish to communicate with her friends, overcome obstacles and reach her goals. In each episode, Dora teaches Spanish words or phrases to the viewers and then asks them to use it to solve a problem and forge ahead. Ultimately, Dora and her best friend, Boots, triumph, and the story always ends with a "We Did It!" anthem.

*****
Enjoy all of Dora's favorite holidays and fiestas in this new three-DVD box set, Dora the Explorer: Celebrate with Dora. The special box set includes Dora's Christmas!, Dora's Halloween and Dora's Big Birthday Adventure, all in one gift-able collection!
Dora the Explorer: Celebrate with Dora Episode Synopses:
Dora the Explorer: Dora's Christmas!
A Present for Santa
It's Christmas Eve! In the spirit of giving, Dora and Boots trek to the North Pole to deliver a present to Santa.
Rapido Tico
Boots waits for a new toy fire truck to arrive in the mail but when the package arrives, it's empty! Dora and Boots must travel to the Snowy Mountain to recover the gift before Swiper the sneaky fox finds it.
School Pet
Dora and Boots save the school pet, a hamster named Mimo, who goes missing from his cage.
Quack Quack!
Dora and Boots are coloring a picture of Mami Duck and her eggs when the coloring book suddenly comes to life. The eggs start the hatch and the wind blows one of them away. Dora and Boots must jump into the coloring book to bring the newly hatched Baby Duck back home to Mami.
Dora the Explorer: Dora's Halloween
Boo!
It's Halloween! Dora and Boots are trick-or-treating when a cute Little Monster surprises them. They help Little Monster hurry home before the big clock strikes 12.
The Missing Piece
Dora and Boots meet a wizard, El Encantador, who is missing his magic wand. They set off to find El Encantador's wand so that he can perform his magic.
To the Monkey Bars
Dora has never been able to climb all the way across the monkey bars. Dora and Boots set off for Play Park so that Dora can give it another try.
The Big Storm
A big storm cloud is coming. Dora and Boots have to warn all their friends in the forest to get home before it starts raining.
Dora the Explorer: Dora's Big Birthday Adventure
Dora's Big Birthday Adventure (Double Length Episode)
Happy Birthday, Dora! In the final episode of the Magic Storybook Trilogy, Dora and Boots need to get home for Dora's birthday party with all her family and friends. Before Dora and Boots can jump out of the Magic Storybook, a twisty wind picks them up and blows them into Wizzle World. Page 1 of 2
Dora Helps the Birthday Wizzle
Dora is reading a storybook about a Birthday Wizzle who could make birthday wishes come true with his magic wand. Today is his birthday so it was his turn to make a wish, but a wind comes in and blows the wand out of the book. Dora must jump into the book and bring the wishing wand back to the Wizzle to give him his birthday wish.
Wizzle Wishes
Dora and Boots meet a cute little Wizzle who lost his bag of wishes and can't get home. They set off in search of the lost wishes, but their friends keep finding the wishes first. Dora and Boots must overcome a giant sunflower in Isa's garden, a storm of raining nuts in the Nutty Forest and slippery slopes at the Wishing Well in order to return to wishes to their rightful owner.
BUY IT:
You can purchase Dora the Explorer Celebrate With Dora for $19.99 (RV $29.98) at Amazon.com
WIN IT:
ONE OurKidsMom reader is going to win a copy of Dora the Explorer Celebrate With Dora on DVD!
TO ENTER:
Simply follow the directions in the widget below. It's that simple.
COMMENTS DO NOT COUNT AS ENTRIES…
but they are still very much appreciated and adored :O)
This giveaway ended at 11:59 PM EST on December 2, 2011.
Disclosure of Material Connection:  I received one or more of the products or services mentioned above for free in the hope that I would mention/review it on my blog. I only recommend products or services I use personally and believe will be good for my readers. I am disclosing this in accordance with the Federal Trade Commission's 16 CFR, Part 255: "Guides Concerning the Use of Endorsements and Testimonials in Advertising." The opinions expressed in this post are entirely my own. Your experience with the product may differ from mine. The sponsor is responsible for prize fulfillment and will be shipping the winner(s) their prize(s). For more information read my disclosure policy.