Ok, how many of you are as sad as me to see the 2012 London Olympic Games come to an end? It is so inspiring to see people achieve and reach their goals and dreams.
Our Team Visa Olympians did just that!
The total Medal Count: 35
Gold: 16
Silver: 9
Bronze: 10
Did You Know?…
·  If Team Visa were a country, it would be tied for 7th in the number of overall medals
·  Team Visa won 11.6% of the medals awarded at the London 2012 Olympic Games
But our athletes are still looking for our support! Don't Stop CHEERING! Many of them have plans to continue training and hopefully make it to Rio in 2016! I've said it once and I'll say it again… the athletes are listening!
The online support has made a huge difference for Kerri and Misty! They have felt like they have an army of people behind them. Listen to what they have to say about your CHEERS!
David Boudia compares his London 2012 journey to that of the Beijing 2008 Olympic Games, and how different the fan support has been.
Allyson Felix's talks about her plans now that the London 2012 Olympic Games have drawn to a close. Watch this video and find out.
WIN IT:
ONE OurKidsMom reader is going to win 2 – $20 VISA Gift Cards… $40 total!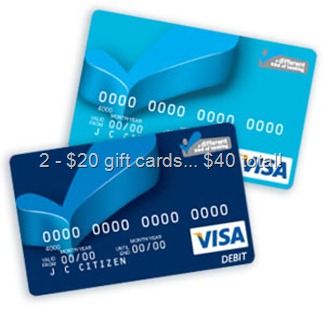 This giveaway ended at 11:59 PM EST on August 31, 2012.
Disclosure: I am blogging on behalf of Visa's Team Visa athlete program and receive compensation for my time, but the thoughts, words, and promotions on this page are mine, not Visa's. The gift card promotions are not sponsored by Visa in any way.