Diono Radian RXT Spring 5 Point Convertible + Booster Car Seat

Car seat safety is a huge priority in my life.  From the minute they are born, our babies look to us for everything… food, comfort, warmth, love and keeping them safe. Not having the proper protection for them in your car can cause life altering or life threatening injuries even in the smallest crash. That's why I look to Diono.
While our name has changed, our commitment to safety, quality and value has never wavered. Diono car seats and travel accessories are safe, reliable and easy to use. Our award-winning products include the Radian Convertible + Booster car seat series, with complete steel frame and superior side-impact protection. The Monterey expandable booster seat is a popular choice for growing children.
Rigorous NCAP crash testing confirms that the RadianRXT and R120 car seats have the highest weight capacities on the market: 45 lbs rear-facing, 80 lbs forward-facing, and 120 lbs as a booster seat. A Radian convertible car seat may be the only seat you'll ever need for your growing child.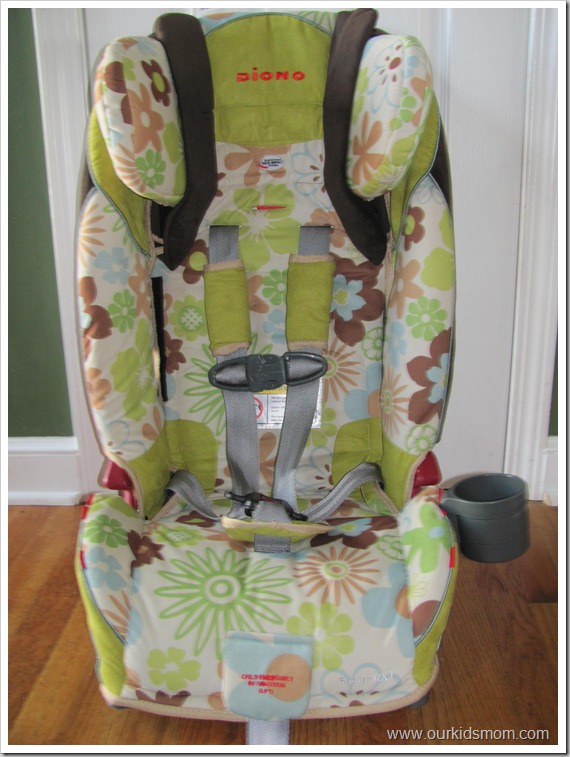 Diono is one of the very few car seat manufacturers that create "the only car seat you will ever need". The RadianRXT comfortably holds a rear-facing child from 5 to 45 pounds, a forward facing child from 20 to 80 pounds in a 5 point harness, then converts to a seat belt positioning booster for children up to 120 pounds.

 Diono is also unique in the fact that it is built with a steel alloy frame. Seriously… which would you prefer between your baby and an oncoming car? Plastic or steel alloy? With it's reinforced sidewalls, adjustable head support and patented SafeStop® energy absorbing harness I feel certain my children are protected.
I recently had "graduated" Emma into a seat belt booster. She is old enough and big enough… but every time I clicked the belt I felt like I wasn't protecting her as well as I should be. Many times she would lean sideways to twist and pick on siblings in the back or pick up a toy off the floor and would fail to adjust the seat belt properly when she sat back up. We chose the Diono Radian RXT for Emma because it is the only car seat rated for LATCH use with a child up to 80 pounds. At her tiny frame of 45 pounds we have several years of use left in the 5 point harness.
Diono uses EPS foam to surround your child's head and body to provide complete side impact protection. Their unique SuperLATCH system makes installation quick and easy. One of the most convincing arguments for the RadianRXT… it is NCAP crash tested, the industry benchmark for verifying child seat performance in severe accident conditions.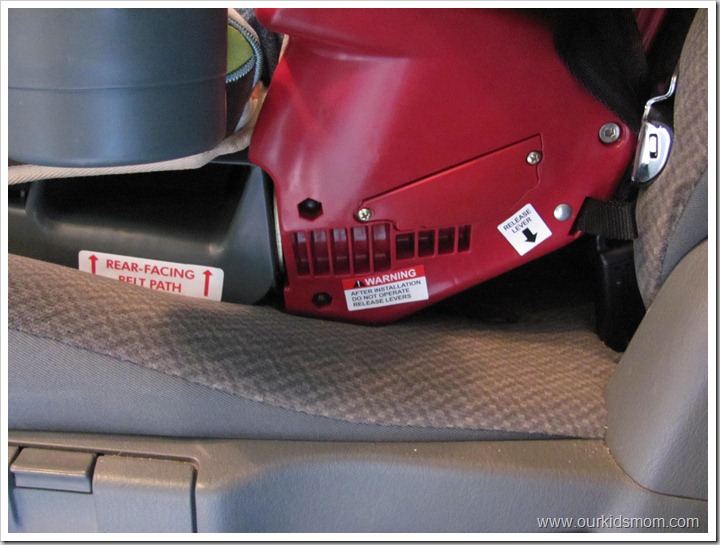 Another feature of the Diono Radian RXT that is unique to this brand is the expandable sides and a longer seat bottom. These are fabulous features that provide extra room and comfort for your growing child. Considering the weight range is 5 to 120 pounds, they go out of their way to make sure your child is comfortable but safe at every step of their development.

Emma is at an age that she wants to do everything for herself. Fortunately the RadianRXT sits low on a vehicle for each child boarding. Even Ethan can get in and out of it easily without help. With memory foam padding in the seat Emma has stopped complaining about her bottom hurting on longer treks to the other side of the city… hooray!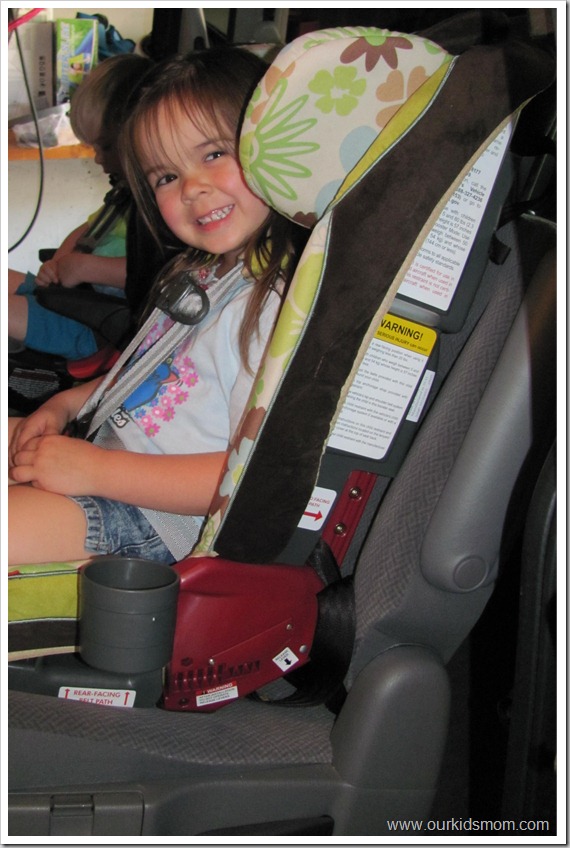 One of the features that was lacking on the old Sunshine Kids car seat/booster were cup holders. The new Diono RadianRXT includes one cup holder with the option to add up to 4 cup holders. I'm sure there is a way to lock the cup holder down, but I haven't figured it out yet and Emma has knocked it off her seat while exiting the van. It's not a huge deal, but I am hoping that I won't accidentally forget and back over it some day.
In addition to all this versatility, it folds flat for travel and storage, has a 10 year life and offers amazing safety, comfort and convenience your child won't outgrow.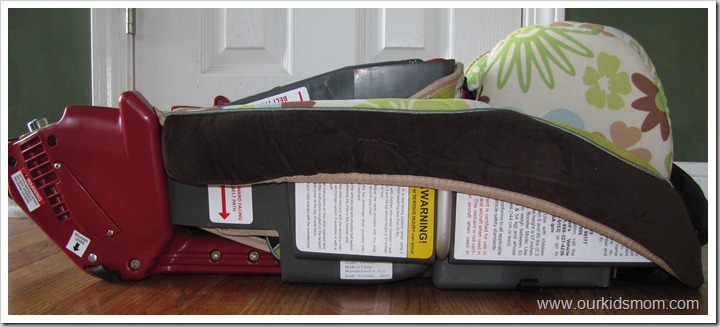 Do you have a large crew? It's difficult to get all the car seats in the car and not be over crowded, right? Not with the Diono Radian RXT. It is the only car seat that will fit 3 across in most cars.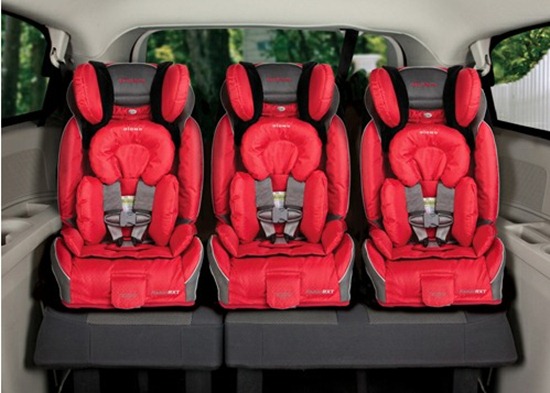 Features Overview:
Forward-facing: 20 – 80 lbs (and up to 57″) in a 5-point harness

Steel alloy frame and aluminum reinforced sides

Safestop® energy-absorbing harness system

Adjustable head support, reinforced for complete side impact safety

Energy-absorbing EPS foam panels on all sides

Rear-facing tether capability

LATCH installation up to 80 lb child

Infant body support cushions

Memory foam padding for superior comfort

5 shoulder and 3 buckle positions for custom fit

Expandable sides and longer seat bottom for leg support and comfort

12 height positions for adjustable head support

2 recline positions in forward-facing mode

Sits low on vehicle seat for easy child boarding

Fits 3 across in a mid-size vehicle and offers more shoulder space

Add up to 4 cup holders (1 included)

Folds flat for travel and storage

Rubber bottom grips for no-slip installation
Emma has been using her Diono Radian RXT for a couple of months now. When I first took her out of the seat belt positioning booster she was a little pouty. I think she felt like I was making her take a step back from being a 'big girl'. Once she figured out that she can get into the seat and clip/unclip the harness herself she didn't mind her new seat at all. She actually loves the pattern, how soft the seat is on her bottom and that she has a cup holder again. Everyone is happy! Yes, the Diono is a little on the pricey side but think about it this way. If you purchase an infant carrier, then a convertible and then a booster… you've spent more money than the outright price of the Diono RadianRXT. With Diono being the highest rear facing car seat and/or highest capacity car seat with a 5-point harness, I think the choice is clear.
BUY IT:
You can purchase the Diono Radian RXT in Spring for $283.00 at Amazon.com
Connect with Diono for product news, updates and promos:
Disclosure of Material Connection: I received one or more of the products or services mentioned above for free in the hope that I would mention it on my blog. I only recommend products or services I use personally and believe will be good for my readers. I am disclosing this in accordance with the Federal Trade Commission's 16 CFR, Part 255: "Guides Concerning the Use of Endorsements and Testimonials in Advertising." The opinions expressed in this post are entirely my own. Your experience with the product may differ from mine. The sponsor is responsible for prize fulfillment and will be shipping the winner(s) their prize(s). For more information read my disclosure policy.