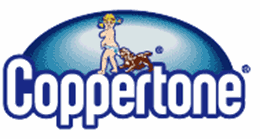 Many people stop thinking about sunscreen when fall and winter hit, but the suns damaging effects can happen year round. Even when there is snow on the ground! Did you know that snow reflects 80% of the suns rays making you just as susceptible to the suns rays as if you were on the beach?
Spring is here and summer is right around the corner… it's time to refresh that bottle of sunscreen and enjoy the sun! Coppertone has several lines to choose from… something for just about everyone.
***************
A few facts about sun exposure.
Limited time in the sun is important for your overall health. The sun provides us with Vitamin D… something our body cannot make on it's own. Vitamin D has many important functions, like bone maintenance. Unfortunately, too much time in the sun can be harmful.
Besides the initial skin damage that leads to aging, repeated sunburns can put you at risk for skin cancer. Long term exposure to the sun can also damage your eye lens. This can lead to cataracts. Cataracts are the leading cause of blindness! You can also damage your retina from too much sun. This can lead to temporary blindness.
Did you know…
Effective sunscreen protection is more than an SPF number.
It's about broad spectrum UVA/UVB protection
The sun produces two types of invisible rays that cause skin damage: ultraviolet B (UVB) and ultraviolet A (UVA).
UVB rays damage the outer layers of skin and are the main cause of sunburn, premature skin aging and skin cancer.

UVA rays penetrate more deeply into the skin and can contribute to premature skin aging and skin cancer. We encounter UVA rays no matter what the season or time of day.
Coppertone® sunscreen products with broad spectrum protection shield you from the effects of both types. In fact, they protect you from the most damaging rays across 100% of the UVA/UVB spectrum.*
*Amount of protection varies across spectrum.
***************
Ethan will be using the Water Babies Delicate Foaming Lotion. He is very pale and has very sensitive skin.
Emma will be using Coppertone Kids Pure & Simple, as she is more olive toned and does not have any skin sensitivities. Although the SPF is not as high as the Water Babies, it does have built in zinc oxide.
The rest of the family will be using the Oil Free Foaming Lotion. With teenagers in the house (that worry about their complexion) it's nice to know this product won't clog pores… they will be more likely to use it on their faces.
Foaming Lotion SPF 75+ Sunscreen

#1 pediatrician recommended brand

Photostable, broad spectrum UVA/UVB protection

Gentle, non-irritating formula

Hypoallergenic

Dermatologist-tested

Waterproof

Available in 6 oz

Pure & Simple Lotion SPF 50 Sunscreen

Tear free, won't sting or irritate eyes

Waterproof

Photostable, broad spectrum UVA/UVB protection

Fragrance-free, ®-free, dye-free and hypoallergenic

Ultra-gentle formula with zinc oxide

Dermatologist, ophthalmologist and pediatrician tested

Available in 8 fl. oz.

Oil Free Foaming Lotion
SPF 75+ Sunscreen

Oil free, fragrance free, hypoallergenic

Non-comedogenic – won't clog pores

Photostable broad spectrum UVA/UVB protection

Waterproof

Light, non-greasy formula

Helps prevent premature skin aging from the sun

Available in 6 fl. oz.
BUY IT:
Coppertone products can be purchased at a retailer near you (such as Wal-Mart, Target, K-Mart etc).
COUPON: Be sure to print your $1 off coupon before you go
WIN IT!
One OurKidsMom reader is going to one of each Coppertone product I received!
This giveaway ended at 11:59PM EST on April 18, 2011.
Disclosure:
This post was written me and was not edited by anyone. The opinions expressed in this post are entirely my own and have not been influenced in any way. I received product for review purposes only. I was not compensated for this post. The sponsor is responsible for prize fulfillment and will be shipping the winner(s) their prize(s). For more information please read my disclosure policy.