About CoolCorC LLC
CoolCorC started in 2006 with a vision shared by two brothers, Josh and Larry. Their vision was to make quality, versatile products out of cork. What began with disposable cork cup sleeves has evolved into a diverse product line while remaining a family owned business focused on CoolCorC's mantra: create memorable, useful and quality products using the worlds most sustainable and versatile material: cork. All products are designed by a husband and wife team of Architects, Joshua and Jessica who are also CoolCorC's President and Vice President respectively.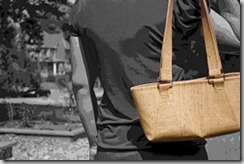 CoolCorC's small purse fits all your daily necessities. Stylish and eco-friendly our purses feature a fun and colorful lining. Easily closes with a magnetic snap. Fit for a casual outing or a night on the town.
All of CoolCorC's purses are made with cork fabric. Cork fabric is as durable as leather but is also stain, water and scratch resistant. Cleans easily with a damp cloth.
The CoolCorC small purse measures 6 1/2″ tall, 10″ wide and 3″ deep.
When I was contacted by CoolCorC about reviewing a cork purse I was truly intrigued. Be honest, when you hear a cork purse… do you envision a purse made of stuff you'd find on a cork board? All rough and porous?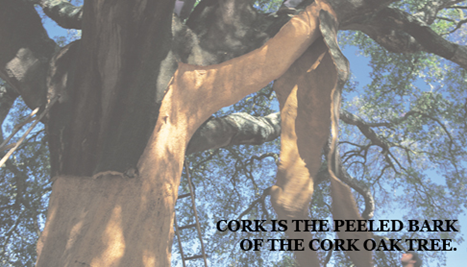 Here are a few fun facts about cork:
Cork is the bark of the cork oak tree – it is harvested by being peeled from the tree.

Cork oak forests grow in the Mediterranean and Central Asia.

A truly renewable material, the bark regenerates in 7-9 years for another harvest.

Cork oak trees continue to absorb green house gases after harvesting.

Cork is not endangered – it can only be endangered if we stop using it.

Cork trees that are harvested can live up to 200 years.

Cork oak forests are home to endangered animals: Iberian Lynx, the Imperial Eagle, the Golden Monkey and the Golden Takin.

Choosing cork products "supports 100,000 livelihoods in the Mediterranean regions."

Cork is a versatile, natural material as "it is light, yet impermeable to liquids and gases, elastic and compressible, an excellent insulator, fireproof and resistant to abrasion."

Cork is hypoallergenic, recyclable, biodegradable, insulating and waterproof
The cork you find on a cork board is actually made of pieces of cork pressed together forming a solid entity. Although this type of cork isn't used to make their purses… you can find it in their disposable cup sleeves!
The cork used to make these purses is a thin shaving of cork and it's applied to a cotton backing to create a fabric "veneered" with cork. It is often referred to as cork leather because it wears like traditional leather. It is just as durable but doesn't stain with water and other liquids are removable with a damp cloth. They also use this type of cork in their reusable cup sleeves.
So the purse arrived… and I am in total love with it! It was not what I expected… it is soft and smooth and feels so durable! The construction and details are impeccable… and the interior fabric is a very pretty floral print made of 100% cotton. The size is just right for the woman that only takes the necessities (me) and I know I am going to get a ton of compliments when I take it out! (still carrying only a diaper bag… hopefully potty training will be done soon!) I also feel good knowing this is constructed of a renewable resource (and not animal skin)!
CoolCorC carries more than just purses and clutches. They make coffee cup sleeves, coasters, wallets, headbands (fashion statements) and journal covers, too!
BUY IT:
You can purchase a CoolCorC small purse for $79.
25%* off your CoolCorC accessory order. Just use coupon code ILOVECORK when checking out
*Coupon code does not apply to cup sleeve orders; offer good until March 14, 2011
WIN IT!
ONE OurKidsMom reader is going to win a CoolCorc large clutch (RV $59)!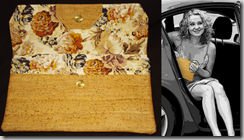 This giveaway ended at 11:59PM EST on March 11, 2011.
Disclosure:
This post was written by me and was not edited by anyone. The opinions expressed in this post are entirely my own and have not been influenced in any way. I received a small cork purse for review purposes only. The sponsor is responsible for prize fulfillment and will be shipping the winner(s) their prize(s). For more information please read my disclosure policy.