Cook'n Recipe Organizer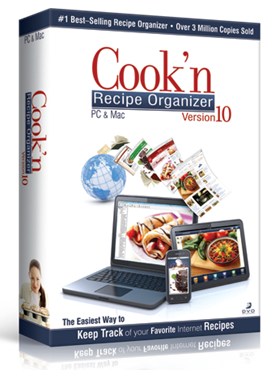 With our family's recent focus on trying to eat more whole unprocessed foods, my recipe collection has more than doubled. Most of my current recipes are from various places online and are stored/organized in my internet browser bookmarks. This method of organization is not very efficient and oftentimes I cannot remember which particular recipe it was I wanted to use (several sound alike but are not) and I get frustrated looking for it.
Now I have the Cook'n Recipe Organizer. This computer program will become a cooks best friend… quickly.
With Cook'n you can:
Easily add your own recipes
Organizing your family recipe collection in the computer is easy with Cook'n. You already know how to put in your recipes, that's because Cook'n's recipe window looks just like a recipe card. And, "Quick-Fill" editing does much of the typing for you. You can even add your recipe photos and videos!
Capture hundreds of internet recipes
Finding recipes on the Internet is fun… but printing them just adds to the clutter. Instead, simply use Cook'n to find and capture Internet recipes so you keep them in one central database for easy access!
Create and organize cookbooks with different chapters
Cook'n has simple cookbook-like chapters and categories that make it easy to find your recipes fast. Choose how to display your recipes with several colorful themes to choose from. If you'd rather have a hard copy, Cook'n allows you publish cookbooks with title pages, table of contents, nutritional info, and indexes.
Search for recipes by what foods you have on hand
Simply tell Cook'n what ingredients you have on hand and in seconds, Cook'n will suggest several delicious recipes. Or, use Cook'n's exclusive "Recipe Browser" feature and page through pictures of finished dishes to look for ideas.
Change recipe serving sizes to automatically convert ingredient amounts
Cook'n's Recipe Manager makes entertaining a snap. Simply select the number of guests you will be serving and enter it into your favorite recipe. Cook'n calculates the new ingredient amounts for you. No more of that measuring madness!
My favorite uses for Cook'n is the ability to import internet recipes (fantastic) and the ability to search for a recipe based on what you have on hand in the kitchen. After taking some time to import all of my recipes (online and physical from a book at home) I am now an efficient recipe finder! No more rummaging through my pile of magazine clippings or through my internet bookmarks to find a last minute idea for dinner. I know I'm not the only Mommy out there that doesn't have dinner planned the night before. Some day I aspire to be super Mom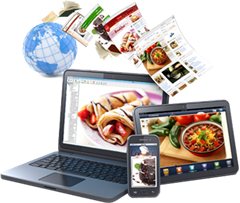 and have my menu planned out for the week, but for now Cook'n saves my hiney several times a month!
Some other great functions of Cook'n include:
BUY IT:
You can purchase Cook'n Recipe Organizer for $79.99.
*** COUPON ALERT***
OurKidsMom's readers can save 50% off by using code mb-ourkids
WIN IT:
ONE OurKidsMom is going to win a copy of Cook'n Recipe Organizer for PC & Mac!
This giveaway ende at 11:59 PM EST on April 20, 2012.
Disclosure of Material Connection: I received one or more of the products or services mentioned above for free in the hope that I would mention it on my blog. I only recommend products or services I use personally and believe will be good for my readers. I am disclosing this in accordance with the Federal Trade Commission's 16 CFR, Part 255: "Guides Concerning the Use of Endorsements and Testimonials in Advertising." The opinions expressed in this post are entirely my own. Your experience with the product may differ from mine. The sponsor is responsible for prize fulfillment and will be shipping the winner(s) their prize(s). For more information read my disclosure policy.