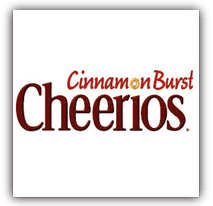 Made with real cinnamon, new Cinnamon Burst Cheerios cereal will delight your taste buds! This newest edition to the Cheerios line-up allows you to provide your family with a delicious and nutritious breakfast that contains 20% of the Daily Value of fiber (or 5g per serving), has 9g of sugar, is low in fat, saturated fat free and naturally cholesterol free. Cinnamon Burst Cheerios cereal also provides at least 8g of whole grain per serving; at least 48g recommended daily. A true crowd pleaser, Cinnamon Burst Cheerios cereal is sure to kick-start any morning!
As you know, my family has been re-adjusting our eating habits. One of our "moves" has been to eat more whole grains and steer away from processed items.
We have always enjoyed our Cheerios… all varieties. Cheerios has always been a cereal that I don't have "mother's guilt" after feeding it to my children. They love the way it tastes, and I love what is in them.
When we were given the opportunity to try new Cinnamon Burst Cheerios I didn't have to think twice before replying.  The combination of cinnamon (which, by the way, is a natural appetite suppressant… did you know that?) and Cheerios had to be fabulous.
The box arrived and we eagerly unpacked it. Not only was a glorious box of Cinnamon Burst Cheerios inside, but we also received 4 nice cereal bowls, a candle and a portable three chamber (one for dry, one for fruit, one for milk with a cold ring) Breakfast Chiller.
Now, I had every intention of trying this cereal to give you my honest opinion. No, really… I did. But, I forgot that I live in a house with a cereal monster named Josh. I should have known what was going to happen. I mean, seriously… if he had reached over to tear the box open any sooner his hand would have been in the photo above. He groaned and moaned with delight with eat bite he took…. and then he poured a second bowl. Yep… a second.
I wake up as the older children are finishing up and getting ready to walk out the door. I said my good-byes and gave my hugs…. and then walked to the kitchen for my bowl of Cheerios.
You guessed it. He ate the entire box in a 12 hour time span.
This is a new record for him!
So… I have to say, Cinnamon Burst Cheerios must be good for him to devour an entire box that quickly!
BUY IT:
You can purchase Cinnamon Burst Cheerios at a local store just down the road!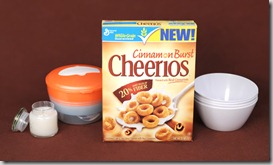 WIN IT!
One OurKidsMom readers is going to win a Cinnamon Burst Cheerios Prize Pack!
This giveaway ended at 11:59PM EST on February 25, 2011.
Disclosure:
This post was written by me and was not edited by anyone. The opinions expressed in this post are entirely my own and have not been influenced in any way. The  Cinnamon Burst Cheerios cereal and gift pack were all provided to me for review from Cheerios through MyBlogSpark. The sponsor is responsible for prize fulfillment and will be shipping the winner(s) their prize(s). For more information please read my disclosure policy.