What an amazing wild ride Team VISA has been on these past couple of weeks, huh? I have to admit I've shed quite a few tears watching these amazing athletes receive their medals. I can't even begin to imagine the overwhelming emotions they must have been going through.
VISA put together a short congratulatory video for Michael Phelps.
If you haven't been watching… he won his 19th Olympic Games medal making him the most decorated Olympian of all time. Yes, even this video brought tears to my eyes.
Emilie Heymans won her 4th medal after 10 years of training.
These are just a couple of the amazing athletes on Team VISA. They've worked so hard for this… the least we can do is send them some cheer, right? VISA has set up a Global Cheer App for us to do just that… cheer. They are listening… so do it daily and do it often!
WIN IT:
ONE OurKidsMom reader is going to win a $20 VISA Gift Card!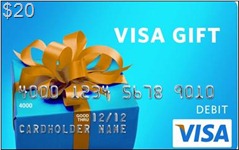 This giveaway ended at 11:59 PM EST on August 24, 2012.
Disclosure: I am blogging on behalf of Visa's Team Visa athlete program and receive compensation for my time, but the thoughts, words, and promotions on this page are mine, not Visa's. The gift card promotions are not sponsored by Visa in any way.