Bumbo Booster Seat

When I think of the Bumbo, I automatically think of their baby floor chair. Well I just recently learned that Bumbo has more then just the Baby floor chair… they also have step stools, toilet trainer seats, crawl balls, and booster seats.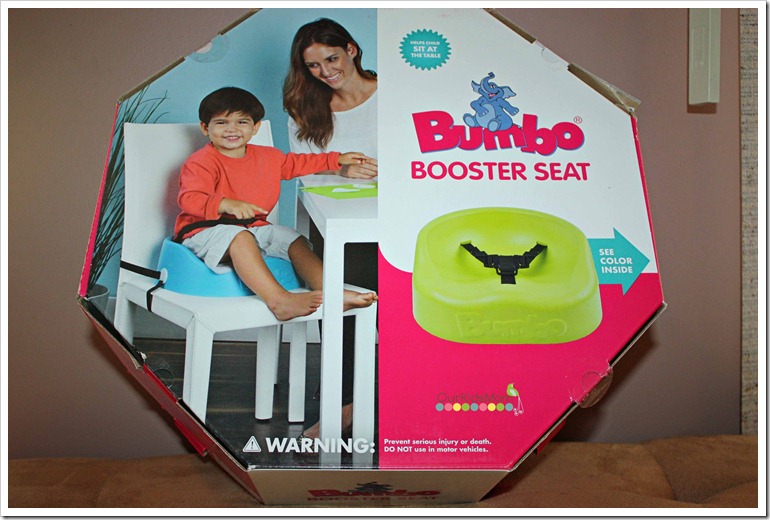 I was thrilled to receive a Bumbo booster seat. My 2 year old daughter has grown out of her high chair and has taken over the one booster seat we have, so my almost 5 year old got boosted out of that booster to a regular chair. He has taken to sitting on his knees, but it doesn't take long for his knees to fall asleep and get uncomfortable for him. When I told him we were getting a booster seat for him he was a little unsure thinking that it was going to look "babyish" and that he was too big for a booster seat.
First thing I noticed opening it up was it is made out the same soft material as the Bumbo floor seats. It's soft, squishy, and looks pretty comfortable. I could also tell that safety is very important to Bumbo as well.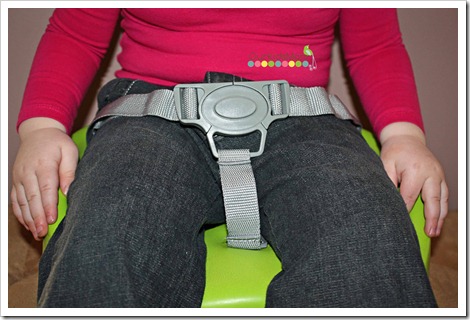 The booster seat is equipped with a 3 point lap buckle. I first had my 2 year old daughter sit in it and I found that the buckle didn't tighten as snugly as I thought it should with her, where on my son it fit him snug and comfortable.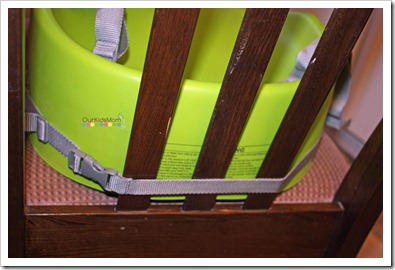 Along with the lap belt, it also has 2 buckles that snap around the chair to keep the booster from sliding or falling off your chair. We have 2 different sized chairs. The one above I could make it fit nice and tight across the back and under the bottom of the seat.
Our other chair that we use for the kids it fit snug across the back, but I couldn't get it as snug under the bottom of the seat… there was a little slack still on it. It would be nice if there was a belt adjustment on both straps and not just on the one strap. Fortunately the back strap on the back of the chair is tight enough that the seat doesn't slide or shift at all when my son is sitting in the booster.
Karson was very excited to see his new seat and couldn't wait to climb up and sit much more higher and more comfortable at the table. No more having his legs fall asleep! This booster is a great booster for an older child that doesn't want to be in a "baby" looking booster. It comes in many great colors to fit just about anyone's personality.
BUY IT:
You can purchase a Bumbo Booster seat at Amazon.com
Do you enjoy OurKidsMom and the giveaways?
Please take a second to vote for us on Top Mommy Blogs! One click on the banner below and you're done…
Thank You!
Disclosure of Material Connection: I received one or more of the products or services mentioned above for free in the hope that I would mention it on my blog. I only recommend products or services I use personally and believe will be good for my readers. I am disclosing this in accordance with the Federal Trade Commission's 16 CFR, Part 255: "Guides Concerning the Use of Endorsements and Testimonials in Advertising." The opinions expressed in this post are entirely my own. Your experience with the product may differ from mine. The sponsor is responsible for prize fulfillment and will be shipping the winner(s) their prize(s). For more information read my disclosure policy.