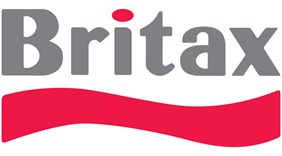 For 70 years now, BRITAX has been a leader in the area of child passenger safety. They have left a legacy of leadership for their innovations. Because of their uncompromising focus in the areas of increased safety, ease of installation and use, Britax is now the best-selling child car seat in Europe. Since entering the US marketplace in 1996, Britax has become one of the most trusted brands by American parents and caregivers. Britax products undergo the most rigorous testing in the industry. This shows their unparalleled  commitment to improving child safety. Britax has been working closely with car manufacturers to help improve car designs that will help improve the performance of the child safety seat. Britax is committed to educating consumers, child passenger safety technicians and other child safety advocates on how to install child safety seats properly as well as communicating with them about new ideas to improve their safety and ease of use.
 As a parent that has lost a child, I have always been on the overprotective side with my babies/children. When my children were born, the car seat decision was a huge one for me. To be honest, I hadn't really heard much about Britax until lately. Emma has been growing like a weed and just recently has come close to hitting the limit of her convertible seat. I began my research and because I have been hearing so many good things about Britax… I decided to look at them more closely.
We were sent a Britax Parkway SGL belt positioning booster seat for Emma to try out. There were so many things about the Parkway SGL that I liked…

Emma has just hit the 40 lb weight range, which is on the low end of the fit chart for the Parkway SGL. In Missouri children ages 4 to 7, weighing more than 40 pounds but less than 80 pounds and under 4'9" tall must ride in an appropriate child car seat or booster seat. This particular seat goes clear up to 120 pounds. I liked that the backrest height was adjustable from 38-63 inches. That should be more than enough growing room for Emma. It's a simple one handed maneuver (squeeze and pull) and it adjusts the shoulder belt for a perfect fit.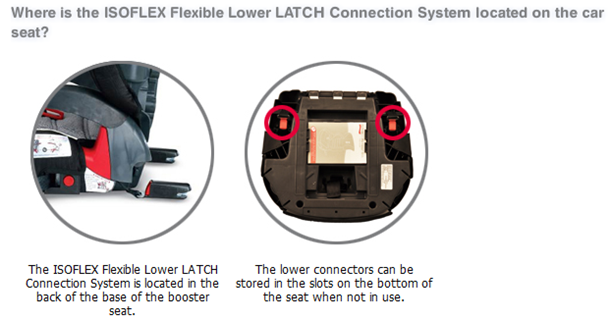 I was very excited about the ISOFLEX Flexible Lower Latch Connection System. When considering a belt positioning booster, I was worried that when unoccupied the booster would become a flying projectile in a crash. The latch was super easy to use… clip in place and then push the red button and pull the excess strap! If only all car seats were that easy to install!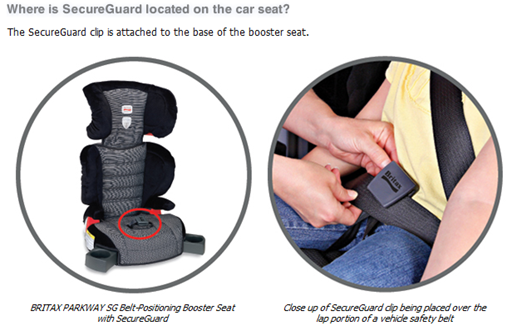 Another feature that was unique to the Britax Parkway SGL was SecureGuard. SecureGuard is a clip that goes between the child's legs and is placed over the lap part of the seat belt. This helps keep a child from slipping under the strap during a crash (submarining). This feature helped calm me a little. I was worried about losing some of the safety features a 5 point harness provides.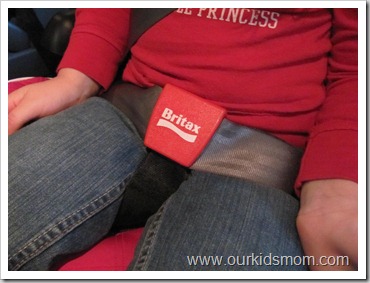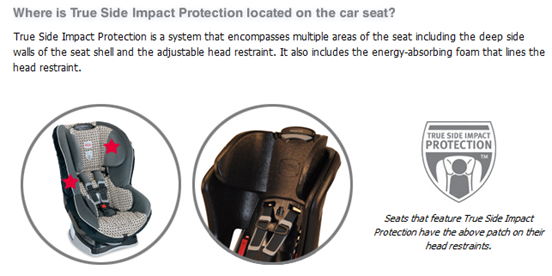 Another important feature I was looking for in a car seat/booster was side impact protection. Why is side impact protection important? It distributes the forces and helps divert the energy from a crash away from your child. Having deep side walls helps create a barrier between your child and a possible intruding object. It also helps keep your child's head and body in the seat and away from the windows and doors. Lastly it minimizes side to side movement of their head and keeps the head, neck and spine in alignment which then limits injury.
Some other fun features that come with the Parkway SGL are:
*arm rests for a secure fit and comfort
* 2 retractable cup holders for drinks and snacks
* color coded vehicle belt guide
* removable back for easy transition to a backless booster while maintaining safety
* durable and washable fabric in mature fashions for the growing child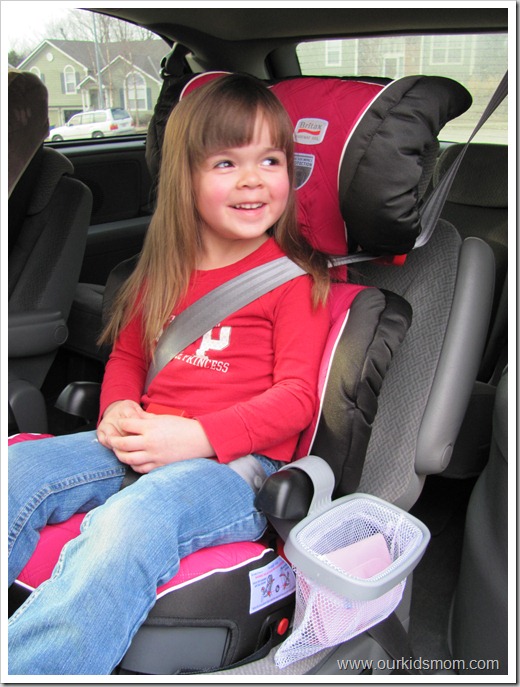 My final thoughts on the Britax Parkway SGL…
I am impressed with all of the features Britax was able to put into one booster seat. Most importantly are the safety features including the ISOFLEX latch system, the SecureGuard belt clip to help restrain a child and keep them from slipping under the belt and the side impact protection.
I love how easy these safety features are to use. The latch is a breeze and if I were to have to remove the booster and replace it in the back seat it would only take a minute or two compared to 5 –10 minutes with the convertible (the latch on that is a bugger to use!). The SecureGuard clip slides easily under the seat belt and I believe I could even train Emma to do this for me.
The other features are pretty cool, too. The first time I opened the cup holder Emma grinned from ear to ear! The pink material is a breeze to maintain… it wipes clean easily. Oh, did I mention that the color is pretty cool, too? (Emma loves it!)
The slim design is a plus for our large family because my bigger kids have to slide in front of the car seats to get into the back seat. As you can see from the top photos, the side profile of the Parkway SGL is much slimmer than the convertible seat she was using (and Ethan is still using).
Comfort has not been an issue at all with this seat. I always worry about her little rump and test seats for padding. Britax thought of it for me as the seat is nice and soft all over, not just for her bottom.
At first I thought the arm rests might be a little short or unusable, but then Emma hopped in and, as you can see, her arms hit them just right. One thing I didn't mention above that I am excited to try out this summer on our road trip is that fact that you can recline the back of the booster by reclining the seat of the car. We've been on trips where their little chins are on their chest while sleeping because you can't safely recline their convertible seat.
I would recommend this seat in a heart beat… without hesitation!
BUY IT:
The Britax Parkway SGL is on sale for $119.99 (RV $149.99) at Amazon.com
WIN IT!
ONE OurKidsMom reader is going to win a Britax Parkway SGL (choice based on availability) !
This giveaway ended at 11:59PM EST on April 15, 2011.
Disclosure:
This post was written me and was not edited by anyone. The opinions expressed in this post are entirely my own and have not been influenced in any way. I received product for review purposes only. The sponsor is responsible for prize fulfillment and will be shipping the winner(s) their prize(s). For more information please read my disclosure policy.