company mission
---
NAP, Inc.'s mission is to provide comfortable and durable baby carriers to parents throughout the world and give them a helping hand in raising confident, joyful and compassionate children. We hope to enhance the bond between mother and child by enabling both to be close and connected to each other in a practical yet magical sort of way.
It is so easy to place "things" between mother and baby, especially in today's society. A great majority of the baby gear out there although intended to help a mother out actually ends up hindering her by further separating her both physically and emotionally from her child. Often times, rubber, plastic and fuzzy blankets end up substituting and even end up replacing Mother. This is not to say that life shouldn't be made easier for mom.
My 4 month old baby girl loves to be held and when she is being held my 31 Lb. three year old boy will often want to be held, too. I love it when my kids want to be comforted but this is a daunting task when my boy is so heavy! When I heard about the Boba Carrier and how holds children in the 15Lb-45Lb weight range I was in heaven and had to try it!! I love the fact that this carrier can be used in a front or back carrying position and the styles that it comes in made my husband not so embarrassed to be a "baby wearing" daddy.
The first time the Boba was used we were at a local grocery store and I was wearing my 4 month old in a wrap style carrier. My three year old was BEGGING to be picked up and carried so we pulled out the Boba carrier, attached it to Daddy and told him to hop on! My 31 Lb. three year old was grinning ear to ear, loved being carried in the same way that his sister was and my husband was THRILLED to not have an aching back after 2 minutes of holding him.
There are many features in the Boba Carrier that I love with the padded shoulder straps and padded waist being near the very top of my list. There are foot straps on the Boba that when being carried on your back your toddler can place their feet into, this will not only prevent them from kicking you when you walk but it will also enable a healthy sitting position with proper leg  support. I really love how soft and breathable the fabric is on the Boba and though it is freezing outside right now this will become a very welcome feature come summer time. There is also a sleeping hood that is rolled up inside of the carrier that will be perfect for my 4 month old when it is raining outside, too sunny or she just wants to sleep with her head supported.
The Boba is very easy to use, comfortable to wear and with the durability of the Boba material I'm happy to know that my 4 month old little girl will have many many uses of the Boba after her 3 year old brother is done with it.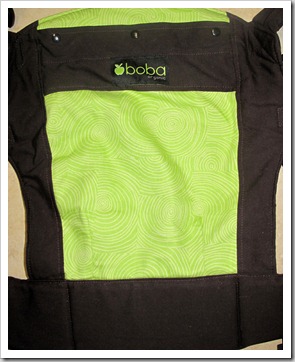 BUY IT!
You can purchase a Boba Organic Baby Carrier for $118
WIN IT!
One OurKidsMom is going to win a Boba Organic Baby Carrier!
This giveaway ended at 11:59 PM EST on January 28, 2011.
Disclosure:
This post was written by Amanda and was not edited by anyone. The opinions expressed in this post are entirely her own and have not been influenced in any way. She received product for the purposes of review only. The sponsor is responsible for prize fulfillment and will be shipping the winner(s) their prize(s). For more information please read my disclosure policy.