For 12 years, Milk-Bone has donated a portion of the proceeds to help Canine Assistants.  In 2010, Milk Bone created Bark It Furward, a program created to raise awareness and funds for Canine Assistants, a non-profit organization that trains and provides service dogs for children and adults with physical disabilities. Founded in 1991, Canine Assistants has provided 1,000 service dogs to people across the country, giving them the chance to have more independent lifestyles.
About Canine Assistants
Service Dogs:
Canine Assistants service dogs assist children and adults with physical disabilities or other special needs in a variety of ways. Some of the tasks the dogs perform include turning lights on and off, opening and closing doors, pulling wheelchairs, retrieving dropped objects, summoning help and providing secure companionship. While all of these functions are vitally important in helping a person obtain greater freedom, perhaps the most impressive gift the dogs provide is social, rather than physical, in nature. The dogs eliminate feelings of fear, isolation and loneliness felt by their companions. One Canine Assistants recipient made the value of this gift quite clear when asked by a reporter what she liked most about her service dog. Immediately, she responded, "My dog makes my wheelchair disappear."
Most Canine Assistants service dogs are born, raised and trained at the Milton, Georgia facility, while some are occasionally adopted from local organizations or breeders. The majority of the service dogs are retrievers, including both Golden Retrievers and Labradors.
Companion Dogs:
Like service dogs, companion dogs also serve to assist children and adults with physical disabilities or other special needs. Companion dogs work primarily in a recipient's home, assisting with tasks around the house and more importantly, contributing to the emotional well being of the person.
Seizure Response Dogs:
In addition to service dogs and companion dogs, Canine Assistants also trains and provides seizure response dogs for certain recipients. As with some of the service dogs, these dogs are adopted from various organizations and selectively screened for personality, temperament and general health. Following general training, seizure response dogs are trained to perform one of the following behaviors, depending on the recipient's need: remain next to the person during the course of a seizure, summon help in a controlled environment or retrieve a phone prior to the seizure when indicated by the recipient. Certain dogs may even develop the ability to predict and react in advance to an oncoming seizure once they are placed with their recipient.
Bark It Furward was created by Milk-Bone® brand to educate others about the inspiring work being conducted by Canine Assistants. By joining the Bark It Furward movement, you can help raise awareness and much needed funds to provide assistance dogs for people with disabilities.

For every comment posted below, Milk-Bone® will donate $1 to Canine Assistants!
WIN IT!
Milk-Bone has generously offered the prize pack pictured below, as well as the $1 donation per comment posted! There will be TWO winners!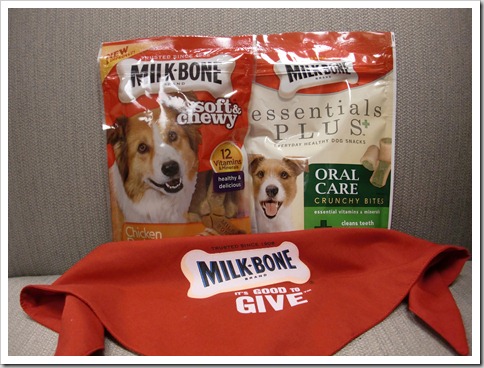 Rules:
You do not have to be a blogger to enter/win. An email address is required to enter. Please leave it in your comment. The winner will be chosen via random.org and contacted via email. A reply to the winning email is required within 48 hours before a new winner is chosen. This giveaway ends at 11:59 PM EST on January 2, 2010 and is open to residents of the US.
Disclosure:
This post was written by me and was not edited by anyone. The opinions expressed in this post are entirely my own and have not been influenced in any way. I received product for the purposes of review only. The sponsor is responsible for prize fulfillment and will be shipping the winner(s) their prize(s). For more information please read my disclosure policy.