Bake Pop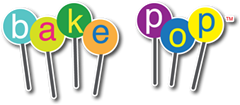 Bake Pops™ are the latest sensation and now you can make these delicious treats in your own home! It's so easy! Just fill the specially designed Bake Pop™ pan with ANY cake mix, put on the custom lid and POP it in the oven. Before you know it, you'll have 18 bite-sized cake pops ready to decorate and eat! Similar treats cost bundles at your local bakery and you can't customize them the way you'd like. With Bake Pops™, you can create any cake pops you can imagine – perfect for birthdays, holidays or anytime! Bake Pops™ are the sure fire way to please everyone in your family and now's your chance to get everything you need to make, decorate and serve your Bake Pop creations!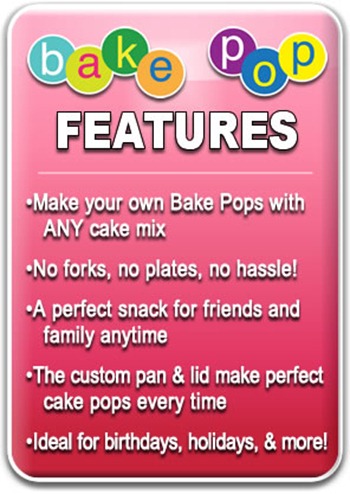 *********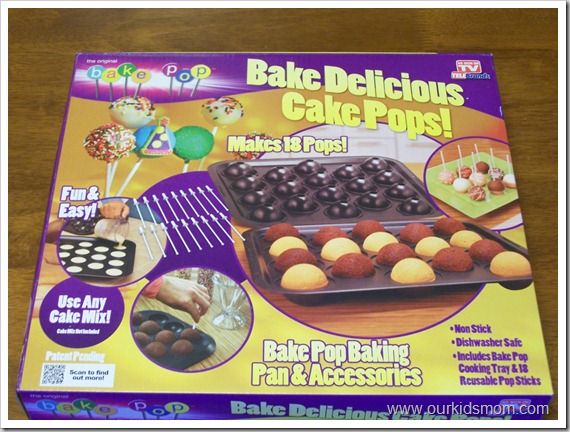 Today I got to try Bake Pops!  I had heard of these before, but had never tried them.  I like the idea that you can use any cake mix.  Once you purchase the Bake Pop kit, you don't have to buy any other refill packs or supplies.  That is perfect for me!  I can use whatever cake mix I happen to have at home & bake to my heart's content.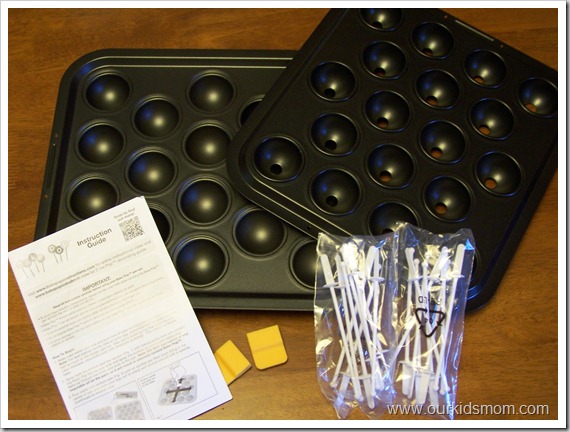 The first time I made these, it was a little confusing, but the instructions were easy to follow & the cake pops turned out just fine.  I'm sure part of my confusion is that I'm not great in the kitchen!  lol  Also, anytime I do something the first time, I want to make sure I do it right & it takes me twice as long as it should.  I hate having to re-do recipes!
I have to cook meals for my family, but I don't spend a lot of time baking "for fun".  These were more of a fun project & my entire family loved them!  My family, for some reason, aren't big cake fans.  If there is a pan of cake sitting around, that's exactly what will happen.  It'll just sit there untouched until it hardens & I have to throw it away.  However, if there are cupcakes or cake pops around, they disappear in a couple days.  Strange?  Probably.  But that's why I like the Bake Pops so much!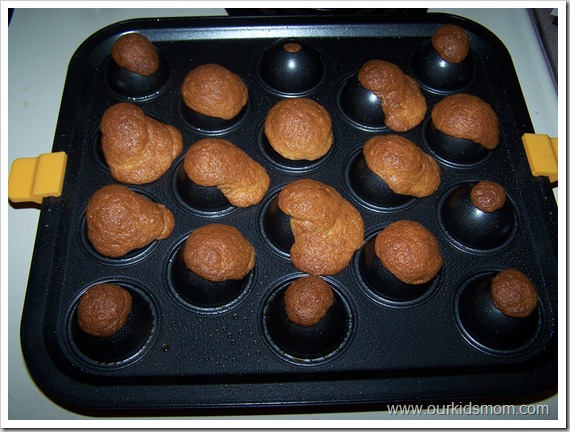 One thing that I was thrilled about was that I messed up & filled the pan too full.  When the pops were done baking & I pulled them out of the oven, I was so bummed because I had cake batter oozing out the top & I thought they were ruined.  However, because I followed the directions & sprayed the top with baking spray, they extra batter popped right off!  I was SO impressed!  The cake balls weren't ruined after all!
I let them cool, took the balls out of the pan & started decorating.  My biggest mistake with it all was that I didn't have the right frosting/icing.  It's best to use something that will harden.  Something like a candy coating.  I didn't have that on hand, so I just used regular cake frosting.  While they tasted GREAT, they weren't very pretty & were quite messy.  Oops!  The second time making these I used almond bark & it was yummy AND pretty!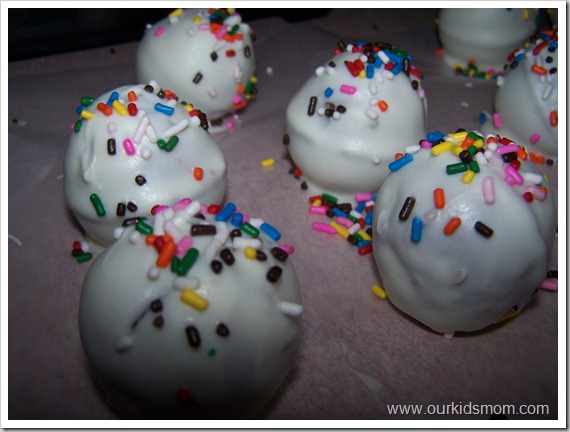 I  recommend the Bake Pops but if I could have everything "perfect" I would change a few little things.  One would be to have 2 pans.  When the cake balls come out of the oven, they need to cool before removing & so I had extra cake batter sitting around waiting to be used.  I would prefer to have a batch ready to go in the oven right when the others come out to save myself some time.  Along with that, I'd like more sticks.  When making 2 batches, there are only 18 sticks, so the others had to be "stick-less".  (My family didn't care, but it would have bothered me if I were taking them to a party or baby shower or something.)  The final thing I would change is that once the cake balls have icing on them there's really no place to put them to dry.  I used wax paper, but if there were some sort of holder that came with it to keep them upright, it would have be helpful.
I'm looking forward to making these again & I think they're a fun way to have your cake & eat it too!

BUY IT:
You can purchase Bake Pops for $19.99… they are currently offering a 2nd set free when you order!
WIN IT:
ONE OurKidsMom reader is going to win a Bake Pop Set!!!
TO ENTER:
Simply follow the directions in the widget below. It's that simple.
COMMENTS DO NOT COUNT AS ENTRIES…
but they are still very much appreciated and adored :O)
This giveaway ended at 11:59 PM EST on March 12, 2012.
Disclosure of Material Connection: I received one or more of the products or services mentioned above for free in the hope that I would mention it on my blog. I only recommend products or services I use personally and believe will be good for my readers. I am disclosing this in accordance with the Federal Trade Commission's 16 CFR, Part 255: "Guides Concerning the Use of Endorsements and Testimonials in Advertising." The opinions expressed in this post are entirely my own. Your experience with the product may differ from mine. The sponsor is responsible for prize fulfillment and will be shipping the winner(s) their prize(s). For more information read my disclosure policy.