Our Recipe for Success
Remember the excitement you felt as a child when your birthday cake was carried into the room? At Bake Me a Wish!, we believe we all still have some of that child inside of us, and our goal is to help you recreate that excitement and experience for your friends, clients or loved ones.
Bake Me a Wish! is the premium nationwide service for delivery of gourmet birthday cakes. Our cakes are made with only the finest, freshest ingredients by an award-winning family run New York bakery that also supplies pastries to some of Manhattan's most elite restaurants.
Through careful cost control and air-tight delivery systems, we are also happy to be able to bring you our fine cakes at an extremely affordable price. Now, whether it's your son in college, your trusted associate, your old friend, or your granddaughter across the country, you will always have a simple and wonderful way to remember them on that important day of the year.
I don't know why I did it to myself, but I did. I agreed to a review of a Bake Me A Wish cake while on a Nutrisystem diet. But that's okay, I'm a big girl. I decided to take the beautiful cake pictured above to share with my family on Thanksgiving.
I was sent a chocolate mousse torte cake. The cake arrived in a carefully packed cooler with dry ice to keep it fresh. The cake comes in a pretty shiny decorative box and is wrapped in cellophane (again for freshness). I carefully placed it in my fridge and hoped for some willpower (Thanksgiving was 2 days away).
The description reads:"Two rich, chocolate cake layers are filled with luscious chocolate whipped cream mousse, then covered with milk chocolate frosting and a dark chocolate glaze. This best selling delight is then garnished with fudge rosettes and dark chocolate shaves. Includes an imported Belgian Chocolate Occasion Plaque, matching Greeting Card and is packaged in an elegant gift box!"
The description should read "Death by Chocolate…". Everything about this cake screams rich, silky, smooth, O. M. G. yummmmmmmmmmmmmmm (wiping drool from my chin).</FONT color="#804040″>
The cake made it safely to my in-laws for Thanksgiving. Incredibly, I did not have a single crumb. I kept hearing comments like "It's so rich!", "Usually it's just the frosting that is incredibly rich… the cake is rich, too!" and general moans of pleasure garbled with a few "ohhhhh"s and "yummmmmm"s. My brother-in-law was asking where the cake came from. I mentioned I had shown the website to my sister-in-law and he said "Oh, good. She'll know where to go to buy one then!".
I would definitely say this cake was a success! In hindsight I wish I had had one tiny nibble, but the joy it brought to my family was worth the excess drool on my chin.
BUY IT:
You can purchase the chocolate mousse torte cake for $39.95.
5% of your order will be used to assist our effort in sending gourmet occasion cakes to soldier's overseas. If you have a soldier's birthday approaching, click here to send a cake to an APO/FPO address.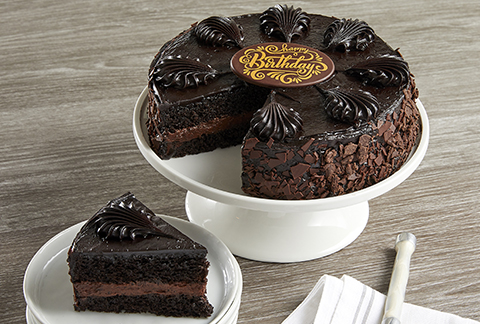 WIN IT:
ONE OurKidsMom reader will win a Bake Me A Wish cake of their choice! 
Rules:
You do not have to be a blogger to enter/win. An email address is required to enter. Please leave it in your comment or make sure one is visible for me to find in your Google profile. The winner will be chosen via random.org and contacted via email. A reply to the winning email is required within 48 hours before a new winner is chosen. This giveaway ends at 11:59 PM EST on December 16, 2010 and is open to residents of the US.
Disclosure:
This post was written by me and was not edited by anyone. The opinions expressed in this post are entirely my own and have not been influenced in any way. I received product for the purposes of review only. The sponsor is responsible for prize fulfillment and will be shipping the winner(s) their prize(s). For more information please read my disclosure policy.