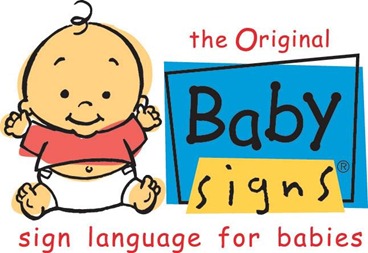 Why Baby Signs?
Babies who use sign language are happier and less frustrated, they learn to talk sooner, and they get a long-lasting boost in their intellectual development. What's more, baby sign language is fun and easy.
The Baby Signs program for hearing babies has been bringing powerful, research-proven benefits to babies and their families around the world for over 25 years. Learn more about the research behind our program.
Kaytlin was born in 1992. This is the age (for me) before the internet and although I was in Early Childhood Education classes at the local college, I was not aware of baby sign language when Kaytlin came around. Five years later when I had Joshua… I was more aware of the concept, but I just wasn't sure how to implement the whole thing.
Both Kaytlin and Joshua went through a frustrated toddler stage. They knew what they wanted, they just were not able to communicate with us and when we guessed incorrectly… well, a tantrum would ensue. Occasionally Joshua would toss a sippy cup at my head while in the car because he was so frustrated.
I had Emma in 2006. Times had changed and with the help of the internet and my continued education before Emma's birth, I will fully prepared to try this concept out. I am so very glad that I did.
Emma was a very serious baby to begin with and when she had (has) a tantrum, the entire block can hear and feel it. She was around 9 – 10 months old when we she started learning signs for things like milk (she would use that when she wanted to nurse), more, all done, and drink (for her cup). Much to our delight, her outlook took a turn for the cheerier side. Although she couldn't talk, she could let us know what she wanted and she would receive immediate gratification instead of waiting for us to play 20 questions with her to find out what she wanted.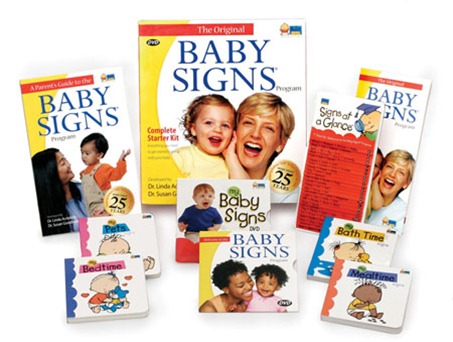 Emma's success is why I am so excited to share Baby Signs with you. Baby Signs is a proven course to help you, your child's first teacher, teach your child to communicate before they can even talk. Did you know that studies have shown that hearing babies that learn how to sign actually have higher IQ scores and learn to speak sooner?
The complete starter kit comes with:
All of the parent information (the DVD, guide and flip guide) are easy to use and straight forward. These are geared for everyone… even if you don't know any sign language. If you are having difficulty grasping how the sign should look, take a peek on the DVD! The "Signs at a Glance" flip guide has a magnet attached so you can attach it to the fridge for a quick and easy reference (for parents and babysitters so everyone can understand).  The board books are a great reinforcement for the children and the illustrations are cute, too. The baby's DVD is fun for the whole family to watch. Younger siblings will probably catch on sooner than baby and they can help teach, too! I know that all of my younger children have imitated their older siblings (whether we wanted them to or not).
I whole heartedly encourage all parents of young children to try a little sign language with their children. Start with the most basic wants/needs like drink, more and all done. You might be amazed at how much less frustration you will have at mealtime and continue with the program!
BUY IT:
You can purchase the Baby Signs Complete Starter kit for $39.95
WIN IT!
One OurKidsMom reader is going to win a Baby Signs Starter Kit!
This giveaway ended at 11:59PM EST on April 22, 2011.
Disclosure:
This post was written me and was not edited by anyone. The opinions expressed in this post are entirely my own and have not been influenced in any way. I received a sample for review purposes only. I was not compensated for this post. The sponsor is responsible for prize fulfillment and will be shipping the winner(s) their prize(s). For more information please read my disclosure policy.