Avoiding Headache Triggers This Summer
I am posting this as part of a compensated Excedrin Ambassador program. All opinions are 100% my own.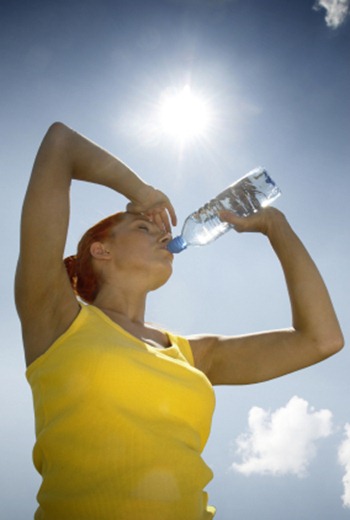 Summer is here and the kids are home…. what's a parent to do? As the temperatures climb our first reaction is to retreat inside… but then the kids turn into couch potatoes or worse, start fighting. Instead, our family has set a goal to spend at least a few hours outside daily. The kids will be playing, but this Momma has decided to try to drop a few of these winter pounds by exercising. Staying cool while outside is a huge issue for all of us.
Exercise is a great way to reduce stress, release endorphins, lose a few pounds and feel great about yourself. However, we have to be careful when exercising outside in the summer. The combination of exercise and heat increases a persons core body temperature and decreases the blood circulation to the muscles they're using. Because of this strain and potential dehydration, you may get headaches more frequently.[1]  My oldest son can attest to this… he gets migraines often due to dehydration and has to stay on top of his fluid intake while outside.
You can't always control the weather, but there are plenty of triggers you can easily keep in check by understanding what they are and how to combat them.
Fitness expert Kathy Kaehler offers some tips about headache triggers you might run into while exercising in the warm weather, along with some ways to stay cool and keep these triggers at bay:
Be Flexible with Your Routine: Exercise in the morning instead of on hot afternoons. 
Stay indoors when humidity is high instead of working out outside. During the hot summer months, wear thin, breathable clothes while exercising outdoors and test out classes in a gym as opposed to outdoor workouts.[2]
Dehydration: Be sure to stay hydrated by drinking water before, during and after your workout. Try to refrain from drinking beverages that leave you parched, such as soda and excessive amounts of caffeine or alcohol. After your workout, moisturize your skin to keep your whole body hydrated.[3]
Light: Wear sunglasses or a baseball cap when exercising outside. Take frequent breaks in the shade or in cooler areas. Try not to embark on that 10-mile run on the hot asphalt during the brightest (and most scorching) part of the day, when light is reflecting at you from all angles.[4]  

     
[1] Information obtained from Mayoclinic.com
[2]Information obtained from Heart.org
[3] Information obtained from Headachemag.org
[4] Information obtained from The Sun Chronicle
I can't always avoid my headaches, especially during the summer; so when I get one, I take Excedrin® Extra Strength to help get me get back on track. With more than 50 years' experience providing effective headache relief, they are a brand I trust. Both my son and husband experience migraines that won't budge without Excedrin® Extra Strength. Excedrin works for them because it's a combination pain reliever – acetaminophen/aspirin/caffeine that provides temporary relief of headaches.
WIN IT:
ONE OurKidsMom reader is going to win a "Keep Cool" Kit from Excedrin to help avoid those headache triggers!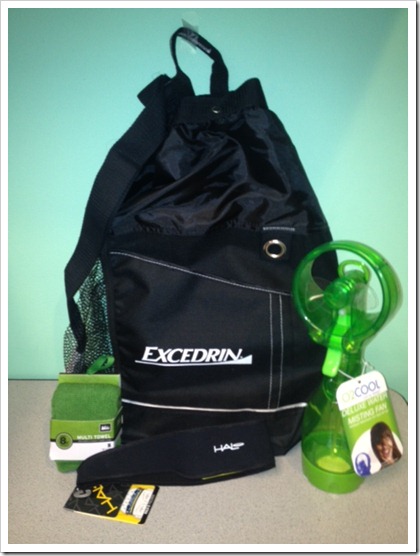 Branded gym/beach bag: With compartments for water bottles, towels and all types of gear, this versatile bag is perfect for use at the gym or on the beach. In addition, we can brand this bag with the Excedrin logo and place the other giveaway items inside – creating a complete package.
REI MulitTowel: Weighing just 1.1 ounces, this Excedrin-green multi-use towel is perfect for post-workout use on the hottest summer days. It's extremely portable and comes with a lightweight travel case.
Halo II Pullover Headband: Designed for use during exercise in all weather conditions, these unisex adjustable headbands wick moisture and channel sweat away from the eyes and face.
Squeeze Breeze Water Misting Fan: Small, portable and will keep you cool anywhere.
Do you enjoy OurKidsMom and the giveaways?
Please take a second to vote for us on Top Mommy Blogs! One click on the banner below and you're done…
Thank You!
a Rafflecopter giveaway
Rules:You do not have to be a blogger to enter/win. An email address is required to enter. The winner will be chosen randomly through Rafflecopter and contacted via email. A reply to the winning email is required within 48 hours before a new winner is chosen. One person entering per household please. US ONLY please.
This giveaway ends at 11:59 PM EST on July 3, 2013.
       Disclosure of Material Connection: I received one or more of the products or services mentioned above for free in the hope that I would mention it on my blog. I only recommend products or services I use personally and believe will be good for my readers. I am disclosing this in accordance with the Federal Trade Commission's 16 CFR, Part 255: "Guides Concerning the Use of Endorsements and Testimonials in Advertising." The opinions expressed in this post are entirely my own. Your experience with the product may differ from mine. The sponsor is responsible for prize fulfillment and will be shipping the winner(s) their prize(s). For more information read my disclosure policy.