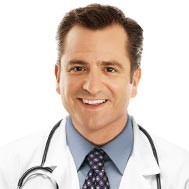 Yesterday I was privileged to be able to attend a webinar featuring Dr. Jim Sears to discuss healthy eating, movement and our children.
As our children become more sedentary, it is our job as parents to make sure that we encourage them to take a time out and move their bodies. We can teach our children to appreciate their health, offer them a competitive edge through organized sports and be a good example through family activities (taking walks after dinner etc).
One major point I picked out of that discussion that will be used in my house is "screen time = activity time". For every hour they spend in front of the television, computer or video game they must spend an hour in a physical movement activity. One good suggestion was to purchase video games that involve movement like the Wii and the Xbox 360 Kinect and play them as a family!
While discussing healthy movement, we also discussed some tips for healthy eating that I can use with my own family.
monitor your children's snacks (how often? and what?)

clean out the snack cabinet and only have healthy options

instead of 3 large meals, allow 5-6 small grazing type meals

avoid the clean your plate syndrome

avoid using food as a reward

discourage boredom eating (redirect)

send them to school with a good breakfast in their tummies
Dr. Sears stressed how important Omega 3's and DHA are in our diets, but as Americans we just don't consume enough of them (they are found in fish). DHA is the primary structural component of brain tissue and part of the enzymes within cell membranes that allow the membranes to transport valuable nutrients in and out of cells.
A diet rich in DHA has been shown to improve focus, behavior and cognitive function, and increase learning capacity in young children. Now who wouldn't want that for their children?
Dr. Sears has made it a priority to find healthy alternatives that taste good for our children to snack on. His new doctor-formulated, kid approved line of 100 percent all-natural drinks, snacks and supplements provide essential daily nutrients to help children grow healthy, strong and smart.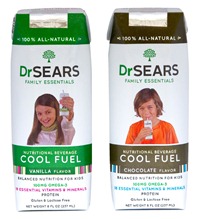 Cool Fuel is a delicious, fortified and ready-to-drink shake that delivers the nutrition kids need to perform their best – in and out of the classroom.  Made from 100 percent all-natural ingredients, the gluten- and lactose-free shakes contain no artificial flavors, colors or sweeteners and 60 percent less sugar than competitive brands. Available in chocolate, vanilla & chocolate banana.
POPUMZ™ are 100 percent all-natural popped whole grain crisps that are packed with protein to help build strong muscles, fiber for healthy digestion and Omega-3 DHA – an essential component for the growth and development of young minds and bodies. POPUMZ have no trans fats, nothing artificial and are available in a variety of flavors that kids love including chocolate, vanilla, carmel and new savory (barbeque, ranch and cheddar).
Dr. Sears Family Essentials Supplement Fruit Chews are 100 percent all-natural and fruit-based, and provide kids with optimal levels of Omega-3 DHA and essential daily nutrients to nourish their minds and bodies.
BUY IT:
You can purchase Dr. Sears Family Essentials from their website and coming soon tot a Wal-Mart near you.
WIN IT!
ONE OurKidsMom reader is going to win a one month supply of samples of Dr. Sears Family Essentials Drinks, snacks and supplements.
This giveaway ended at 11:59PM EST on March 25, 2011.
Disclosure:
This post was written by me and was not edited by anyone. The opinions expressed in this post are entirely my own and have not been influenced in any way. I will be receiving samples of Dr. Sears Family Essentials. I was not financially compensated for this post. The sponsor is responsible for prize fulfillment and will be shipping the winner(s) their prize(s). For more information please read my disclosure policy.