When parents think about fun, family-friendly activities riding a bike may not be the first thought that comes to mind. Traveling on conventional bicycles with small children requires connected bike trailers or seat add-ons, which do not always provide a pleasant experience for the rider or the passenger. These additions usually place the child behind the adult, leaving them with an obstructed view or in a separate area far away from their parent. But lucky for us, family bike rides are not as limited as they used to be. With an electric three-wheel mid-drive bike, the entire family can enjoy spending safe, quality time together at the destination and during the journey.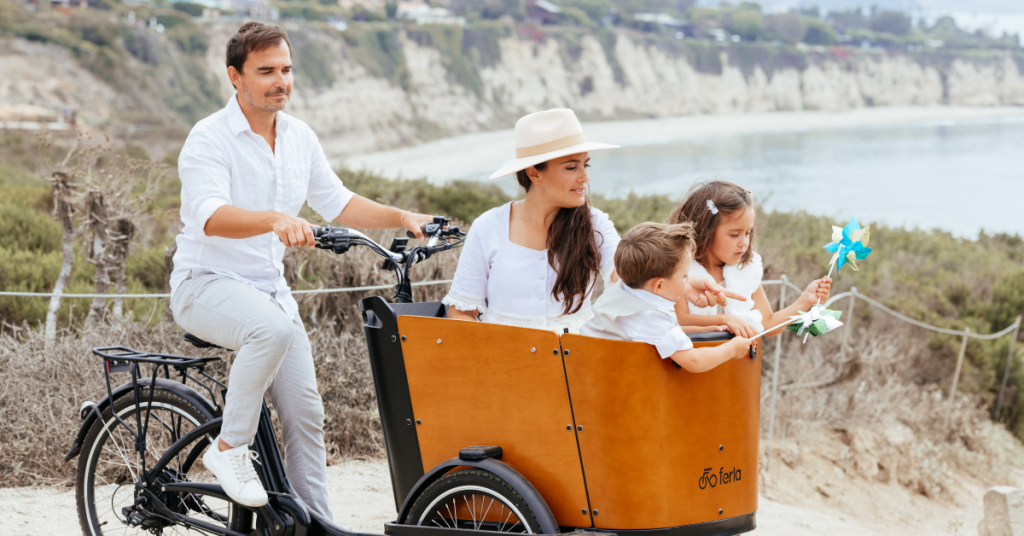 What is a Three-Wheeled Mid-Drive Bicycle?
A three-wheeled mid-drive bike is a well-balanced, electric bicycle with a large front-facing passenger box and a high-capacity battery. These bikes are perfect for families because they can transport an entire group of people, family pets, or large amounts of cargo to a destination. Many three-wheeled mid-drive bikes come equipped with top-tier safety features like child seats, seat belts, and roll cages to protect and secure passengers. Mid-drive bicycles allow riders to power their excursions through human pedaling, battery power, or a mixture of both so users can explore destinations further away from home without the fear of wearing themselves out. Some mid-drive bicycle models have the battery capacity to power the bicycle for over 70 miles on a single charge, making it the perfect bike for family expeditions around town and back again. 
Is A Mid-Drive Bike Right for Your Family?
Mid-Drive bicycles are a convenient, safe transportation option that is an excellent addition to most family households and not just for fun experiences or the opportunity for exercise. Depending on the location of the family home, they can also be an ideal eco-friendly replacement for a second vehicle. Families can use a mid-drive bike to run errands around town, like grocery shopping or to drop off the kids at school. These electric bikes take up less space than an automobile, require less upkeep, and use renewable energy sources. But those are not the only reasons a mid-drive bike is a perfect choice for families. Here are some of the top reasons that families love mid-drive bikes: 
Create priceless family memories that last a lifetime:

 
Think back to the happy experiences from childhood that remain in your memories as an adult. Most happy times likely do not include hours of sitting in front of a television or riding in the car. Happy long-term memories are made through new, exciting experiences. Spending quality time together as a family is one of the best ways to create strong core memories that a child will cherish as they grow up.  
Finding time to go to a gym, or working out in general, can be challenging after becoming a parent. And when parents can find the time to practice self-care through exercise, it is usually at the expense of time away from their family. Mid-drive cargo bikes give adult family members the perfect opportunity to reach their cardio goals while spending quality time with their kids.  
Reconnect the family to nature:

 
It can be challenging for families to find ways to disconnect from technology when we are all constantly surrounded by smartphones, televisions, tablets, and other screens. With a mid-drive bike, it's easy to share the joys of nature with the entire family. The front-facing, open-basket design allows both children and adults to have the same gorgeous views that feed stimulating conversations all along the way.  
Explore new places together:

 
Exploring towns on a mid-drive bicycle allows families to discover and enjoy new areas, like local bike trails that aren't easily accessible by larger vehicles. Finding local hidden gems and new regions to explore is part of the fun of family biking trips. 
Save money and the planet:

 
Purchasing an electric mid-drive bike for your family will save money on fossil fuels and is an excellent way to protect our beautiful planet. Three-wheeled mid-drive bicycles run on human or battery power, making them an eco-friendly alternative to gas-guzzling automobiles or scooters. Depending on how often they use the bike, a family can save hundreds, or even thousands, of dollars per year by biking. 
As parents, we are always looking for the best ways to make our kid's childhoods as healthy, positive, and memorable as possible. And one of the best ways to guarantee those positive memories will remain is to spend focused time together. Gathering up the entire family for an adventure on a mid-drive bike will never feel boring or monotonous like a car ride. It is easy to see how all the unique features and experience opportunities make mid-drive cargo bikes an excellent addition to most family homes.