White, Brown, Spanish, Jasmine, even Basmati: How to Cook Rice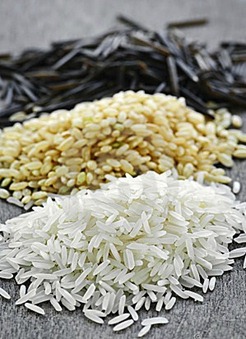 Unless you know how to cook rice, you've probably had few opportunities to savor the many delicious and popular varieties. There's a rice for every taste and every dish, and each one possesses its own unique flavors and characteristics. Basmati, for example, is said to resemble popcorn in both flavor and aroma. The sooner you learn how to cook rice, the sooner you can begin experimenting with this wonderful ingredient. Here's some more rice information on how to prepare it:
Rice Cooker
These days, most people use a rice cooker, a small appliance specially designed to cook any variety rice to perfection. Typically, you add measured amounts of water and rice to a dish inside of the cooker and set it for a certain amount of time. The documentation that comes with the rice cooker should give instructions for preparing different amounts and types of rice.
This method of preparation is often more preferable than stove-top cooking because the rice won't stick or burn. Using a rice cooker is also a great way to save time. The fact that the cooker uses a convenient timer means that it requires no supervision. You can let it cook while you're busy in another room. Rice from a cooker always comes out fluffy, tender and moist.
Stove-top
If you don't have a rice cooker or don't want to buy one, then your next best option is cooking your rice on the stove. While it's not as easy as using a cooker, with some patience and a little practice, you can make perfect rice every time. As a general rule, the measurements are one cup of rice to two cups of water in a medium saucepan.
Some types of rice have different requirements. Brown will require another quarter cup of water due to its fiber content. Sticky rice uses a ratio of a cup of rice to one and three quarters cups of water. It must also be soaked for at least 30 minutes.
Some people advocate adding a tiny bit of cooking oil to your rice just before it starts boiling. This will keep the individual grains from forming globs and will also reduce their ability to stick to the pot.
Slow Cooker
Not many people realize that they can cook rice in a slow cooker. These kitchen appliances are designed to cook things for a long time on low temperatures, making them perfect for preparing fluffy and scrumptious rice. They're especially convenient for making rice porridge as a nourishing and satisfying hot cereal.
Simply add 2 cups of water for each cup of rice to prepare normal rice. Add another cup of water for porridge. Cooking rice in a slow cooker is an excellent way to save time on food preparation. Turn it on before you go to bed and wake up to a tasty breakfast. Add more rice and turn it on before work for a fast and healthy dinner ingredient!
There are many ways to cook rice, but these are some of the best and most reliable methods. Now that you know how to cook rice, it's recommended that you research more rice information to find out about the qualities of each variety.
This post was written by R. Wilcox