In the US, 1.2 million people are thought to carry HIV, with about 14% of them being ignorant of their condition. Individuals unaware of their HIV status may be responsible for transmitting a vast percentage of new HIV cases. HIV substantially impairs the body's immunological capabilities.
However, HIV is a treatable medical condition with antiretroviral medication. In fact, therapy can render HIV unrecognizable in the body, rendering it incapable of being transmitted sexually. The first step in leading a healthy life and minimizing HIV transmission for undiagnosed HIV is testing.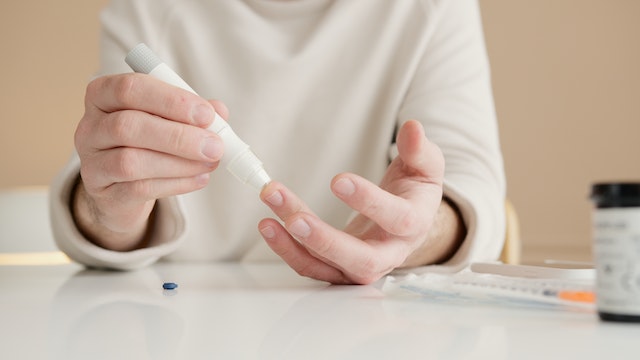 One method of finding out your HIV status is through at-home testing. They can help you save time, delay the need for an in-person medical appointment, and begin treatment sooner when necessary. With the highest degree of accuracy and within the comfort of your home, HealthyMD, Inc. HIV test kit can help protect your long-term sexual health by promptly identifying whether you are infected with HIV and/or STDs. 
What Exactly Do The Tests Check For?

 
Home HIV testing does not check for the actual infection. Instead, they search either for antibodies by themselves or for both antigen-antibody. The test yields a positive return for HIV if these elements are found. These compounds are found in oral fluid or blood and can be found using at-home tests that just seek for antibodies. It's advisable to hold off on getting these tests until three months after you suspect you may have contracted HIV since it might take the body that much time to start producing antibodies. The body reacts to compounds known as antigens by recognizing them as foreign and mounting an immunological defense. The collection of blood from a fingerstick is necessary for both antigen and antibody tests at home. HIV tests that check for both antigen-antibody can identify an HIV infection as early as two to four weeks after contracting the virus since antigens manifest well before the body creates antibodies. 
Home HIV Test Possibilities

 
An individual can pick between two different categories of at-home HIV assessments: 
Antigen/Antibody Evaluation

– When a virus like HIV is introduced, the immune system makes antibodies. Both HIV antigens and antibodies are detected by these assays. A blood draw is used to conduct these tests. Foreign chemicals called antigens trigger the immune system's activation. Prior to the development of antibodies, the p24 antigen for HIV is created. Up to three months may pass before antibodies form.

 
Antibody Only Screening

– It takes time for antibodies to manifest in the blood. These tests check the blood or oral fluid for IgG antibodies to HIV ratio. In general, at-home tests using blood from a finger prick or oral fluid can identify HIV more slowly than antibody tests that utilize blood from a vein.

 
Postal Kit

– These kits normally come with packaging to ship the sample for lab analysis and a finger prick for collection. Following that, the labs share reports to a portal, an app, or a patient's physician. Additionally, a specialized analysis might be included.

 
Instant Self-Assessment

– There is no need to send a specimen for these examinations. An oral scraped specimen can be taken rather, and findings are available within an hour.

 
The Best HIV Home Test Kits

 
It's vital to think about what kind of HIV screening you're seeking and at what budget range prior to picking, as there are various at-home HIV test alternatives. Information on the top choices for HIV testing kits is provided below: 
Everlywell

– This test looks for HIV antibodies. The blood sample you submit will be examined at a laboratory with CLIA certification. Your data is kept in a secure, HIPAA-compliant system with encryption. Within 5 working days, you'll receive a comprehensive digital statement with your findings. The test looks for antibodies that may not be visible for 23 to 90 days after exposure. Since it looks for HIV p24 antigens within the blood, this test typically detects an infection just 18 to 45 days post-exposure. If your test is positive, you can communicate for free with the Everlywell medical network.

 
Verisana

– You may request an HIV evaluation or STI testing bundle from Verisana. You fetch your blood specimen, submit it to Verisana, and they will inform you of your HIV status within three weeks. If your test results come positive, Verisana recommends speaking to your physician about your treatment approaches. Their service does not provide counseling. Online, you can obtain an HIV test bundle starting at $199.95. Verisana also works with labs that are CLIA certified.

 
HealthyMD

– The HealthyMD HIV + STD Test Kit can check for gonorrhea, syphilis, chlamydia, and HIV. Their test will rapidly determine whether you are infected with HIV + STDs in the comfort of your home, protecting your long-term sexual health. They provide thorough testing with high accuracy. After acquiring your test kit, you must fetch your blood sample and submit it back to a licensed lab with pre-paid postage within three days. Within a few days, you'll get a scheduled confidential telemedicine conversation with a doctor to go over your test findings, which are accessible through their secure patient site.

 
myLAB Box

– MyLAB Box's HIV Home Test promises speedy results. You would only have to transfer your blood specimen in the pre-paid postage envelope after collection with a simple finger prick; the specimen will then be sent straight to a CLIA-approved facility for analysis. The lab should evaluate your sample in as little as 2 to 5 days. You can check your findings once uploaded through the safe portal of myLAB Box. You may contact myLABbox for complimentary post-test telemedicine consultation should you test HIV positive.

 
OraQuick

– This at-home HIV screening is authorized by the FDA and checks for antibodies. You don't need to take a blood sample for OraQuick testing; all you may require is an oral scrape. For privacy purposes, all deliveries come in an unlabeled brown container. Individual to individual, the OraQuick screening may identify HIV within 2 weeks after exposure, although this may take even longer. A positive result simply indicates that further testing is required; it only checks for HIV-1 and HIV-2.

 
HIV is today a highly controllable condition, and those who test positive can still lead active healthy lives. People can begin treatment earlier thanks to easier access to HIV testing. A positive HIV test result does not signify that a person has acquired HIV. After learning they have HIV, a person might want to see a doctor again, especially if they think they have a high risk of contracting the infection. An at-home HIV test is available at your local pharmacy or online. HIV testing may assist individuals in identifying the virus and starting treatment.