We have made this soup as written (it's fabulous that way!) and altered so that Kaytlin and I can easily have some while on Nutrisystem. I will post as written and then note our modifications.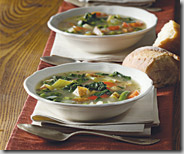 Vegetable and Potato Soup Recipe
Ingredients
Perfect for cold, dreary nights or as a nourishing antidote to rich holiday foods.
4 cups cubed potatoes (do not peel)
1½ cups coarsely chopped carrots
1 cup coarsely chopped celery
½ cup string beans
1 green, red or yellow bell pepper,
coarsely chopped
1 cup sweet peas
1 large onion, peeled and coarsely chopped
1 (10-ounce) bag spinach
6 cups water
¼ cup butter
1½ teaspoons salt
1 teaspoon black pepper
1½ teaspoons dried sage
1 tablespoon dried basil
¼ cup chopped fresh parsley
Instructions
1. Place vegetables in a Dutch oven. Add water; bring to a boil. Add butter, salt, pepper and herbs. Simmer until vegetables are tender, about 30 minutes. Serves 10.
Recipe by Helen ver Duin Palit, Relish Helping Hands, "Touched by an Angel," December 2007.
Nutritional Information
Per (1 1⁄2-cup serving): 130 calories, 5g fat, 4g prot., 19g carbs., 4g fiber, 105mg sodium.
**Our alterations: We skip the potatoes completely, reduce the peas and butter, use fresh spinach and everything else is the same! It's FABULOUS and the family requests this often.