On cold days like this we crave a warm bowl of soup and fresh made bread. Here is a recipe I found and am making for dinner tonight!
Black Bean Vegetable Soup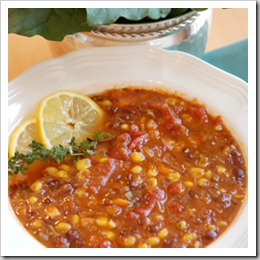 Ingredients
1 tablespoon vegetable oil
1 onion, chopped
2 clove garlic, minced
2 carrots, chopped
2 stalks celery
2 teaspoons chili powder
2 teaspoon ground cumin
2 1/2 cups vegetable stock
3 (15 ounce) cans black beans, rinsed and drained
1 (8.75 ounce) can whole kernel corn
1/4 teaspoon ground black pepper
1 (14.5 ounce) can stewed tomatoes

Directions
In large saucepan, heat oil over medium heat; cook onion, garlic, and carrots, stirring occasionally, for 5 minutes or until onion is softened. Add chili powder and cumin; cook, stirring, for 1 minute. Add stock, 2 cans of the beans, corn, celery and pepper; bring to boil.
Meanwhile, in food processor or blender, puree together tomatoes and remaining can of beans; add to pot. Reduce heat, cover, and simmer for 10 to 15 minutes or until carrots are tender.
Recipe Yield 6 – 8 servings