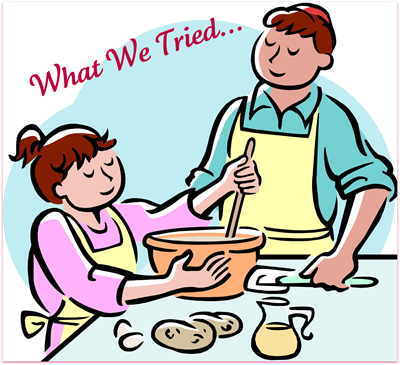 My husband and I recently visited a local Indian restaurant for our anniversary (remember the cucumber/jalepeno incident?).
We both fell in love with the zest and overall taste as well as how filling it is!
I have been on the hunt for a recipe that would work well for our family and found this one along with the Naan recipe online.
We served this to the entire family. Ethan picked through, ate a few vegetables and several pieces of Naan. Emma was a little more adventurous but needed a little more water than Ethan (and ate as much Naan)

. The rest of us loved it and are still talking about it days later.
Hint… if you decide not to serve this with Naan, make sure you serve it with some sort of bread… maybe a pan bread of some sort? It helps absorb the heat the spices generate (and the kids kept saying how it tasted like fresh baked pretzels).
Vegetarian Korma
Prep Time: 25 Min
Cook Time: 30 Min
Ready In: 55 Min
Servings 4 servings
Ingredients
1 1/2 tablespoons vegetable oil
1 small onion, diced
1 teaspoon minced fresh ginger root
4 cloves garlic, minced
2 potatoes, cubed
4 carrots, cubed
1 fresh jalapeno pepper, seeded and sliced
3 tablespoons ground unsalted cashews
1 (4 ounce) can tomato sauce
2 teaspoons salt
1 1/2 tablespoons curry powder
1 cup frozen green peas
1/2 green bell pepper, chopped
1/2 red bell pepper, chopped
1 cup heavy cream (we used evaporated milk)
1 bunch fresh cilantro for garnish
rice
Directions
Heat the oil in a skillet over medium heat. Stir in the onion, and cook until tender. Mix in ginger and garlic, and continue cooking 1 minute. Mix potatoes, carrots, jalapeno, cashews, and tomato sauce. Season with salt and curry powder. Cook and stir 10 minutes, or until potatoes are tender.
Stir peas, green bell pepper, red bell pepper, and cream into the skillet. Reduce heat to low, cover, and simmer 10 minutes. Garnish with cilantro to serve.
We served this over brown rice, but white works just as well.
Nutritional Information
Amount Per Serving  Calories: 462 | Total Fat: 31.1g | Cholesterol: 82mg
****
Naan
Prep Time: 30 Min
Cook Time: 7 Min
Ready In: 3 Hrs
Servings 14 servings
Ingredients
1 (.25 ounce) package active dry yeast
1 cup warm water
1/4 cup white sugar
3 tablespoons milk
1 egg, beaten
2 teaspoons salt
4 1/2 cups bread flour
2 teaspoons minced garlic (optional)
1/4 cup butter, melted
Directions
In a large bowl, dissolve yeast in warm water. Let stand about 10 minutes, until frothy. Stir in sugar, milk, egg, salt, and enough flour to make a soft dough. Knead for 6 to 8 minutes on a lightly floured surface, or until smooth. Place dough in a well oiled bowl, cover with a damp cloth, and set aside to rise. Let it rise 1 hour, until the dough has doubled in volume.
Punch down dough, and knead in garlic. Pinch off small handfuls of dough about the size of a golf ball. Roll into balls, and place on a tray. Cover with a towel, and allow to rise until doubled in size, about 30 minutes.
During the second rising, preheat grill to high heat.
At grill side, roll one ball of dough out into a thin circle. Lightly oil grill. Place dough on grill, and cook for 2 to 3 minutes, or until puffy and lightly browned. Brush uncooked side with butter, and turn over. Brush cooked side with butter, and cook until browned, another 2 to 4 minutes. Remove from grill, and continue the process until all the naan has been prepared.
Nutritional Information
Amount Per Serving  Calories: 211 | Total Fat: 4.5g | Cholesterol: 24mg
**** Our bread dough did not rise quickly (or well). We decided to skip the last 30 minute rise and cook it in the pan. Just remember the garlic butter brush and you will be fine! The kids kept saying it tasted like fresh baked pretzel.
Enjoy!