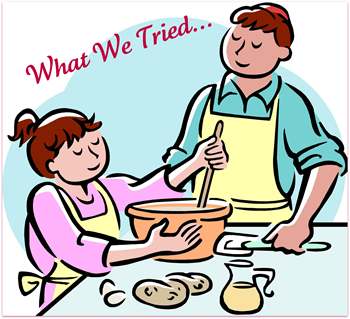 This week I was looking for a recipe that we would all enjoy and that would help me taper down my over abundance of fresh from the garden tomatoes. Our tomato plants are in full swing and we are bringing in a harvest like this one on an almost daily basis!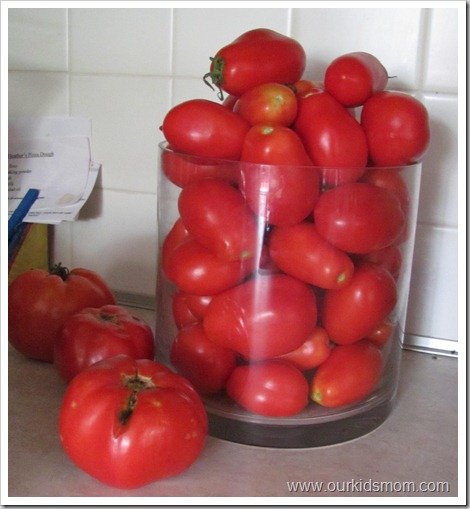 Can you believe that?!
Last summer I tried a homemade salsa recipe that rocked, but did not freeze or store well. I will probably make it again in a small batch… just enough to scarf down in a day or two. I also tried a spaghetti sauce recipe that was dull, flavorless and watery. But because we love spaghetti/Italian food so much I decided to try again.
I am so happy I decided to try homemade spaghetti sauce one more time. This was so over the top good my family was almost moaning as they ate it. Kaytlin explained the taste as the rich marinara sauce she gets at the Italian restaurant to dip bread sticks in. It is thick and sticks to the noodles.
We used all fresh tomatoes, most of which were Roma. We followed the directions to the T except for the meat and mushrooms (they were skipped). The family inhaled their plateful of spaghetti and asked for more! We have a new batch of tomatoes ready for use and I plan to make another pot of this sauce and freeze servings of it in ziploc bags.
Easy Spaghetti with Tomato Sauce
recipe credit allrecipes.com
Original Recipe Yield 4 – 6 servings
Ingredients
12 ounces spaghetti
1 lb lean ground beef (skip for vegetarian)
1 teaspoon salt
3/4 teaspoon white sugar
1 teaspoon dried oregano
1/4 teaspoon ground black pepper
1/8 teaspoon garlic powder
2 tablespoons dried minced onion
2 1/2 cups chopped tomatoes
1 1/3 (6 ounce) cans tomato paste
1 (4.5 ounce) can sliced mushrooms
Directions
Brown beef over medium heat. Drain off fat. (again… skip this step for vegetarian. We did and it was fantastic!)
In a large pot, combine beef, salt, sugar, oregano, pepper, garlic powder, onion flakes, diced tomatoes, tomato paste, and mushrooms. Simmer at a low heat setting for 2 hours, stirring occasionally.
Cook pasta according to package directions. Drain. Serve sauce over spaghetti.
Nutritional Information
Amount Per Serving with beef  Calories: 557 | Total Fat: 20.3g | Cholesterol: 68mg
***********
How to peel fresh tomatoes…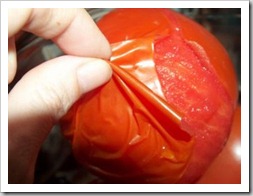 I picked up this tip while spending some time with a very sweet 98 year old woman named Roxy. I learned quite a few "old school" cooking tips… this one is especially helpful.
Bring a pot of water to a rapid boil. Dip your fresh tomato for about 10-20 seconds and then remove. Allow to cool, then peel. The peel usually just slides right off!
I especially like this method on Roma tomatoes. I cut the stem end off and give a gentle squeeze. The tomato pops right out of the skin!
Enjoy!