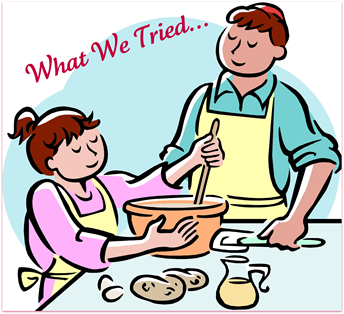 Our family is on a mission… a mission to find meals that we all like!
Is that too much to ask? I sure hope not!
I figured we weren't the only family with picky eaters and decided to start sharing some of the new (and old favorite) recipes that most, if not all, of our family of six liked (loved).
This week we tried Bean Taquitos with Cucumber Salsa.
We all like Mexican food and I am always looking for something to do with my over abundance of cucumbers right now!
(recipe & photo credit Rachael Ray Magazine)
Bean Taquitos with Cucumber Salsa
| | | |
| --- | --- | --- |
| 4 SERVINGS | PREP 15 MIN | COOK 15 MIN |

INGREDIENTS
1 cucumber, peeled and chopped
1 clove garlic, finely chopped
2 tablespoons chopped flat-leaf parsley
2 tablespoons plus 2 teaspoons extra-virgin olive oil
Grated peel and juice of 1/2 lemon
Salt and pepper
3/4 cup sour cream
12 small corn tortillas
One 16-ounce can spicy refried beans (we used Taco Bell Vegetarian blend)
1 1/2 cups grated pepper jack cheese
TIP: Spice up the salsa by stirring in 1 finely chopped jalapeño chile.
Keep the taquitos warm in a 200° oven until ready to serve.
Cut fat and calories by skipping the oil and making quesadillas instead: Sandwich the filling between 2 tortillas and heat in the skillet until just browned.
DIRECTIONS:
In a medium bowl, stir together the cucumber, garlic and parsley. Stir in 2 teaspoons olive oil, the lemon juice, 1 teaspoon salt and 1/2 teaspoon pepper. Stir the lemon peel into the sour cream.

Heat a large skillet over low heat. Soften each tortilla in the skillet for about 15 seconds on each side. Place the tortillas on a work surface and spread each with 2 tablespoons refried beans; sprinkle each with 2 tablespoons cheese. Roll up the tortillas to resemble cigars.

Using the same skillet, heat 1 tablespoon olive oil over medium high heat. Working in 3 batches and using the remaining 1 tablespoon olive oil, fry the taquitos, turning, until crisp and browned, 3 to 4 minutes. Drain on paper towels. Serve the taquitos with the lemony sour cream and cucumber salsa.
**********
EVERY SINGLE ONE OF US loved these! I was actually very surprised because Josh usually hates anything with beans in it and Emma gags on certain textures… including flour tortillas. Apparently the corn tortillas are a different texture because she ate two of these!
I purchased tortilla chips salted with lime salt to eat with the cucumber salsa. It was a fantastic addition to the meal! This is a very economical meal and super tasty! As a matter of fact, Joshua just saw the recipe sitting next to me and asked if I would make them again this week…. SUCCESS!
Enjoy!