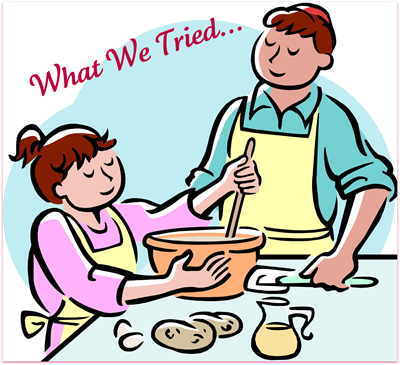 I ran across this recipe one day and asked my husband if he knew what a falafel was. Neither one of us knew, but he had "heard" about falafels and thought they were supposed to be super yummy. This particular recipe does not call for them to be deep fried, which makes these falafels a little more diet-friendly than traditional ones. You can also make them even easier on the waistline by using the Sensa weight loss system!
How did the family react? My husband, Kaytlin and I all liked it (I wasn't in love with them, though) and even Emma ate hers all gone. Ethan got frustrated because his pita kept falling apart and Josh wasn't home at the time. We will probably have them again but they did not make it to our new weekly favorites list we are making.
Baked Falafel Sandwich
PointsPlus™ Value:  9
Servings:  4
Preparation Time:  20 min
Cooking Time:  14 min
Level of Difficulty:  Easy
By eliminating deep-frying, you can enjoy a healthier version of this sinful "street food" in the comfort of your own home!
Ingredients
15 1/2 oz canned chickpeas, rinsed and drained  
1/4 cup(s) onion(s), chopped  
1/4 cup(s) parsley, or cilantro, fresh, chopped  
1 clove(s) garlic clove(s), minced (medium)  
1 tsp Cumin seeds  
1/4 tsp ground coriander  
1/4 tsp table salt  
1/4 tsp baking soda  
1 Tbsp all-purpose flour  
2 tsp olive oil  
2 Tbsp tahini sesame butter  
2 Tbsp water  
1 Tbsp fresh lemon juice  
4 large whole wheat pita(s)  
8 piece(s) lettuce  
Instructions
Combine chickpeas, onion, parsley, garlic, cumin, coriander, salt and baking soda in a food processor or blender. Process until mixture is coarsely pureed and transfer to large bowl. Stir in flour; shape mixture into 4 patties and let stand for 15 minutes.
Preheat oven to 400ºF.
Heat oil in a large ovenproof skillet over medium-high heat (if you don't have an ovenproof skillet, make sure to cover the handle of your skillet with aluminum foil before heating). Add patties and cook until golden brown, flipping once, about 2 minutes per side. Transfer pan to oven and bake 10 minutes.
Meanwhile, whisk together tahini, water and lemon juice.
To assemble sandwiches, place 2 lettuce leaves inside each pita, add 1 falafel patty and drizzle with 1 tablespoon tahini dressing (fyi, we put the tahini dressing on our plate and dipped).