What To Pack For A Road Trip With Kids
Samples received. All opinions are my own.
Summertime (for us) means ROAD TRIPS! The kids are out of school and we can finally get away without interrupting their learning.
Road trips can also mean hours of pure torture with the kids, though… that is unless we prepare properly.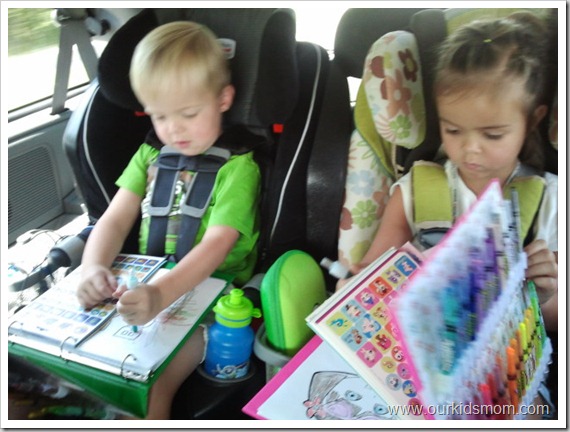 Here is a short list of everything we make sure to pack to keep the kids (and ourselves) entertained while on the road:
lap sized blankets
travel pillows or regular sized pillows (great for the hotel because sometimes they only offer ROCK pillows)
electronic entertainment (iPod/MP3 player, iPad/tablet, handheld video game, laptops)
movies/shows to watch (download digital copies of their favorite shows to watch on the tablet/laptop)
headphones (because Mommy & Daddy really don't want to hear Frozen for the 100 millionth time)
word game books (word searches, crossword puzzles, mind benders)
coloring books (create your own kids activity book with coloring pages, tic tac toe, and roadside Bingo)
snacks (fruit, snacky crackers, pretzels, chips and a nut product like Fisher Nut Exactly snack bites)
drinks (stick to water… they drink it slower and will have to potty less often)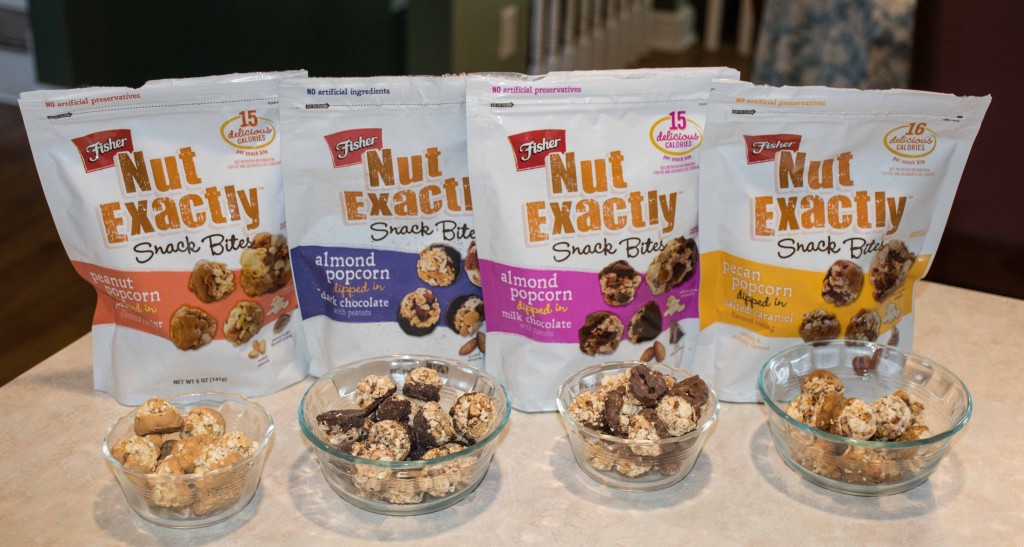 I always try to pack some sort of nut treat because they tend to hold the troops a bit longer until we can stop at a decent place to eat. We especially enjoy Fisher Nut Exactly snack bites because they are the perfect mix of crunch, sweet and nuts.
The first snack of its kind, Fisher Nut Exactly is a combination of roasted nuts and whole grain popcorn, rolled into a bite sized snack that's dipped in milk chocolate, dark chocolate, peanut butter or salted caramel.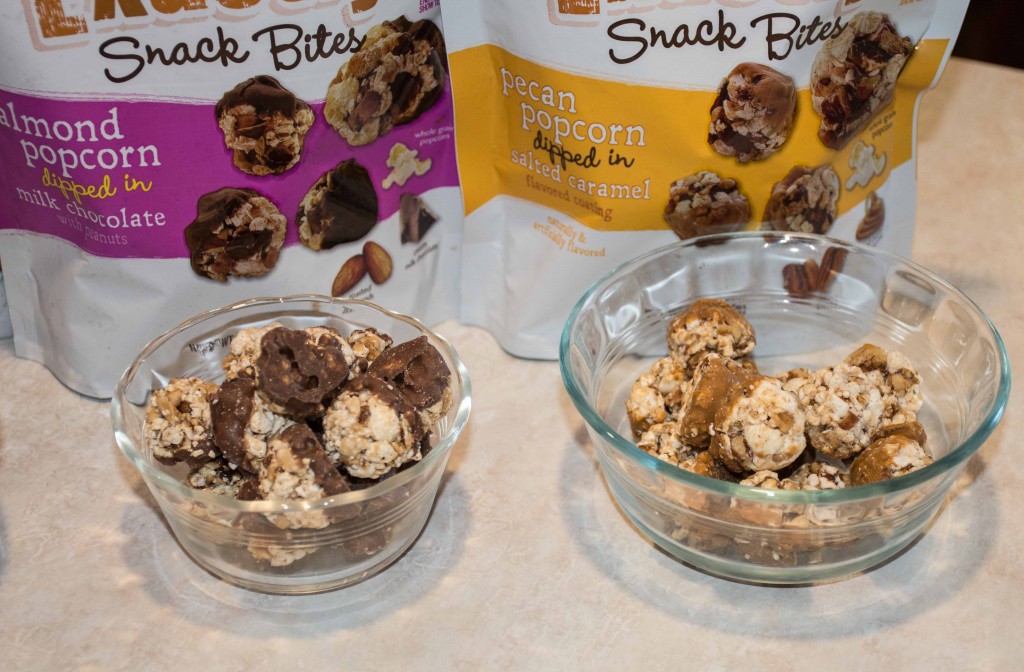 This uniquely sweet & savory snack is both scrumptious, smart and gluten free. At 15 to 16 calories per snack bite and no artificial preservatives, Fisher Nut Exactly makes smart snacking easy, fun and guilt free.
Beginning this June, Fisher Nut Exactly will be available in convenient, resealable bags at retailers nationwide.
The two flavors above are:
o   Almond Popcorn Dipped in Milk Chocolate
o   Pecan Popcorn Dipped in Salted Caramel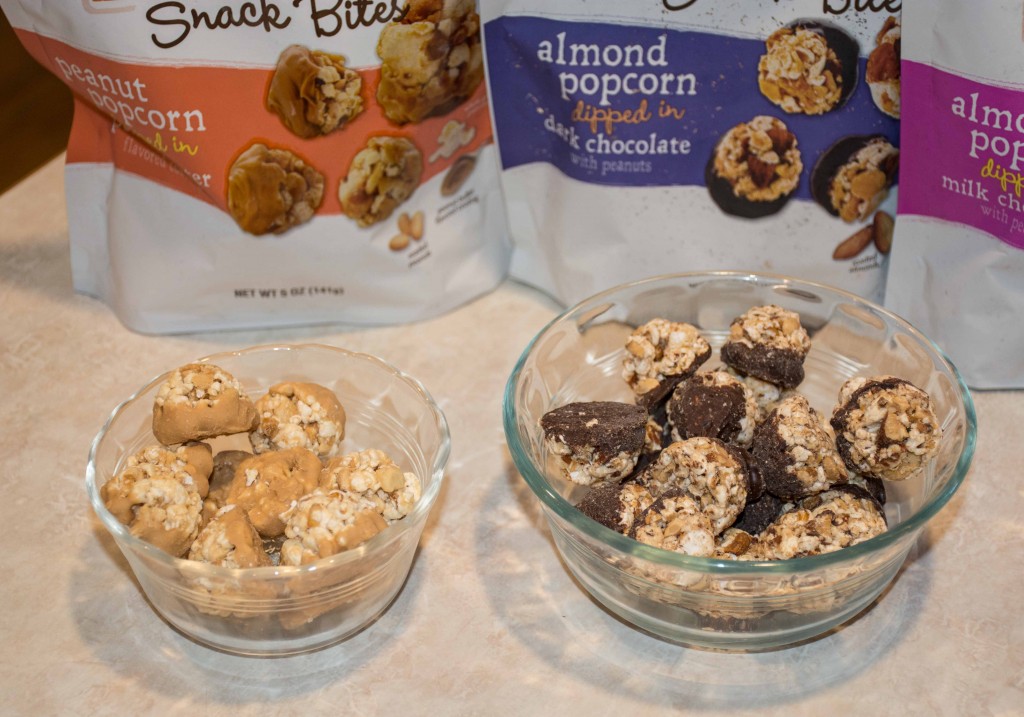 These two flavors (above) are our favorites.
o   Almond Popcorn Dipped in Dark Chocolate
o   Peanut Popcorn Dipped in Peanut Butter
Having these on hand helps keep the sweet monster at bay and keep our calorie consumption at a minimum. Boredom eating in the car can add up quickly.
Connect with Fisher
#FisherNutExactly
o   Fisher on Facebook
o   Fisher on Twitter
BUY IT: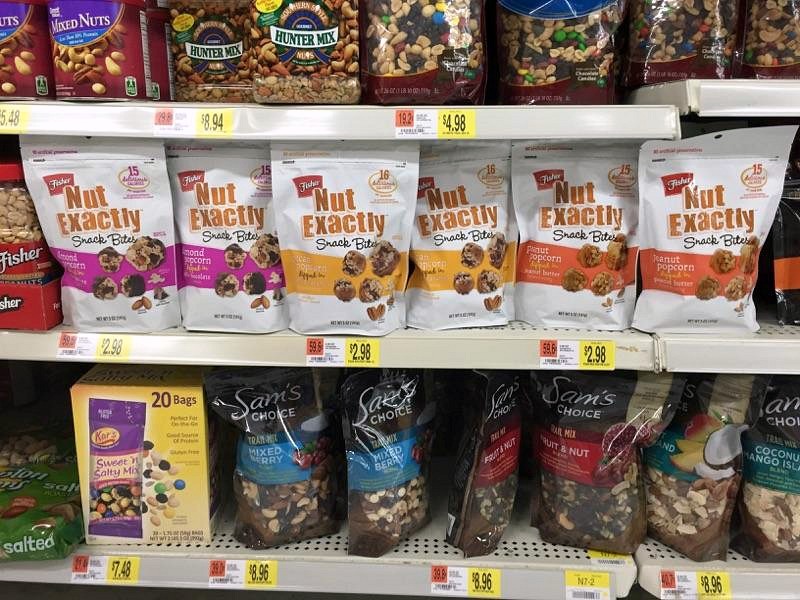 Fisher Nut Exactly Snack Bites are now available at Walmart retailers nationwide:
Fisher Nut Exactly Snack Bites are available at a Walmart retailer near you!
SAVE $$$$$$
Check out Coupons.com for a special deal on Fisher Nut Exactly snack bites at Walmart in your area*: http://www.coupons.com/?&cid=18814384
*You must be logged in to your coupons.com account to see the deal
WIN IT:
ONE OurKidsMom reader is going to win ae includes a suite of the new Fisher NUT EXACTLY snack bites and a $50 Visa Gift Card!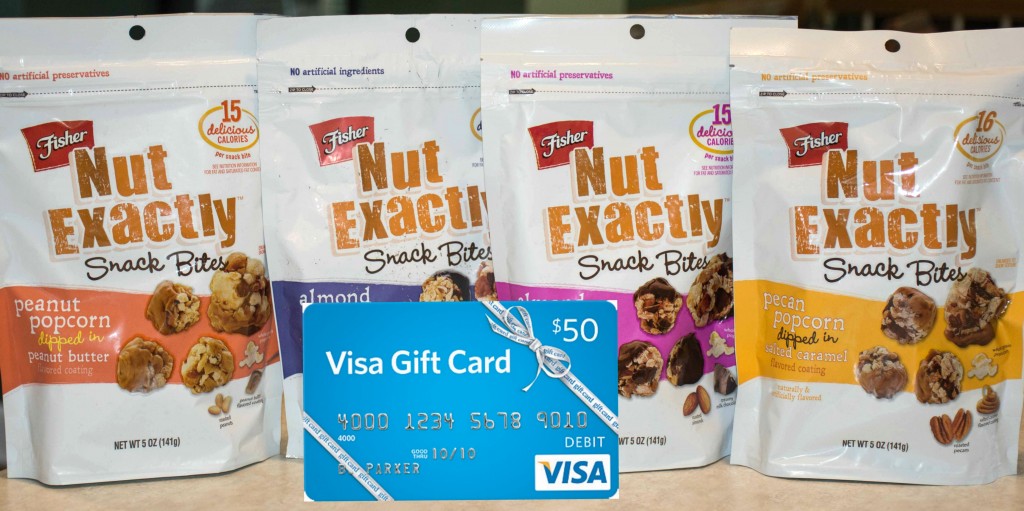 This giveaway ends at 11:59 PM EST on June 26, 2015.
Tell us how you're enjoying Fisher Nut Exactly by using hashtag, #FisherNutExactly, on social media.