What to Expect | Disney Cruise Food Options
I was not compensated nor was I given a free trip. I am sharing with hopes to help future travelers.
When planning for our first Disney Cruise, we had many (many) questions and had no clue what to expect. I decided to write about our experiences in hopes to help future travelers plan and feel more confident before their first cruise.
One short disclaimer before I go on … It is difficult for me to go anywhere without my "blogger hat" on. This means I am always ready to snap a photo so that I can share my experience with my readers. I was so totally and completely relaxed on this vacation that I unintentionally let many photo opps slide by. My work hat was "off" and I loved it. I did take a few pictures to share (with my cell phone), but I apologize for not having all of the photos that I now wish I had taken (and of course… I wish I had taken them with my "good" camera).
My last post was what costs extra on a Disney Cruise. This post will focus on…
Food
Food is never lacking on a Disney Cruise. From amazing "sit down" restaurants, buffet, and fast food to room service. Yes, even room service food is free (fyi pop from room service is extra because it's served in a can … if you can't remember just ask!).
Meat eaters options are everywhere. My husband, daughter and youngest son are vegetarians and had a little tougher time of it.
The sit down dinner menu (at your dining time each night) always had a vegetarian option, but there weren't many "choices". The line up usually included an appetizer, main and side but those were the only options … aka no "choices". The server manager found out on the 5th night that they were vegetarians and made a special order of lentil curry and tofu curry with rice for them to enjoy the last night. When we travel again, we intend to notify him immediately as he said he tries to go out of his way to find something the vegetarians will enjoy.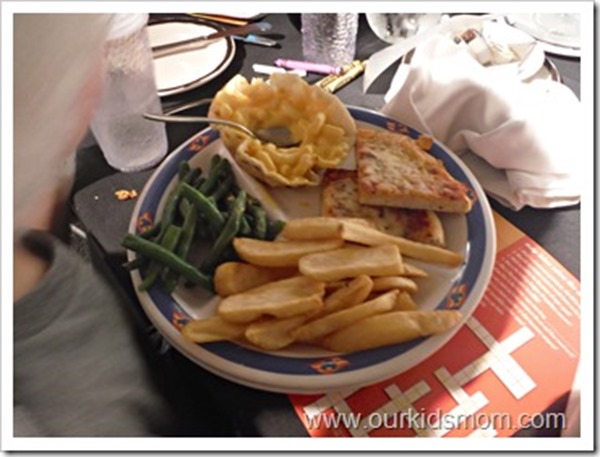 Speaking of going out of their way … my Ethan (age 5) has decided he does not want to eat meat like his Daddy. The kids menu (at sit down dining) had two vegetarian options available; cheese pizza and macaroni & cheese. Ethan could not decide, so they let him order both. Even on the nights he did decide, our waiter still remembered and brought him both just in case.
One night in particular Ethan wanted peas and corn with his dinner. The waiter could not find them that night, but the next night he brought a huge heaping family style sized bowl of peas and corn for Ethan as a surprise.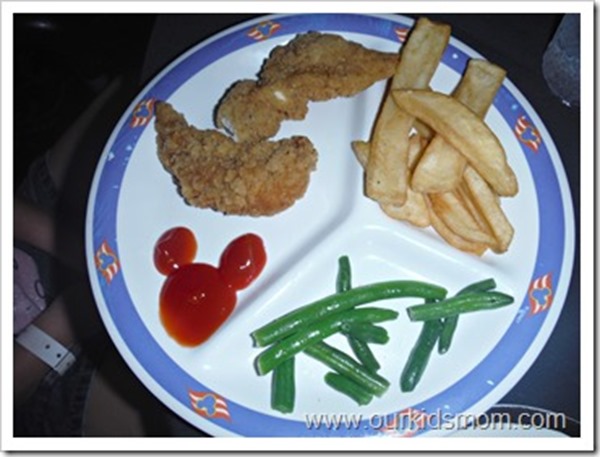 Emma was easier to please and enjoyed the chicken fingers most nights.
Notice the serving size differences on their plates? There are no worries … if Emma had decided she wanted more of anything they would have brought it to her with a smile on their face.
During the day we had several options. Breakfast is available at the sit down dining, but with our large family of six (two of which were eager to get to kids club) we headed to Beach Blanket Buffet. There everyone could get what they wanted and as much as they wanted of everything.
One tip about the scrambled eggs on the buffet… I tried them every morning for five mornings … they always tasted "fake". If you go around the corner at the end of the buffet, there was usually an omelet station there where the chefs would whip up a fresh (real egg) omelet made to order. I ordered fresh scrambled eggs for Ethan from them and they made them for me with a smile. 😉
So what if your family is having too much fun at the pool, but they are hungry? No worries! Thanks to Pinocchios Pizzaria, Plutos Dog House and Topsider all located on the same deck as all three pools. These are walk up fast food style eateries that are usually open all day.
Pinocchios Pizzaria has a variety of pizza available for the asking … one slice or a whole pie … no worries.
Plutos Dog House had typical fast food American fare. Hamburgers, chicken fingers, veggie burgers, hot dogs, and the special of the day (things like pulled pork sandwiches) all served with french fries. Just want a plate of fries to go with your pizza? Yep, you can have that, too.
At Topsider they had several healthier options available. Things like sliced honeydew, cantaloupe, and pineapple, bananas and oranges for a side and deli style sandwiches and wraps for your main item.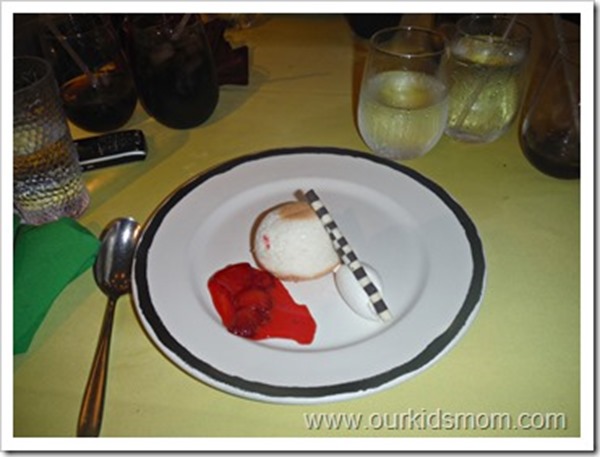 Dessert was never an issue anywhere on the ship … the issue was deciding which dessert. The fabulous thing about a Disney Cruise is, you can have mutliples if you want! The desserts were even fabulous at the buffet as well.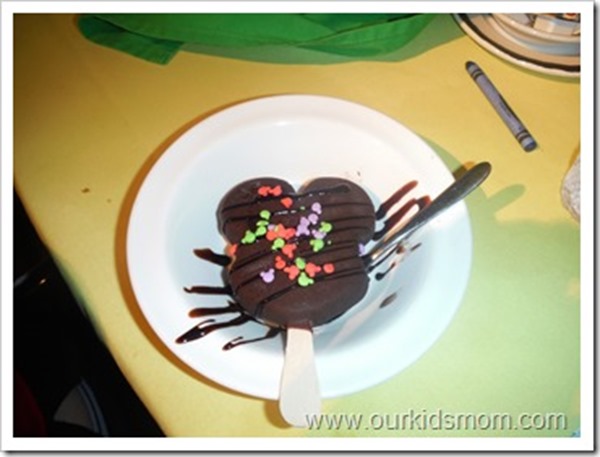 The kids had special dessert options on their menus each night … their favorite was the Mickey Bar above. It is ice cream on a stick shaped like Mickey Mouse covered in dark chocolate. Truth be told, even the adults clamber for Mickey bars. (btw … even though they are not on the room service menu, you can order them for free through room service … shhhh!)
If you get back to your room and later wish you had something sweet, there is all you can eat soft serve ice cream up on deck 9 right next to Topsider. You will see people walking around all day with a soft serve ice cream cone. They are fabulous.
Still looking for answers? Check out my other posts about taking a Disney Cruise:
Disney Wonder Inside Stateroom Review 
Disney Cruise Line Extra Expenses