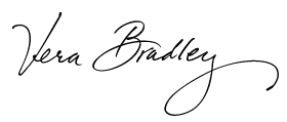 I guess I have been hiding under a rock, but I am now officially "found". What am I talking about? Well… I had never experienced a Vera Bradley bag! *gasp*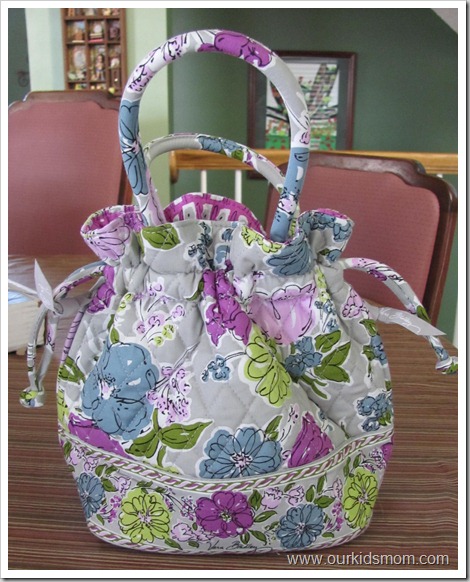 I know, right? O.M.G.!
So when my box arrived I excitedly opened it to find these over the top fantastic bags inside!
The first two I pulled out were the Emma bag (rv $35.00).
Vera Bradley generously sent us two, one for each of my girls. We received the bag above in the print Watercolor and the bag below in English Meadow… both prints are new for summer 2011.
Perfect as a gift bag, Emma is also a dainty handbag. Reflecting the season's drawstring fad, Emma gathers closed with a tug of the knotted strings on either side. Use it as an accessory or give it to the youngest fashionista in the family.
 I have to admit, I am now officially a fan. The detail that does into these bags in fantastic. They are definitely quality items that will stand up to time, making the purchase price a steal.
I have actually contemplated "borrowing" one of these bags for my own use. After carrying a diaper bag for 4 1/2 years, the thought of carrying a smaller bag is refreshing to me. The Emma bag measures 7½" x 9½" x 5″ with 4½" handle drop. Both patterns are fun and flirty and scream Summer is HERE!
I thought it would be fun to use these bags as "wrapping" for a birthday present… or even as the basket for Easter. What young lady, pre-teen (or even Mom!) wouldn't love one of these fun on the go bags?
After forcing myself to calm down, I dove into the box again to find another bag. This time for ME. This time it was a Quick Draw bag in Deco Daisy… also new for summer 2011.
This cargo style fastens the fashionable way. An adjustable strap makes it easy to wear this drawstring style as a crossbody or a shoulder bag, and magnetic flap pockets are a perfect solution for keeping your phone, keys or other essentials at hand.
This bag measures 9½" x 13″ x 5¼" with 52″ adjustable strap. The Quick Draw also features the draw string closure but adds a few functional outside pockets and an adjustable strap. I like that I can choose how I want to carry this particular bag. I like to carry my bags by the strap, but occasionally my hands are full and being able to extend the strap to wear it as a cross body allows me to use both hands to tend to my children.
I could see this bag being used as a "diaper bag" after potty training has ended. The outside pockets help me stay organized (think keys and coin purse) and the interior still has enough room for the few items I like to carry for the kids like a cup and a snack.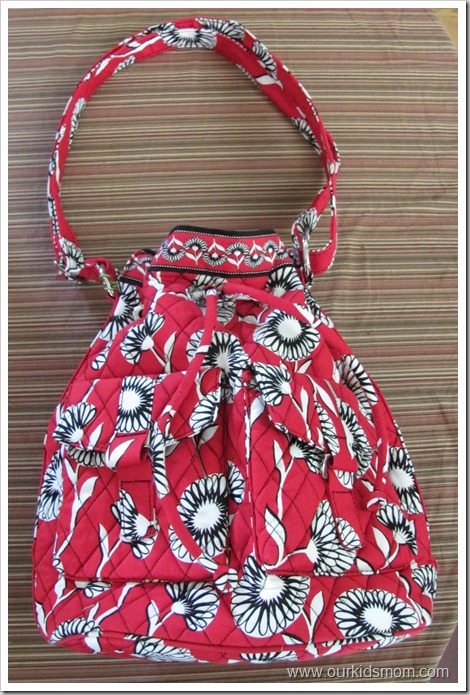 I am so thankful for the chance to experience a Vera Bradley bag. I am officially hooked and look forward to many outings with our new accessories!
Take a look at what is new at Vera Bradley for Summer 2011!
BUY IT:
You can purchase Quick Draw in Deco Daisy for $68
Emma in Watercolor and English Meadow for $35 each
WIN IT:
One OurKidsMom is going to win a Vera Bradley umbrella in Deco Daisy (RV $32)!
 This giveaway ended at 11:59PM EST on May 9, 2011.
Disclosure:
This post was written me and was not edited by anyone. The opinions expressed in this post are entirely my own and have not been influenced in any way. I received a sample for review purposes only. I was not compensated for this post. The sponsor is responsible for prize fulfillment and will be shipping the winner(s) their prize(s). For more information please read my disclosure policy.