Novica was a website that I had heard of before, but really didn't know what they sold. One day I read mention of the site again and I decided I needed to take a peek for myself.
I liked what I found.
Novica features green gifts, meaning eco-friendly, sustainable and natural. They are all made by local artisans and you can find anything from jewelry and handbags to home decor. While sifting through the site, I ran across their selection of fair trade corporate gifts and thought was a fantastic idea that would be for a business to reward their employees with!
But anyway… I get ahead of myself sometimes. While sifting through the endless possibilities I ran across this beautiful cotton shoulder bag from Thailand.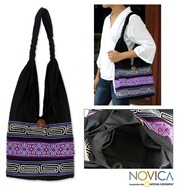 This cotton shoulder bag is replete with hill tribe artistry. Jiap Rojjana replicates classic patterns with hand-embroidered motifs in shades of purple and violet. Inside, the bag features a zipper pocket. Fastens with a flower button carved from coconut shell.

An artisan story card will be included with your purchase.
After reading about the artist and viewing the details of the item I decided to purchase this particular bag for Kaytlin.
The actual shopping experience on the site was enjoyable and easy to navigate. When checking out, I was a little worried about shipping costs. I thought for sure it would cost at least an arm to ship an item from Thailand. I was wrong! I paid around $3 shipping. REALLY!
The bag arrived quickly and safely and I was speechless when I opened the box. I seemed to remember the website mentioning free gift wrap, but I had forgotten about that option. The bag arrived wrapped in this beautiful textured paper that was accented with a leaf. It made a definite statement and it was beautifully presented.
I was equally as impressed with the bag. The colors were just as vibrant as advertised. The needlework was detailed and beautifully done and the style of the bag was unique and fun.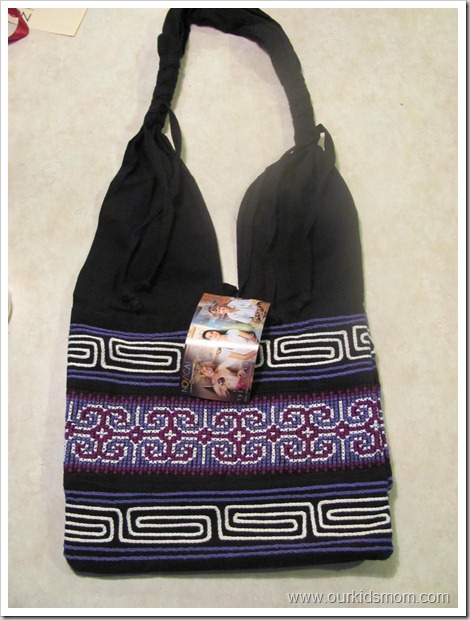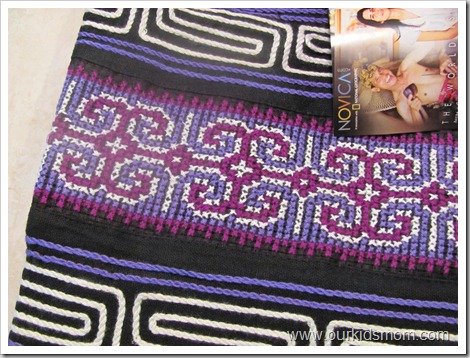 I'm glad I checked Novica out! I love that they are helping out local artists across the globe. I am equally impressed with the fact that they are helping these artists by advertising our chance to microfinance an artist as well. What is that? Basically… you are helping out a local artist (your choice) by extending a loan to them. It doesn't have to be a big one, any amount helps. The artist will repay the loan in the specified amount of time and then you can re-invest again!
About Novica's Artisan Loans

Over the last decade, Novica has impacted many thousands of lives by connecting artisans in developing nations to the global market place. We now want to increase our impact and further help artisans expand their businesses by providing access to microfinance.

In a climate where the world's most challenged entrepreneurs are subjected to painfully high interest rates, we've cut out all the financial middlemen, and in true Novica fashion, we've taken matters into our own hands.

We are proud to have launched the first-ever microfinance website where customers can purchase products and lend money directly to artisans, with loans at 0% interest!

0% Interest…. are we crazy?! It sounds too good to be true, but this concept is only possible due to the presence of Novica offices in each of our regions. In addition to distributing all customer orders, these offices now also serve as disbursement centers for Artisan Loans, providing artisans access to the credit they need to grow their business.
Novica has taken the experience one step further with Novica Live.
NOVICA Live provides a unique cultural shopping experience, where you can travel the world through entertaining home shows and see multimedia presentations of artisans creating the very items you will hold in your hands.
BUY IT:
You can purchase a "violet art" cotton shoulder bag for $21.99
WIN IT:
One OurKidsMom is going to win a $25 gc to Novica!
This giveaway ended at 11:59PM EST on May 9, 2011.
Disclosure:
This post was written me and was not edited by anyone. The opinions expressed in this post are entirely my own and have not been influenced in any way. I received a sample for review purposes only. I was not compensated for this post. The sponsor is responsible for prize fulfillment and will be shipping the winner(s) their prize(s). For more information please read my disclosure policy.