One Trip ToteTM

Gather. Go. Gorgeous.TM

Practical meets pretty with this spacious, yet lightweight, multipurpose tote. Gather everything you need for the day into this versatile bag and make One Trip out the door. Whether using One Trip ToteTM at home or on the go, you'll find so many functions for this carry-all that you'll wonder what you did without it. Use it to carry the kid's things, your things, shopping items, home items, or even to organize that trunk. One Trip ToteTM helps you do it all with style and ease! This striking tote bag will be a treat for your eyes throughout the day. But that's not the only reason why you'll be smiling. One Trip ToteTM will make it easy to be organized and efficient, and help your days run a bit smoother! Gather. Go. Gorgeous!TM
I have slowly gotten on the "green" bandwagon when it comes to reusable bring-your-own bags. I'm not sure what has taken me so long. Plastic store bags are a pain… literally. I have pain in the joints of my fingers on a daily basis (especially when cold) and when I carry multiple plastic grocery bags up from the car it causes a bit of pain.
One Trip Tote was brought to my attention about a month ago. From the stock photos I thought it was a pretty and classy design and it looked like a decent size. I couldn't wait to see it in person! I was imagining all the ways I could use this tote.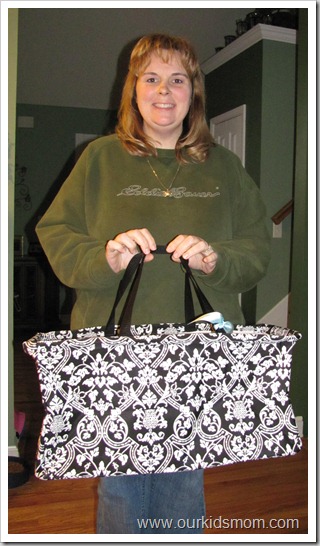 On the Go
Everyday trips are made fab, not drab with One Trip ToteTM. Load it up the night before with all the things you'll need for the next day. Then in the morning make just one trip to the car, instead of two or three! Perfect on vacation – collapses and fits into carry-on luggage.
Gather. Go. Gorgeous!TM 

At Home
Use One Trip ToteTM at home to dress up any room. Use as a collapsible hamper to make laundry a bit more lovely. Use it to organize the mudroom, craft room, bathrooms, closets, home office and even at stair landings to collect things that need to be carried up and down.
Practical. Pretty. Perfect!
When it arrived, I wasn't disappointed! The first thing I noticed was how flat it folded… perfect for storing in the back of my van between uses (I had decided I was going to use it for groceries). The entire tote was nicely constructed of a medium-heavy weight material with a water proof lining (great for accidental spills). I had a trip to Sams Club planned within the next couple of days and so I put in the trunk so I would be ready.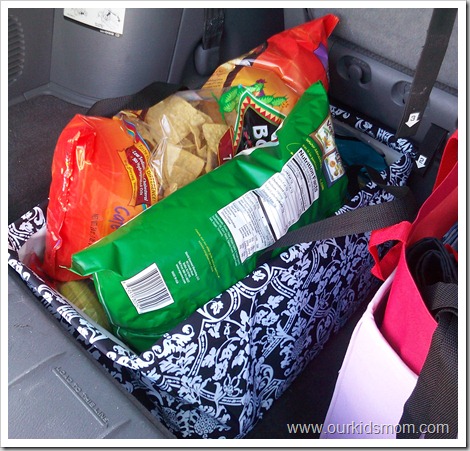 This was a normal shopping trip for me… I should have taken a photo without the chips on top so you could see just how much this amazing tote holds. I had six large bags of salad mix, two bunches of bananas, a bag of apples and the two oversized bags of chips. I expected the bag to feel over burdened, but the handles felt secure and the weight was distributed nicely. The bag fit nice and snug in the trunk of the mini van preventing it from sliding around the back.
I have used the One Trip Tote several times now while shopping at Sams Club and have been asked a couple of times by other shoppers where I found it in the store (so they could purchase one). I gladly handed them a business card and told them to buy several… you will want to share them with everyone. Think gifts!
I would love to get my hands on a couple more of these to carry the rest of my groceries (I store hop on grocery shopping days). I believe three of them would fit nicely across the trunk and still hold all the food I purchase on a normal trip (shopping for six). I might just need another one (or two) for trips to the pool or the library!
A Mom wants to stay organized!
BUY IT:
You can purchase a One Trip Tote for $37.95
I received product for the purposes of review only. I was not compensated for this review. All opinions remain 100% my own. Your experience with the product may differ from mine.