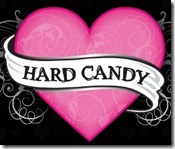 I am pretty boring when it comes to cosmetics. If I find a product I like, I tend to stick with it. I haven't tried new cosmetics since high school. With my recent conversion to vegetarianism, I had been looking for a new line of makeup that is not tested on animals. I just recently stumbled on a cosmetics brand called Hard Candy and was intrigued.
Hard Candy will amaze with off the charts products, intense color, wild packaging and a flair for the dramatic. The name invokes all things girly and sweet while the brand brings in a slight edge and attitude. Truly the best of both worlds. We will turn heads, create buzz, lift energy, start conversations, end boredom and give good face. We will push the envelope and pull in new customers. We will steer the industry to bigger and better and drive traffic to the cosmetics aisles. We will quench the desire for a new and

fun cosmetic line and leave women thirsting for more. Hard Candy will make a difference!
Sounds like fun, huh?? When I received the package in the mail, it confirmed everything I was thinking. This is a fun and vibrant product for the wild side and the girly girl in you.
Better than being cute and fun, most of their products are vegan (Here is the list of vegan items)! What does a "vegan cosmetic" mean? It means no animals products, no animal testing… cruelty free.
All of their cosmetics are cruelty free.
Kaytlin and Emma immediately went to play beauty shop with the lip gloss and nail polish. Emma has a fetish for lip gloss/chap stick and the glitter in the gloss caught her eye. I used the gloss (aka "Plumping Serum") and it made my lips tingle!
Plumping Serum lip gloss will give you the biggest, sexiest lips possible without a doctor's visit. Sheer color, outrageous shine.
My favorite items from our mini haul are the mascara and the matte powder. I have fairly thin eye lashes and have been trying for years to find a product to accentuate them. I used my normal two coats with the Hard Candy Ginormous Lash and my eyes "popped". It goes on smooth with no clumps and I adore it!
Fatten your flutter with this lash plumping formula. The larger brush, with slightly tapered edges reaches from root to tip for truly bat-worthy volume and glamour. From Carbon Black to Electric Blue.
The pressed powder goes on smooth and doesn't cake. Surprisingly the sponsor picked the right shade to send! I think I've found my powder replacement!
Roll out the Welcome Matte – and foundation will stay all day. A micro-pigmented pressed powder that eliminates unwanted shine, evens the skin, and sets foundation for all day wear. Micronized pigments "float" on the skin to even out skin tone. Mirror and sponge included.
I played a bit with the eye shadows. They were almost the right colors for me, but just a tad darker than I prefer. But, I did use them and the shadow goes on smooth and holds all day. There wasn't a need to re-apply in the afternoon.
Perfect palettes of highly pigmented, wet-dry shadows that instantly bring color & eyes to life! The formula has been baked (not pressed) on a terracotta disk, offering wet-dry benefits in a rich, colorful, long-lasting application that's never chalky. Apply "wet" for more dramatic, intense color, or "dry" for softer, more shimmery effect. When "wet" try the deeper tones as an eyeliner
Overall, I'd say we all liked what we tried! I have yet to receive the gloss and nail polish back from Kaytlin and Emma. I think I may have to buy my own to try them :O).
BUY IT:
You can purchase Hard Candy Cosmetics exclusively at Wal-Mart… all for under $10 each
WIN IT:
One OurKidsMom is going to win an assortment of Hard Candy cosmetics similar to the selection I reviewed!
This giveaway ended at 11:59PM EST on May 10, 2011.
Disclosure:
This post was written me and was not edited by anyone. The opinions expressed in this post are entirely my own and have not been influenced in any way. I received product for review purposes only. I was not compensated for this post. The sponsor is responsible for prize fulfillment and will be shipping the winner(s) their prize(s). For more information please read my disclosure policy.