Tassimo is not just a coffee maker, its a Brewbot, an advanced brewing system made by the engineers at Bosch.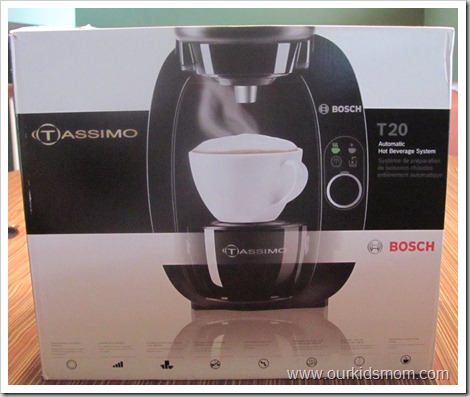 It has taken me years of trying various brews, but I can finally say I am a coffee lover. My husband teases me and says I drink "hot chocolate coffee" because I sweeten it (a lot), but that's how I like my "hot chocolate"… sweet with a kick of caffeine!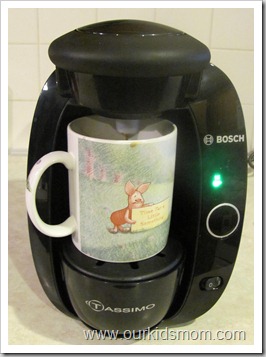 A few weeks ago, this beautiful machine made an appearance on my front porch. Let me introduce you to the Tassimo T20 from Bosch.
This is a single cup hot drink maker that can brew a cup in about 1 minute. It will brew coffee, tea, cappuccino, latte, crema, espresso and hot cocoa all from the same machine. The actual brewing process is fairly quiet because the Tassimo has an exclusive flow-through water heater. The makes for a faster and quieter brew.
What I find amazingly cool is you can switch from one type of hot drink to another and not have flavor transfer. Why and how, you ask? Each T-DISC (the coffee packet) has a unique bar code on it. The Brewbot reads the code
and knows how much water and what temperature to use to use to make the perfect cup of coffee. The actual brewing process takes place inside the t-disc so there is no flavor transfer when you put a new T-DISC in. We saw evidence of that last night when brewing a cappuccino. The first packet (creamer) pushed through far more water than the actual coffee, but together made a nice big cup of Joe. I immediately popped in a Gevalia T-DISC and I didn't taste a single hint of cappuccino.
The Brewbot is small and space saving. I love how it looks on the counter… it has a slightly more modern look to it. It's not overpowering and if you'd like to add a touch of personality, accent inserts (the part right under the coffee mug) can be purchased in various colors.
The water reservoir holds a decent 1.5 liters, which will make several cups of coffee before you have to refill. Refilling is not really a hassle though. The lid flips open with a nice wide mouth to fill. The fill line is clearly marked and the container slides back in easily.
The Tassimo is the only Home Brewing System that gives everyone the drink they want from coffees and teas to rich cappuccinos and lattes. You can find brands such as Milka, Gevalia, Maxwell House, Suchard, Mastro Lorenzo, Twining's, Kenco, Jacob's, TAZO, Nobob, Carte Noire and Seattle's Best Coffee. Of course, the line-up wouldn't be complete without Starbucks (get them while they last though… this line will be discontinued soon!) … with Cappuccino Primo and Latte Primo. Something for just about everyone on the coffee spectrum.
If you are an "on the run" drive through kind of coffee person… this little machine is going to save you a fortune. The higher end brews will run you around .90 a cup. I just purchased a bunch of Maxwell House French Roast from Amazon.com for about .29 a cup.
If the Mom in your life loves coffee, this is the perfect gift for her!
BUY IT:
The Tassimo T20 Brewbot normally retails for $99.99 at places like Bed, Bath & Beyond, Wal-Mart and Target. BUT… there is a special offer!
SPECIAL OFFER: Purchase a Tassimo T20 Brewbot online here: http://bit.ly/Tassimo25 and get 2 free T DISCS!
WIN IT:
One OurKidsMom is going to win a Tassimo T20 Brewbot!
This giveaway ended at 11:59PM EST on May 12, 2011.
Disclosure:
This post was written me and was not edited by anyone. The opinions expressed in this post are entirely my own and have not been influenced in any way. I received a sample for review purposes only. I was not compensated for this post. The sponsor is responsible for prize fulfillment and will be shipping the winner(s) their prize(s). For more information please read my disclosure policy.