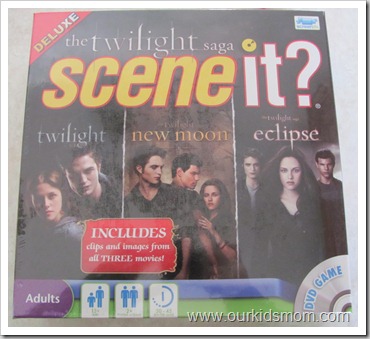 What do you get for the Mom that has it all or just never asks for anything? Is she a Twi-hard? The new Deluxe Scene It? The Twilight Saga board game from Screenlife Games may be just the item to make her smile!
Your Twi-Mom will have a blast playing this totally interactive board game with the other Twi-Hards (or casual Twilight lovers) in the house. This is a DVD trivia game that features clips and questions about all three movies. You will be tested on observation, memory, wordplay, and problem solving to decode special DVD puzzles.
What's the best part of the game? The video clips, sound bites and images on the DVD! The DVD is hosted by Carlisle Cullen and is filled with hundreds of these clips and images. When a player draws a DVD challenge card they are challenged with a video puzzle. These puzzles range from memory games to decoding a message.
What a better way to bond than over clips of Bella and Edward. I mean, what are we supposed to do while waiting for the next movie to release?!? You can read the books only so many times before they fall apart, right?
Product Description

Featuring heart-stopping Twilight movie clips!
Team Edward? Team Jacob? Why choose! Scene It? The Twilight Saga Deluxe Edition features tons of clips, trivia questions and on-screen puzzles from all three blockbuster films, including The Twilight Saga: Eclipse!
With new mini games and engaging group activities, you'll go beyond trivia and immerse yourself in The Twilight Saga.
Relive the passion, action and suspense of Twilight, The Twiight Saga: New Moon and the Twiight Saga: Eclipse all in one captivating package!
Deluxe Edition Game Includes:
Game Board
1 DVD
4 Collectible Tokens
160 Trivia Cards
20 Fate Cards
1 Numbered Die
1 Category Die
Reference card
Instructions
2+ players or teams
30-40 minutes per game
Sketch it! Act It! Say It!
Act draw and describe iconic Twilight Saga Movie clues for even more ways to get into the action!
Hosted by Twilight's Dr. Carlisle Cullen
Made in China
BUY IT:
You can purchase Deluxe Scene It? The Twilight Saga for $14.99 at Amazon.com (RV $29.99)
WIN IT:
One OurKidsMom is going to win a Deluxe Scene It? The Twilight Saga Board Game (television not included)!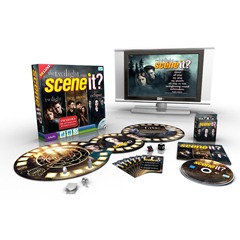 This giveaway ended at 11:59PM EST on May 10, 2011.
Disclosure:
This post was written me and was not edited by anyone. The opinions expressed in this post are entirely my own and have not been influenced in any way. I received product for review purposes only. I was not compensated for this post. The sponsor is responsible for prize fulfillment and will be shipping the winner(s) their prize(s). For more information please read my disclosure policy.