Welcome Our New OurKidsMom Contributor!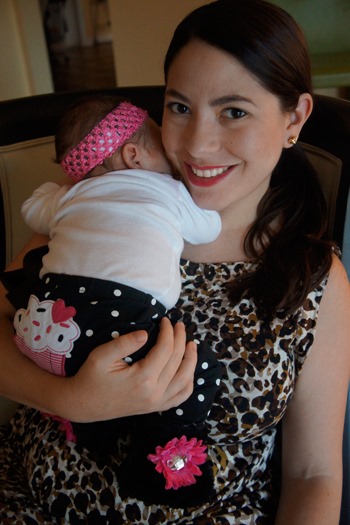 As OurKidsMom grows, so does the need for contributors. I put out feelers in a few of the groups I am in asking for interested parties and then researched each application as thoroughly as I could. I am very excited about our newest addition to the team… I'm positive you are going to love her (and her daughter is beyond adorable!).
Introducing… April!
My name is April Erhard, mother of the most amazing newborn little girl, Camilla Gray (we call her Cami) and my Cavalier King Charles Spaniel, Harrison Ford. I am a newlywed and a new stay at home working mommy. My husband inspired me to work on my writing and create rather than slave away at a desk job all day. It is incredible to be able to work from home and get to raise Camilla. I primarily write about my passion for fashion and have been for almost 4 years on my own blog, April Golightly  Also, now that I am home full-time, I started cooking and am sharing my journey on Palm to Park.