Happy New Year (tomorrow)!!
Well, we made it through the holidays. In years past I would normally gain 7-10 lbs eating yummies from November through Christmas. This year, I am proud to say, is not a repeat of years past!
It's been 8 weeks on Nutrisystem for myself and 4 weeks for Kaytlin.
This year we had a plan. I hosted for my family and took control of the menu… putting out healthy snacking options to help fill our bellies before the pizza was served. I really think it helped. When the munchies hit after the pizza (and you know they always do) I headed straight for the cucumbers and cauliflower. I allowed myself to indulge in the ranch dip (made with low fat sour cream) and a little of the spinach dip with pumpernickel bread (yumm). The fruit dip I normally make is so not on the plan, so I opted for strawberry yogurt (which is incredible with strawberries, apples and even pineapple!).
I felt more in control, though, and it was a great feeling.
I received a cute little reminder of my accomplishment (so far) in the mail this week from Nutrisystem.
My 10 pound Nutribear arrived! Kaytlin received hers as well!
He also brought along a little friend as our Christmas present from our Nutrisystem family.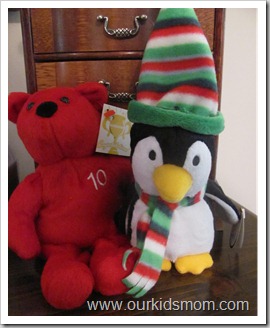 The kids and I were joking around and someone made the comment
"Wouldn't it be cool if they each weighed 10 lbs?" .
So, let's say you were down 30 lbs. If you picked up all 3 together you could get a physical reminder of how much you've lost! Just a fun idea. I'm sure they would be expensive to make and ship for Nutrisystem, though.
So anyway…. on to the weigh in!
This holiday season I am proud to say that I lost…
.8 lbs this week!
That puts me at 18.5 lbs in 8 weeks and it was during the holidays! 
| | |
| --- | --- |
| Week & -/+ | Total Loss |
| week 1: – 6 lbs | 6 lbs |
| week 2: – 2.5 lbs | 8.5 lbs |
| week 3: – 4 lbs | 12.5 lbs |
| week 4: + 1 | 11.5 lbs |
| week 5: – 3 lbs | 14.5 lbs |
| week 6: + .2 lbs | 14.7 lbs |
| week 7: – 3 lbs | 17.7 lbs |
| week 8: – .8 lbs | 18.5 lbs |
Kaytlin had told me that she was a little worried about the weigh in this week because Christmas dinner (pizza) was a little too good and she had a little more than she thought she should have.
I have been watching, though, and I am so incredibly proud of how well she has been sticking to the plan. I am drawing strength from her and motivation. I refuse to let her pass me by on total pounds lost! I can totally see how the Nutrisystem family plan is so beneficial! Having someone to help motivate, put you in your place, remind you and be "in your shoes" is beyond helpful!
So, drum roll please………………….
She lost 2 lbs this week!
That makes a total of 15 lbs in FOUR weeks!
| | |
| --- | --- |
| Week & –/+ | Total Loss |
| week 1: – 8.8 lbs | 8.8 lbs |
| week 2: – 2.2 lbs | 11.0 lbs |
| week 3: – 2 lbs | 13 lbs |
| week 4: – 2 lbs | 15 lbs |
 See what I mean?! She's catching up quickly! I am proud and excited for her though. :O)
*************
Today was weigh in day for Nutrisystem buddies, too!! Make sure to drop in and visit Heather at Living on Love and Cents and Melissa at The Life of a Sippy Cup Mom and cheer them on!
Interested in joining us? Nutrisystem has set up a special website for blog readers. Visit for news and special offers, or call 1-888-853-4689
DISCLOSURE: This post was written by me and was not edited by anyone. The opinions expressed in this post are entirely my own and have not been influenced in any way. Nutrisystem is providing their food and program to me/us free of charge for my weekly updates. I was not compensated for writing this post. I am disclosing this in accordance with the Federal Trade Commission's 16 CFR, Part 255