It's been 14 weeks on Nutrisystem for myself and 10 weeks for Kaytlin.
For today's installment… I will call it "Random thoughts… with OurKidsMom".
I just want to say, I hate Mother Nature. Period. I am done with her. Really, why do women continue to go through this every single month when we know we are finished having babies? *sigh* Okay… enough griping…
This week was pretty uneventful, really. Eating 6 times a day has become a routine for me and I rarely need to look at my food list to know what I have available and what I have already consumed. It's taken me 14 weeks, but sometimes it takes longer for an "old dog" to learn new tricks… right? I've never stuck it out this long, with any lifestyle change, to notice a new routine forming. *high five!*
To be honest, I was a little worried. I am finishing up week 14 and just placed my "final order" with Nutrisystem. Thoughts were floating through my head. I was just finally getting the hang of this. I am starting to like what I see in the mirror. I love the accountability I have sharing my journey with you, my readers. I love the support I receive from my Nutrisystem family. I wasn't ready for it to "end".
I received good new, though. I was offered to continue on my journey for another 3 months. Three glorious months of yummy delicious food, amazing support and encouragement and hopefully I can say good-bye to another 20-30 pounds as well! With spring peaking it's head from around the corner, I am seeing long walks with the kidlets in our future!
So, I did it. I tried the new foods they sent. Okay, you got me. I tried two of the four new foods.  I forgot about the eggs and the soup is not vegetarian.
Are you curious to know what I think?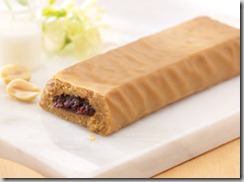 I'll start with the Peanut Butter & Jelly Bar.
Two of your favorite childhood flavors are combined in this fun lunch bar! The soft, chewy peanut butter-flavored bar has a generous center of grape jelly, all wrapped up in a delicious peanut butter coating.
Let me first say… I am not the type of person that craves a pbj. They are okay in a pinch or on a picnic. I could take them or leave them. That being said… my first bite took me by surprise. It was pretty good, but the jelly seemed a little sweet for me. But this is coming from a sugar free jelly girl. I managed to eat the entire bar (all the while daydreaming about my fudge graham bar). By the last bit I was ready to admit it was okay. I missed a little crunch I get with the other lunch bars but if you like pbj, you might just like these!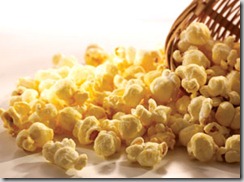 Butter Flavored Popcorn
If you like popcorn, and you like it buttery and full of flavor, you're going to love this! Tender corn is popped to perfection then coated with a seasoning mix that's a little salty and very buttery. It's popcorn without cooking hassles or bowls to clean up, and it's the snack to reach for while you're watching your favorite movie or sports event.
THIS is the food item I have been desperate for during the last 14 weeks. Our family eats popcorn almost every single night. I indulge every once in a while, but if I had "program" popcorn I wouldn't feel so guilty. Let me say, the ingredients list made me go "hmm?". Whey Protein?
POPCORN, SUNFLOWER AND/OR SAFFLOWER OIL, WHEY PROTEIN CONCENTRATE, SALT, NATURAL AND ARTIFICIAL FLAVORS, BETA CAROTENE (COLOR). CONTAINS MILK.
My first taste… eh. Second…. hmm. Then I tried to roll the bag up ad put it away for later only to find it in my hands a few minutes later and almost empty. It is definitely not our homemade stove popped popcorn. BUT, it is just as good as the store bought popcorn in the chips aisle! It was good enough that I included it in my next food order. I love popcorn.
So, by now you are saying… "Get on with it!", right?
How much did I lose?
Remember me cursing out Mother Nature? Well, she is planning to visit me this weekend. Yeah, you get the picture. Bloat city…
but
I lost .4 lbs!
That puts me at 25 lbs in 14 weeks!
| | |
| --- | --- |
| Week & -/+ | Total Loss |
| week 1: – 6 lbs | 6 lbs |
| week 2: – 2.5 lbs | 8.5 lbs |
| week 3: – 4 lbs | 12.5 lbs |
| week 4: + 1 | 11.5 lbs |
| week 5: – 3 lbs | 14.5 lbs |
| week 6: + .2 lbs | 14.7 lbs |
| week 7: – 3 lbs | 17.7 lbs |
| week 8: – .8 lbs | 18.5 lbs |
| week 9: – 2.5 lbs | 21 lbs |
| week 10: – .4 lbs | 21.4 lbs |
| week 11: – 1.6 lbs | 23 lbs |
| week 12: + 1.4 lbs | 21.6 lbs |
| week 13: -3 lbs | 24.6 lbs |
| week 14: -.4 lbs | 25 lbs |
Kaytlin… oh Kaytlin. She has been doing so well and I am so proud of her. She has been avoiding temptation like the plague. When she has to make a decision, she makes an informed and educated one and chooses the most healthy option.
Kaytlin has mentioned twice this week that someone has told her "you are looking good girl!". Some people might take that wrong, but Kaytlin and I are in the right mindset and are loving the compliments!
Kaytlin decided to try on and model some of her summer clothes from last year. She came upstairs with a huge grin on her face and told me the shorts she had on were a little to snug last year. They are baggy now!
I think we are both going to need new summer clothes! 🙂
So, drum roll please………………….
She lost 2.4 lbs this week!
That makes a total of 28 lbs in 10 weeks!
As much as I want that 30# Nutribear before her… I'm thinking she's going to earn it first. I'm trying though!
| | |
| --- | --- |
| Week & –/+ | Total Loss |
| week 1: – 8.8 lbs | 8.8 lbs |
| week 2: – 2.2 lbs | 11.0 lbs |
| week 3: – 2 lbs | 13 lbs |
| week 4: – 2 lbs | 15 lbs |
| week 5: – 1.4 lbs | 16.4 lbs |
| week 6: -3 lbs | 19.4 lbs |
| week 7: –2.6 lbs | 22 lbs |
| week 8:  – 2.8 lbs | 24.8 lbs |
| week 9: -.8 lbs | 25.6 lbs |
| week 10: -2.4 lbs | 28 lbs |
Team OurKidsMom is pushing through and aiming high!
Today was weigh in day for Nutrisystem buddies, too!! Make sure to drop in and visit Heather at Living on Love and Cents and Melissa at The Life of a Sippy Cup Mom and cheer them on!
I have some new Nutrisystem buddies that could use some cheering on, too! Please visit Sara at "Deal"icious Mom and Xenia from Thanks Mail Carrier as they share their Nutrisystem journey.
Interested in joining us? Nutrisystem has set up a special website for blog readers. Visit for news and special offers, or call 1-888-853-4689
DISCLOSURE: This post was written by me and was not edited by anyone. The opinions expressed in this post are entirely my own and have not been influenced in any way. Nutrisystem is providing their food and program to me/us free of charge for my weekly updates. I was not compensated for writing this post. I am disclosing this in accordance with the Federal Trade Commission's 16 CFR, Part 255