This post brought to you by Walgreens. All opinions are 100% mine.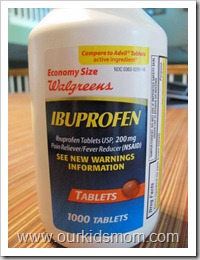 My husband and Joshua are migraine sufferers. One product that helps head off an onset is ibuprofen… and we go through a lot of it around here. Recently I sent my husband to the store to stock up. He came home with two packs of Walgreens ibuprofen with 1000 tablets in each bottle!
First thing I did was pick my jaw up off the floor. Then I asked him how much he spent on them (while clutching my wallet). I was pleasantly surprised when he told me about the sale price and how much cheaper it ended up being than the brand name.
At that particular time, Walgreens was having a B1G1 free sale on the Walgreens Brand Health & Wellness Products. So he purchased the first box for $19.99 and got the second one free. $19.99 for 2000 ibuprofen tablets?! That's some great shopping there hubby! Compared to the the name brand that I tend to gravitate to (with the right sale price)… he would have spent $14.99 for just 200 of them!
They have been using the Walgreens brand ibuprofen for about a month now and they have not noticed any particular differences between these and the name brand. We are more than happy with our purchase and will continue to purchase them as needed.
Walgreens Brand Health & Wellness Products are a great value, allowing families and individuals to save money without sacrificing quality or trust. With the rising cost of health care, saving money on over-the-counter medications can really benefit a family's budget. In addition to being an exceptional value, Walgreens Brand Health & Wellness Products are:
1. Walgreens pharmacist recommended.
2. Most contain the same active ingredients as other national brands.
3. Have a 100% satisfaction guarantee.
For more information on Walgreens Health & Wellness items please visit http://www.walgreens.com/walgreensbrand.
I feel good purchasing Walgreens branded items. Every purchase of Walgreens Brand Health & Wellness Products supports bringing preventive wellness services to local communities through the Walgreens Way to Well Fund™.
So now that I have your attention and excited to try Walgreens Health & Wellness items… check out these blogs that are hosting giveaways for Walgreens Gift Cards! If you are shopping online, use a Walgreens coupon code!