Vtech Safe & Sound Full Color Video & Audio Baby Monitor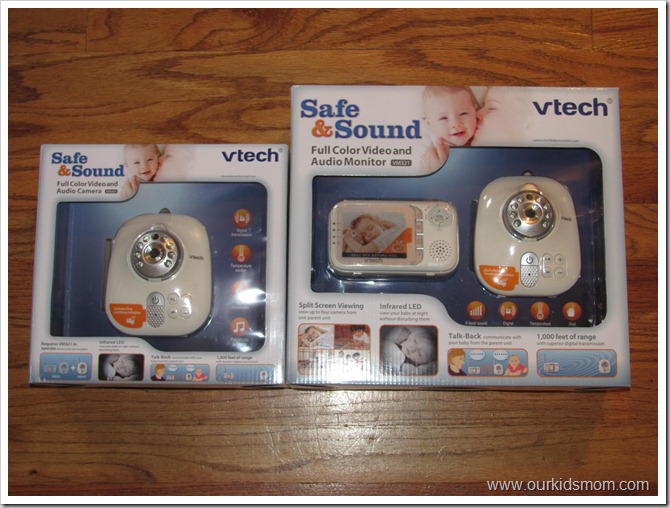 Although my children are now 5 and 3, I still feel the need to monitor them at night with a baby monitor. My husband and I sleep with a sound machine on (originally purchased to drown out the sound of the neighbor's barking dog) and I cannot hear them if they wake up crying in the middle of the night. For some reason, no matter how many times we tell them, they will not come into my room to find me. Instead they stay in bed and continue to sob. How do I know this? Because my 15 year old son and 20 year old daughter have woken up and taken care of them in the middle of the night because I didn't hear them.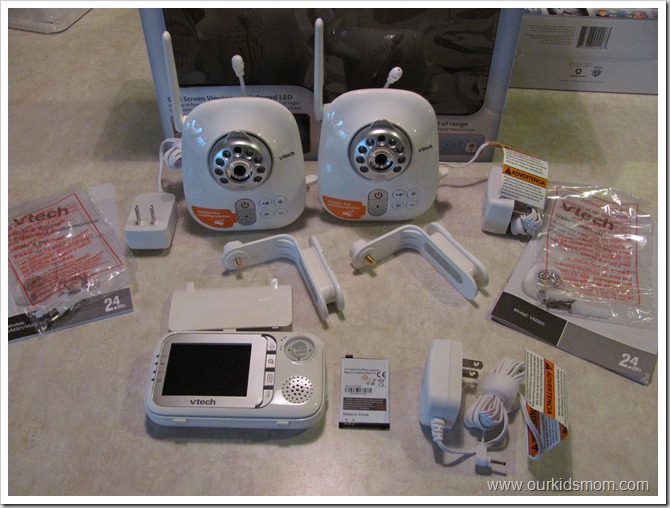 Vtech kindly offered to let us review their new Safe & Sound Full Color Video & Audio Baby Monitor with Emma and Ethan.
Features:
Six level sound indicator.

Vibrating Sound Alert – Enjoy some added peace by being silently alerted when there is sound in the baby's room.

Temperature Sensor – Parent Unit displays baby's room temperature. Be assured the conditions are ideal for restful sleep.

Talk-Back Intercom System – Remotely communicate with your baby from the parent unit to the baby unit. Soothe your baby from another room or even from outdoors.

Polyphonic Lullabies – Play 5 different lullabies on the camera.

Camera Battery Compartment – Add four AA batteries (not included) to the camera for up to 4.5 hours of video streaming.

Zoom the camera from the parent unit.

Night Viewing – 8 infrared LEDs automatically sense the lighting condition providing full video viewing in dark rooms.

Split screen capability – System supports up to four cameras to be viewed from one Parent Unit. Viewing modes include Single View and Quad View Split Screen

High Resolution 2.8″ Color LCD – Easily view your baby (or babies) from the 320×240 full color display.

Full Motion Video – Up to 22 frames per second of full color, dynamic frame rate video provides excellent viewing of all the action in the baby's room.

Rechargeable battery with low battery alert in parent unit.

Wall Mount Bracket – Safely view your baby from a fixed location. Bracket includes a cord management system for storing excess power cord. Swivel, tilt and zoom the camera for the ideal view.

Adjustable camera angle.

Extended Range – Up to 1,000 feet of range allows you to feel safe and connected to your child while you go about your day.

Digital Transmission – This 2.4GHz Frequency Hopping Digital Spread Spectrum system digitally transmits both the audio and video signals. No annoying white noise sound. You only hear the sounds coming from your baby. All transmissions are encrypted for your privacy and security.

Expandable to 4 Cameras – For families with more than one child to monitor, this system can expand to four total cameras. Extra cameras (VM301) sold separately. Know what is happening in all of the important rooms in your home.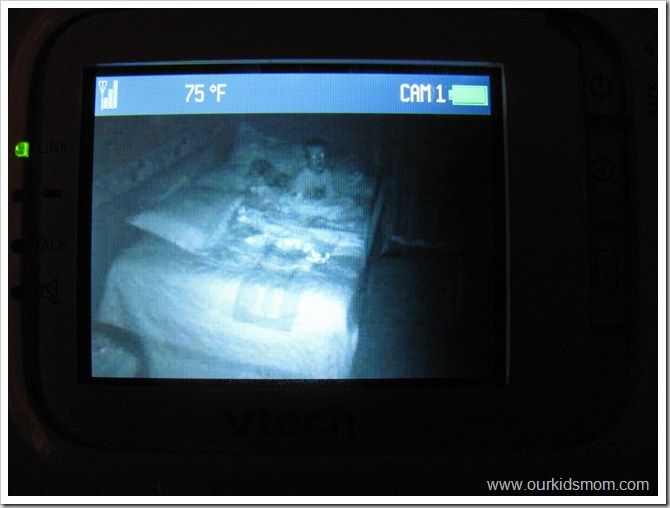 Here is a shot of the monitor with Ethan newly tucked in. You can see him sitting up in bed with his eyes glowing (creepy huh?). Although the night vision is a bit grainy, is it clear enough that you can make out what is going on in the room.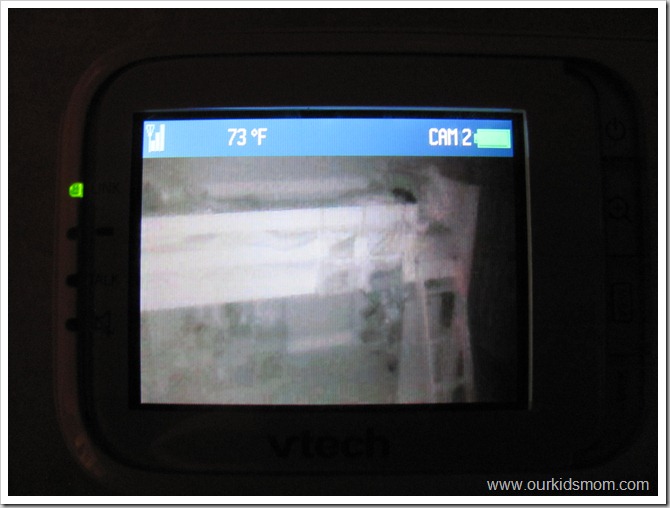 Here is a shot of Emma's room. We have since moved the camera to the foot of her bed and the view is much better. At this angle you can see her dark hair and the shape of her upper torso. With Emma, I just need to know that she hasn't turned the television on or isn't playing with her dolls in bed after tuck in time.
My Take:
First off, I want to say that I love the video and audio quality of this monitor. I neglected to take daytime photos, but the picture is crisp and perfect. I can watch the kids while they are playing in each other's room… I love being able to peek at them when someone starts to squawk… I know the whole story when they decide to come tattle on each other. I also love the ability to talk to them through the monitor to correct behavior or answer them when they are screaming at me from across the house. Sometimes all Ethan needs to lay down at night is one extra "I love you" from me through the baby monitor and he will lay down happily.
Another feature I like is the room temperature readout. As you can see, Ethan's room was a balmy 75 and Emma's 73. Neither of my children sleep well when the house is warm… seeing this reminded me to turn the air down to cool the house off a bit more for sleeping temperature.
My overall experience with this monitor and 2 cameras has been fabulous. The menu is very intuitive to use, the screen functions are clear and easily read, switching from one camera to the next as well as the multi-view is easy, I've never had a problem with being out of range in any room of the house (multi-level house) and the talk button to talk through the monitor to the kids is in a great position.
If you only need to monitor the audio on one child… I highly recommend this baby monitor.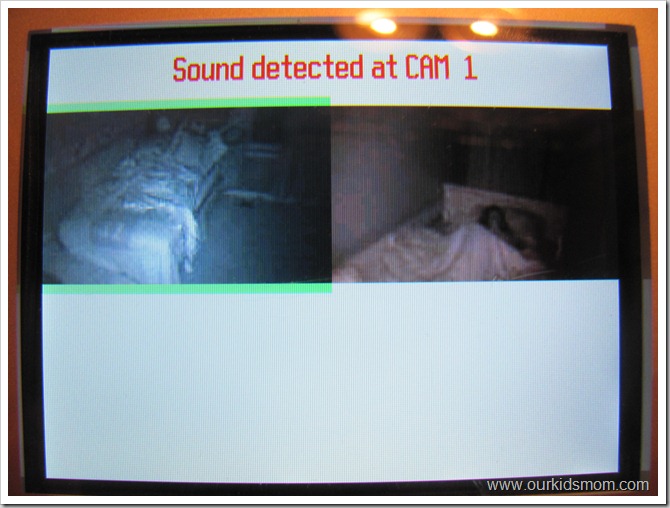 Here is my concern for muti-child use. If you are in split screen mode watching multi-cameras and one child begins to yell, talk, cry, make noise… whatever… the screen around that video turns green and a banner flashes across the top that says "sound detected at CAM1". You have to physically be looking at the monitor to know that your baby is trying to get your attention.
Luckily for me Emma has outgrown her nightmares/night terrors and will either settle herself down or come sit outside my door until I hear her (I told you, they won't come in my room and I can't figure out why!). I monitor the audio for Ethan at night because he is the one that has been having nightmares and will sit in his bed and cry until someone comes to comfort/help him. If I had two young babies in separate rooms that still occasionally needed me at night, I wouldn't feel comfortable using the split screen with no audio while I am sleeping. If Vtech could come up with a beep/alarm or turn the audio on in the room that it alerts to this would be an overall perfect monitor.
All that being said and the situation I am in now… this is overall my favorite video monitor!
BUY IT:
You can purchase a Vtech Safe & Sound Full Color Video & Audio Baby Monitor with 1 camera for $129.95 at Amazon.com. Additional camera can be purchased for $49.95
WIN IT:
ONE OurKidsMom reader is going to win a Vtech Safe & Sound Full Color Video & Audio Baby Monitor (with 1 camera)!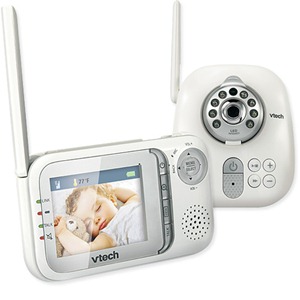 This giveaway ended at 11:59 PM EST on May 28, 2012.
Disclosure of Material Connection: I received one or more of the products or services mentioned above for free in the hope that I would mention it on my blog. I only recommend products or services I use personally and believe will be good for my readers. I am disclosing this in accordance with the Federal Trade Commission's 16 CFR, Part 255: "Guides Concerning the Use of Endorsements and Testimonials in Advertising." The opinions expressed in this post are entirely my own. Your experience with the product may differ from mine. The sponsor is responsible for prize fulfillment and will be shipping the winner(s) their prize(s). For more information read my disclosure policy.