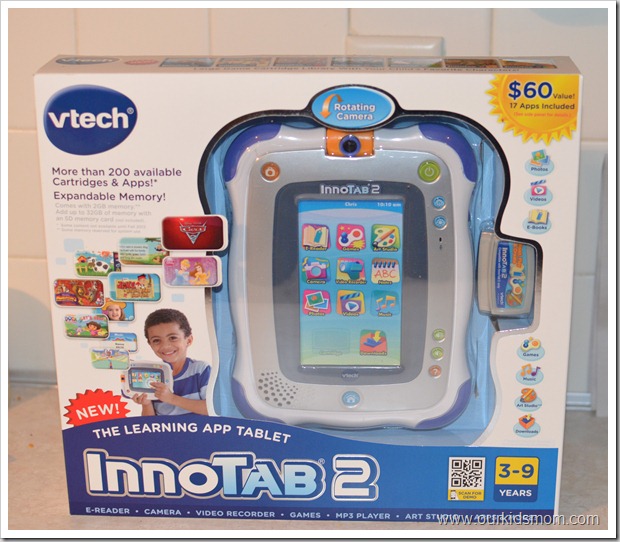 Ethan has recently started asking if he can use Mommy's iPad. Because Mommy does not want to share her tablet, I was excited to let him try the vtech InnoTab 2.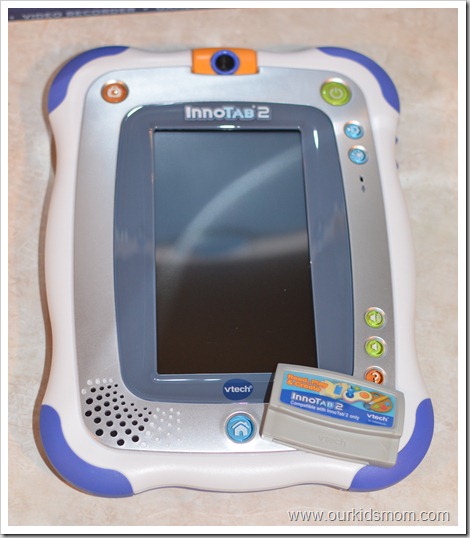 Out of the box the InnoTab 2 has a nice solid feel. The rubberized edges are there to help absorb shock for when the kids drop it (I say when because they will and Ethan already has). The camera flips/rotates to the front or back making it fun for self portraits, taking pictures and even videos of their friends. All of the controls are front and center with the buttons being a good size for chubby little fingers.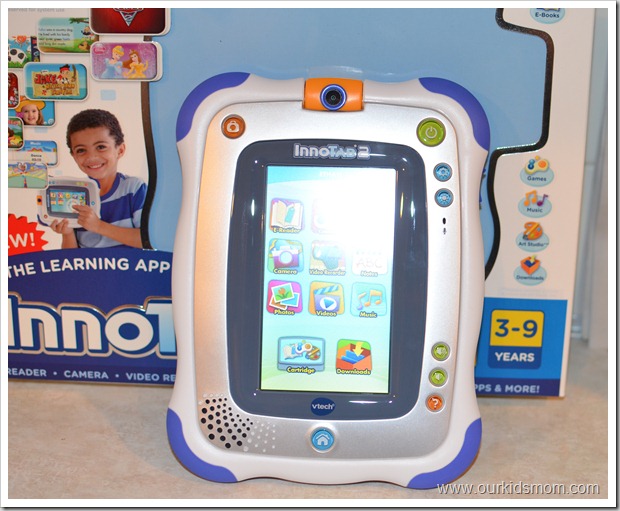 This small tablet can be deceiving… it packs a lot of punch in a small package.
5″ color touch screen and tilt sensor

Rotating Camera & Video Recorder to take images and videos of themselves and others

Photo viewer

MP3 Music Player

Art Studio

More than 200 apps such as games, e-books and music can be easily uploaded to the InnoTab 2 through VTech's Learning Lodge Navigator

Cartridges with licensed characters (sold separately) teach essential skills in reading, logic, and creativity

Microphone

2 GB onboard memory with SD card slot expandable up to 32 GB of memory (SD card not included)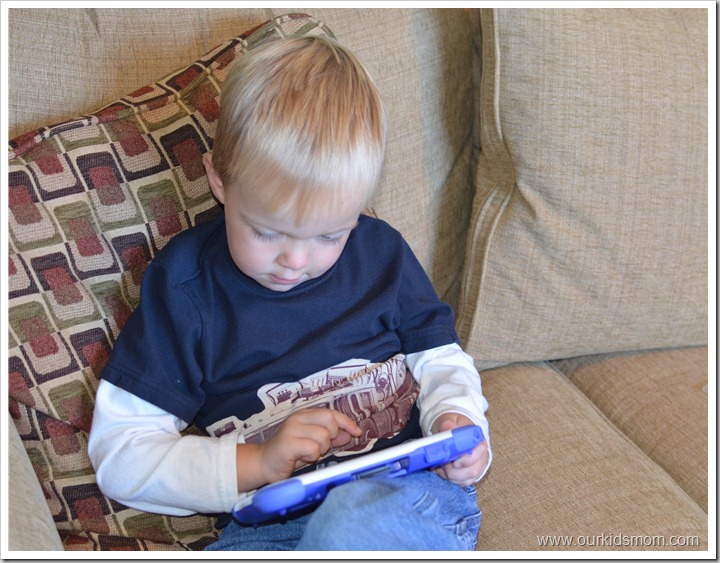 Ethan is a self taught pro when it comes to learning games and apps. When I first handed the Innotab 2 to Ethan he immediately went to work on customizing the user name and avatar and wallpaper. He tends to change this often and has a fun time giggling while he makes silly names and greetings.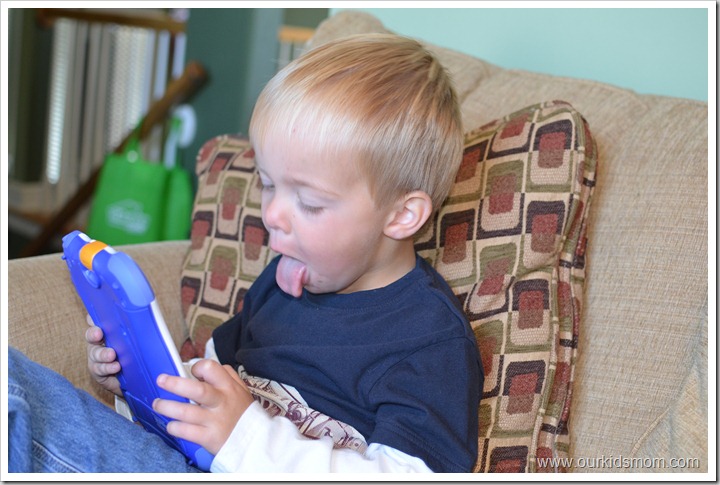 "One of Ethan's favorite features is the camera/video recording function. As you can see, he is all boy and he spends a good deal of time making funny faces at the camera and making farting noises for the video camera.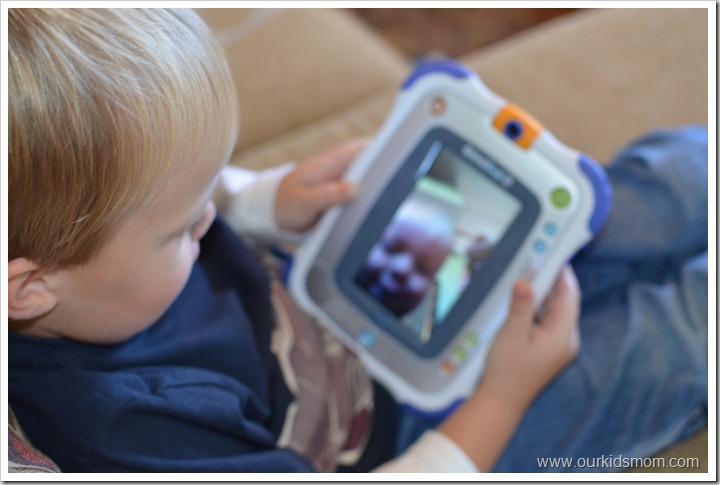 I enjoy sifting through the photos Ethan has chosen to take in the photo gallery. It's very interesting to get a glimpse inside his little mind while viewing his photos of things that are important to him.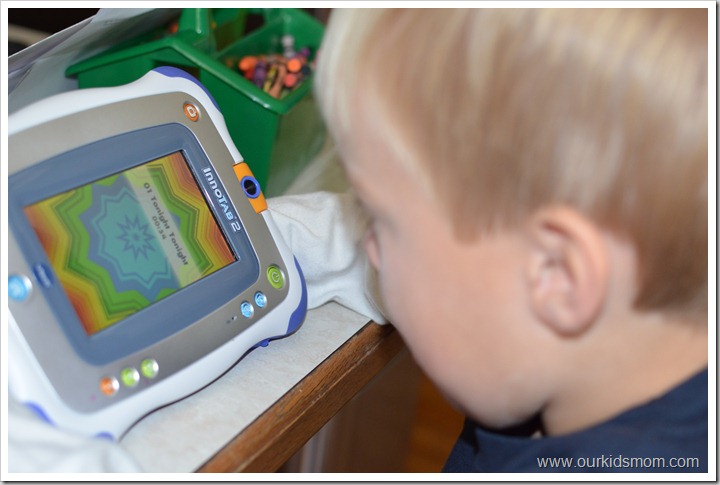 Another feature Ethan loves that is unique to the InnoTab 2 is the MP3 music player. Both he and Emma have taken a strong interest in music at a much earlier age than my older two did. He will listen to a song over and again until he learns the words. The InnoTab 2 plays a pretty lights and shapes show while the music plays which gives him something to look at.
On top of all the fun extras, the InnoTab 2 also plays game cartridges and learning apps that keep Ethan entertained while he is learning. We tend to use the InnoTab 2 mainly during his winding down time before bedtime and when we are out and about in the car and running errands. I don't feel guilty allowing him his "electronic" time because unlike video games, vtech learning apps and cartridges make the children think to play them. Everyone is happy when it comes to the InnoTab 2. I love it because he is learning and expressing his creativity. Ethan loves it because it keeps him entertained and it's fun.
It's fun to find cute things like this when checking out the kids photos & videos. Emma took this short video of Ethan and herself using the InnoTab 2.
I participated in a campaign on behalf of Mom Central Consulting for VTech. I received product samples to facilitate my review."