Victorious – Taking the Lead Wii game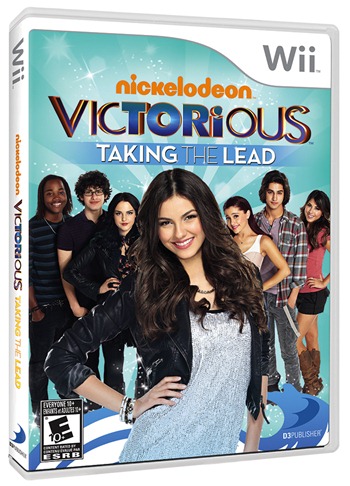 PRODUCT DESCRIPTION:
For the first time, fans can play as Tori Vega (played by teen star Victoria Justice) in Victorious: Taking the Lead™, a video game based on the hit Nickelodeon television series, Victorious!  Hang out with the entire Hollywood Arts crew and be immersed into the world of Victorious as Tori tries to win the starring role in an upcoming school play against school rival Jade.  Fans will be able to interact with the cast including Jade, Beck, Cat, and more while they visit favorite show locations like the Hollywood Arts School and Gorilla Club.  Victorious: Taking the Lead offers players a chance to explore Hollywood Arts and play more than 20 uniquely Victorious-themed, rhythm-based mini-games on the Wii and 20 performance competitions for the Nintendo DS, featuring hit songs from the show!
KEY FEATURES:
An Authentic Victorious Experience – Victorious: Taking the Lead features a brand new storyline based on the popular series and stars voices of Victoria Justice, the rest of the show's original cast, and features hit songs from the show, such as "Take a Hint" from the new season.
Become Tori Vega – Fans will be able to play as Tori Vega as she tries to win the starring role in an upcoming school play by completing a variety of fun mini-games and tasks.  But watch out: school rival Jade is after the same part!
Nintendo Exclusive – Victorious: Taking the Lead releases on the Wii and Nintendo DS platforms this holiday season, making it the first game in the Victorious series available on the Wii!  Both platforms will offer a wide variety of unique rhythm-based mini-games themed to the show.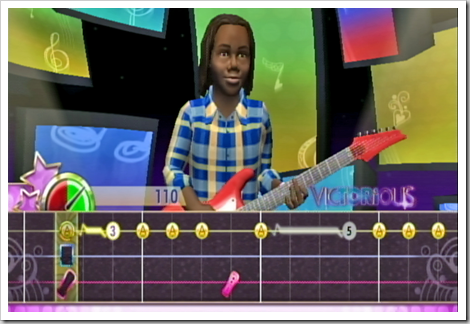 Interact with Tori's Friends and Change Your Fate – The game offers multiple conversation options for Wii that allow fans to tailor how they want to interact with characters from the show.  These choices can affect the outcomes of the game's plot.
Explore The World of Victorious – Visit well-known locations from the series, including Tori's school, Hollywood Arts High School, zany acting teacher Mr. Sikowitz's Improv Classroom, Hollywood Arts High's Black Box Theater, and local teen hangout, The Karaoke Dokie.
**********
Victorious is one of my family's favorite shows.  We were all happy to see the new game Victorious Taking the Lead game.  My 10 year old, Michaela was the most excited not only because she loves Victorious, but because these types of games are her favorite!  It is full of puzzles, quizzes, and exploring.  It's not very fast paced so she can go at her own speed to play the game and not stress out.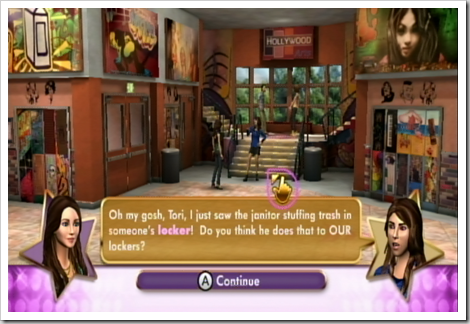 Basically, Tori has to maneuver around the school solving riddles, finding items, doing odd jobs, etc. in order to get the next clue or complete the next step for her to be able to get the starring role in an upcoming play at school.
Michaela loves loves loves this game!  My son, Micah is 12 and likes it okay, but it's just not his type of game.  My youngest, Mikenah is 5 and she's still a little too young to figure out the game.  She likes games with more immediate results and this one builds upon each step and sometimes you have to complete a series of things to get the results you want.  I like the that the characters are just like on the show.  Especially Cat with her random comments.  She cracks me up!  They have the same mannerisms, habits, voices, etc. which makes it more fun.
I definitely recommend this game to Victorious fans who like slower paced, puzzle/clue type games.  It's rate E 10+ for ages 10 and up for an alcohol reference and mild lyrics.  I would also recommend for ages 10 and up mainly because of how you play the game.  Some of the puzzles are a bit challenging to figure out.  Great game for older kids and adults!
Victorious Taking the Lead is available for Wii & DS
BUY IT:
You can purchase Victorious – Taking the Lead at Amazon.com
Disclosure of Material Connection: I received one or more of the products or services mentioned above for free in the hope that I would mention it on my blog. I only recommend products or services I use personally and believe will be good for my readers. I am disclosing this in accordance with the Federal Trade Commission's 16 CFR, Part 255: "Guides Concerning the Use of Endorsements and Testimonials in Advertising." The opinions expressed in this post are entirely my own. Your experience with the product may differ from mine. The sponsor is responsible for prize fulfillment and will be shipping the winner(s) their prize(s). For more information read my disclosure policy.