Verizon Wireless Mystery Device Revealed | Making My Life a Bit Easier #VZWVoices #Mom
Disclosure: I am participating in the Verizon Moms Voices program and have been provided with a wireless device and six months of service in exchange for my honest opinions about the product
I'm a tad bit behind in announcing it here on the blog, but if you follow me on Instagram and/or Facebook you know the inside scoop! During my trip to Chicago to meet the Verizon Wireless reps we were given our first device to test out and share how it makes life a little bit easier for me as a Mom. I've also been sharing my thoughts on Twitter as well… just follow #VZWVoices #Mom to see all of our chatter about this new device!
Now to the reveal. The device surprised us all. Not a single one of us guessed it correctly. We were not given a phone as we all expected… we were given a Galaxy Tablet with Verizon Wireless service!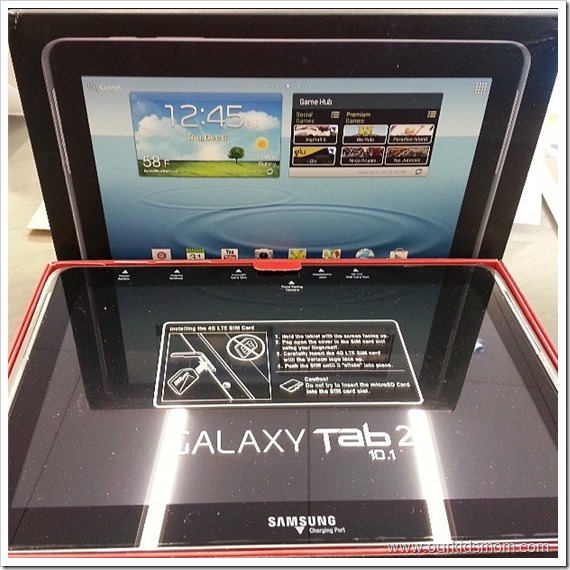 At first I wasn't sure how this was going to make my life easier. I have been the proud owner of an iPad for a couple of years now and although the kids liked playing with it, it really didn't make my life easier.
I'm the first to admit it… I was wrong.
First of all… the kids are beyond knowledgeable when it comes to the Galaxy Tablet because they play with my Samsung Galaxy S3 often.
But here is a new reason to

it…
Here the kids are… strapped in and ready for an hour long drive to our destination. Typically a drive this long would be "ok" for the first 30 minutes or so, then they would get bored and start picking on each other… which always leads to someone getting mad, someone yelling and someone crying. Ethan has the Galaxy Tablet in his lap and it's already loading Netflix for his viewing pleasure.
Emma has the iPad, which is a Wi-Fi only tablet. Fortunately with the Samsung Galaxy Tablet on the Verizon Network, it comes with hotspot capabilities. Yes… you heard me. HOTSPOT. I can connect up to 10 devices to this baby and they all share the same data plan. So Emma can play her apps or choose to go online and watch a video also.
How sweet is THAT?!
I have a bunch more to say about the Galaxy Tablet and will do a review of it soon… to avoid rambling I'm going to leave you with this. Sweet silence for the entire one hour car trip. ahhhhhhhhhh!